Send notifications from custom email domain
06 Jan 2023

2 Minutes à lire

Contributeurs
Send notifications from custom email domain
Mis à jour le 06 Jan 2023

2 Minutes à lire

Contributeurs
---
The content is currently unavailable in French. You are viewing the default English version.
Share feedback
Thanks for sharing your feedback!
By default, notification emails sent to the Document360 team accounts and readers are sent from support@document360.com
However, you can configure the custom email domain on Document360, so the notification emails are sent from the configured custom email domain.
---
What is the custom email domain?
Custom email domain shows email providers that Document360 has the user's permission to send emails on their behalf.
For example The notification mails would be sent from a configured support@yourcompany.com rather than the default support@document360.com.
To enable this feature, users must first point DNS entries from their DNS provider (like GoDaddy, Rackspace, Cloudflare, etc.) to Document360.
---
How to configure the custom email domain?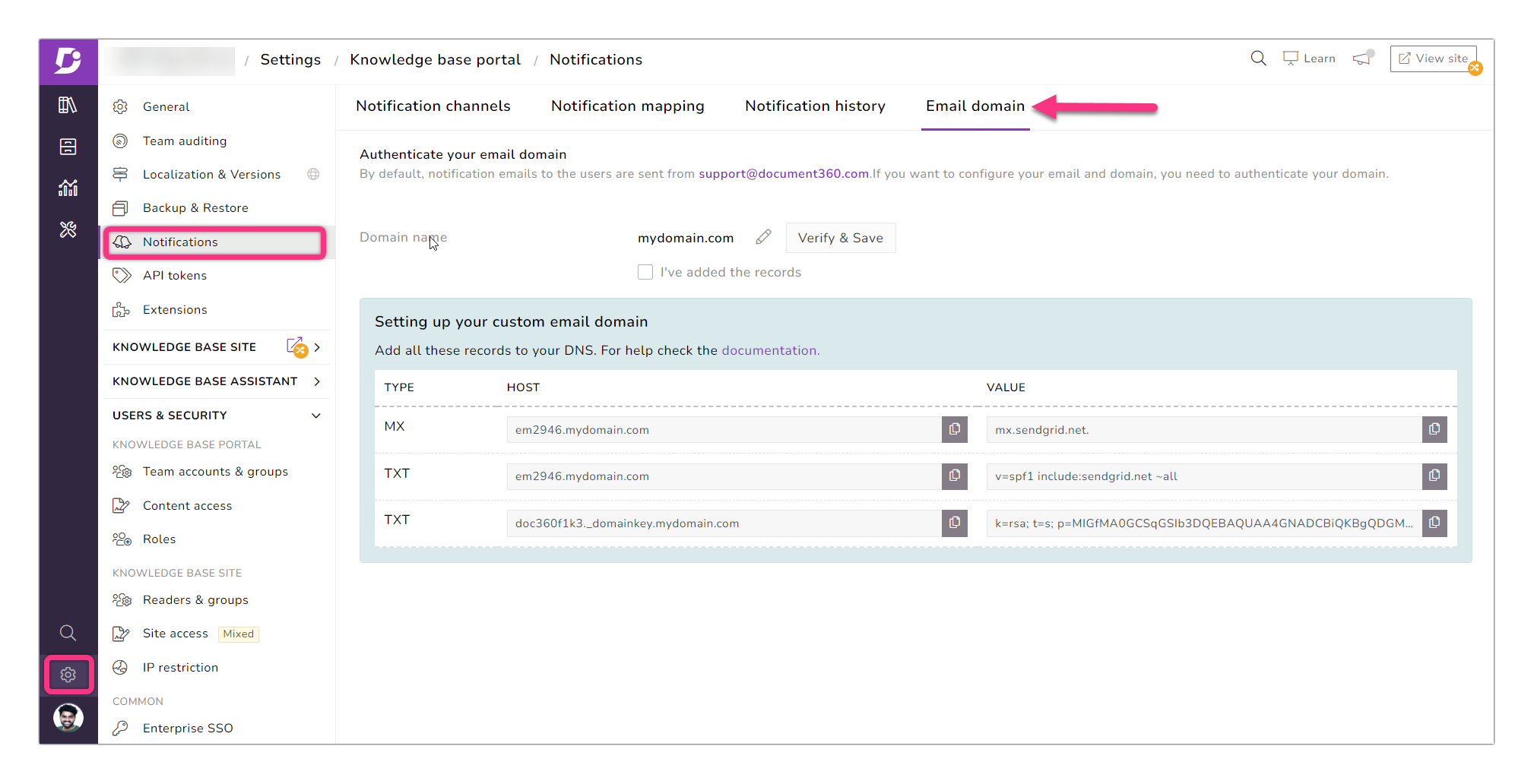 Go to Settings → Knowledge base portal → Notifications → Email domain
In the Domain name field, enter the custom email domain URL
For example, mycompany.com
Click on the Add domain, and the DNS records are generated
Creating MX and TXT records in the domain registrar
Domain authentication
To set up domain authentication, the user must submit the DNS records provided by Document360 to their DNS or hosting provider (For example, GoDaddy, Hover, CloudFlare, etc.).
To set up a custom email domain for your project, access/request the domain registrar on a separate browser tab to add the MX and TXT records
Multiple MX record mapping
If you already have other MX records mapped, the current MX record mapping will not override or interfere with the other MX records.
Copy the configuration details from the Setting up your custom email domain section on Document360 and update in the domain registrar
Navigate back to the Email domain page in Document360
Select the I've added the records checkbox and click the Verify & Save button
When the MX and TXT records have been successfully added to the domain host, the "Email domain verified" message appears
Once the verification is done, add the "From email address" in the Email field and "From user name" in the Name field
For example, Email field: support@churn360.com ; Name: Churn360 support
Once the configuration is complete, the emails would be sent from their respective domain with their "From email address" and "From user name".
It may take up to 24 hours after configuration for a custom email domain to be recognized.
Troubleshooting
Please follow the steps below if the custom email domain configuration is still not active after 24 hours.
Check if the MX and TXT records have been saved on the domain host
Check if the MX and TXT information on the domain host matches the records provided by Document360
Delete the records on the domain host and try again
If you still face any issues, please contact us at support@document360.com
---
Cet article vous a-t-il été utile ?
---
What's Next