Images, videos, and files
07 Mar 2023

1 Minute zum Lesen

Mitwirkende
Images, videos, and files
Aktualisiert am 07 Mar 2023

1 Minute zum Lesen

Mitwirkende
---
The content is currently unavailable in German. You are viewing the default English version.
Share feedback
Thanks for sharing your feedback!
The Document360 Drive is a unified place to store all your Files and knowledge base assets such as images, videos, docs, and more formats.
File management systems in the Knowledge base
A structured file management system is very much required in any online business; it is of prime necessity when considering an online Knowledge base. Storing all your digital assets in a single entity would make it easier and streamline your data management practices.
Imagine maintaining local or third-party cloud storage for the hundreds of files and digital assets used in your knowledge base. Every time you make an update, add files or retrieve them, it is going to be a hectic process. And if you decide to have local storage, mishaps and security concerns are always possible.
The Document360 Drive addresses these issues and helps you with effortless file management of all knowledge base assets. You can also opt for additional storage capacity. To read more, see Adding storage addon.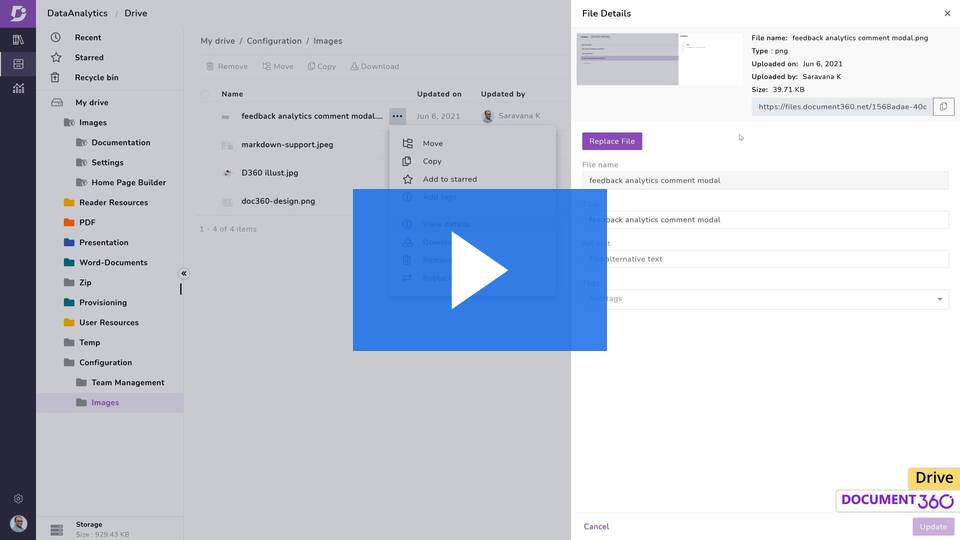 How to store & manage knowledge base files with the new drive
---
What's Next