Images, videos, and files
31 Jan 2022

1 Minute à lire

Contributeurs
Images, videos, and files
Mis à jour le 31 Jan 2022

1 Minute à lire

Contributeurs
---
There is no French content available for this article, You are viewing the fallback version (English).
A unified place to store all your files and knowledge base assets such as images, videos, docs, and more formats comes in quite handy when you think about it.
File management systems in the Knowledge base
A structured file management system is very much required in any online business; well it's of prime necessity when you consider an online knowledge base. Storing all your digital assets in a single entity would make it easier and streamline your data management practices.
Imagine having to maintain local storage or third-party cloud storage for the hundreds of files and digital assets used in your knowledge base. Every time you make an update, add files or retrieve them, it is going to be a hectic process. And if you decide to have local storage, there is always a possibility of mishaps and security concerns.
The Document360 Drive addresses these issues and helps you with effortless file management of all knowledge base assets. You can also opt for additional storage capacity. To read more, see Adding storage addon.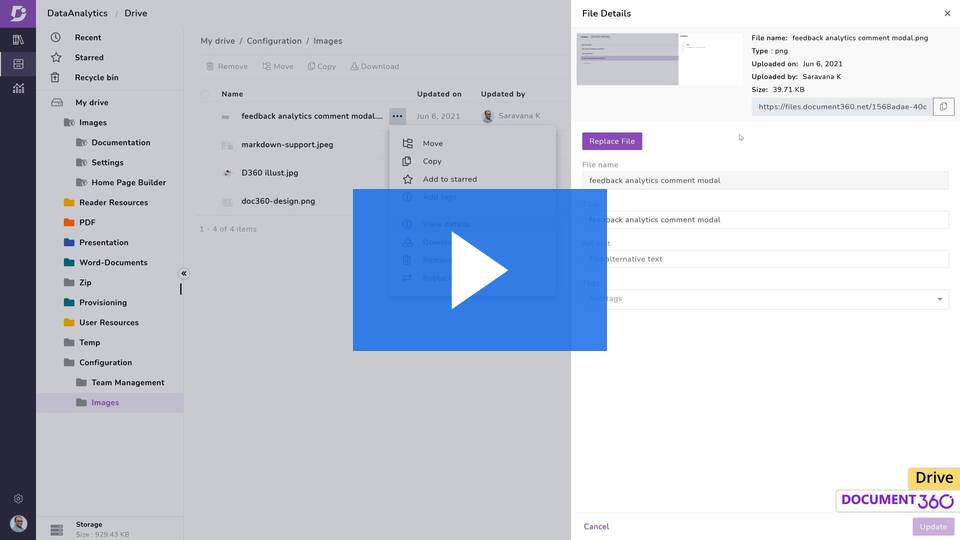 How to store & manage knowledge base files with the new drive
---
What's Next