By default, new Document360 projects will use the project name as the sub-domain. For example, if the project is named "A Good Name" the sub-domain will be "agoodname.document360.com".
However, you can add a custom domain (for example: docs.mycompany.com or support.mycompany.com) to your project.
Can I use a Custom Domain in the Startup price tier?
Custom domains are available in the Startup, Business, Enterprise, and Enterprise+ plans.
View available plans
.
---
Adding a Custom Domain
Goto Settings → Knowledge base site → Custom Domains and select the Sub Domain Hosting tab
You can find the Document360 provided domain in the first field. This is generated based on your project name and ending with document360.com, but you can change it anytime using the below field
In the Domain Configuration field, enter the custom domain URL users will visit to access your knowledge base (e.g., docs.mycompany.com)
Enter the custom domain URL that users will visit to access your knowledge base
Before saving, you'll need to create a CNAME record wherever your domain is registered
Creating a CNAME record in the domain registrar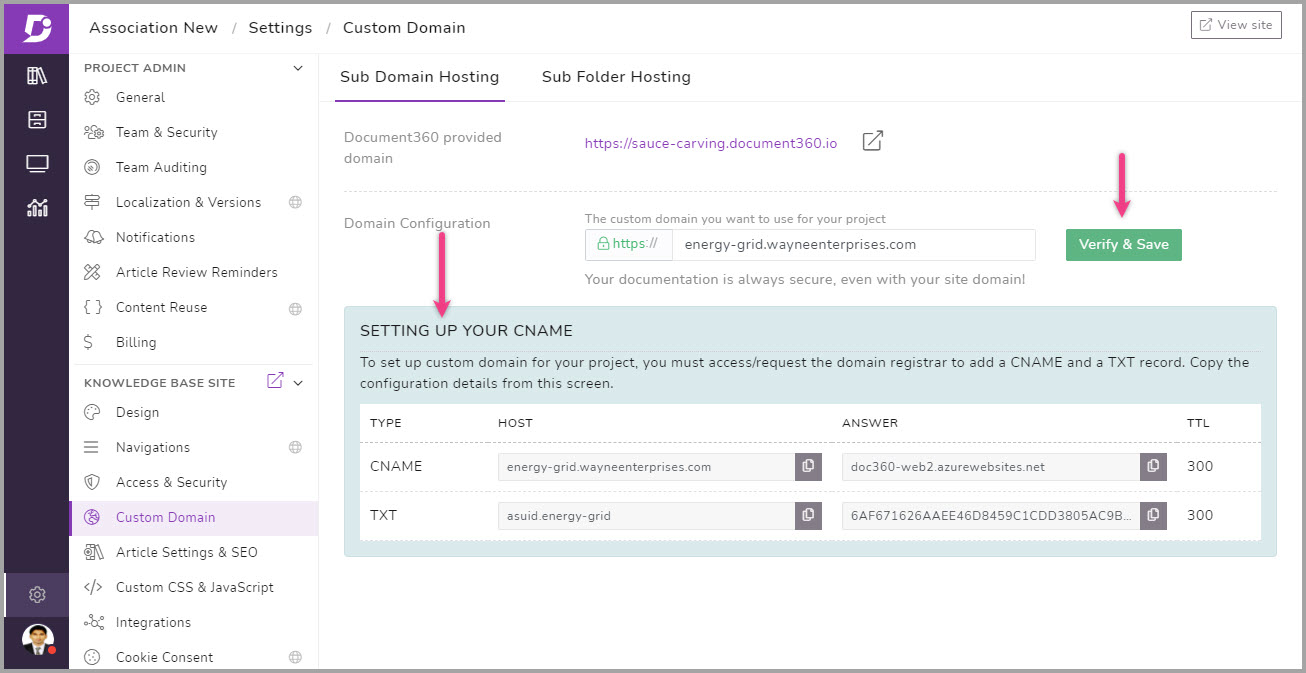 To set up custom domain for your project, you must access/request the domain registrar on a separate browser tab to add a CNAME and a TXT record

Copy the configuration details from the SETTING UP YOUR CNAME section on Document360

Once done click on the Verify & Save button at the top
SSL Secured
Your documentation is secure even with your custom domain.
When the CNAME record has been successfully added to your domain host, Document360 will show a "Successfully verified" message.
---
Troubleshooting
First, note that it may take up to twenty four hours for a custom domain to be recognized. If, after this time, you are still having issues verifying your custom domain, here are some things to try:
Check if the CNAME record has saved on your domain host
Check if the CNAME information on the domain host matches what's provided by Document360
Delete the record on the domain host and try again
Was This Article Helpful?
---