My profile
13 Oct 2022

1 Minuto para leer

Colaboradores
My profile
Actualizado en 13 Oct 2022

1 Minuto para leer

Colaboradores
---
The content is currently unavailable in Spanish. You are viewing the default English version.
Share feedback
Thanks for sharing your feedback!
A space to view and manage your information visible to other team accounts when they view from within a project.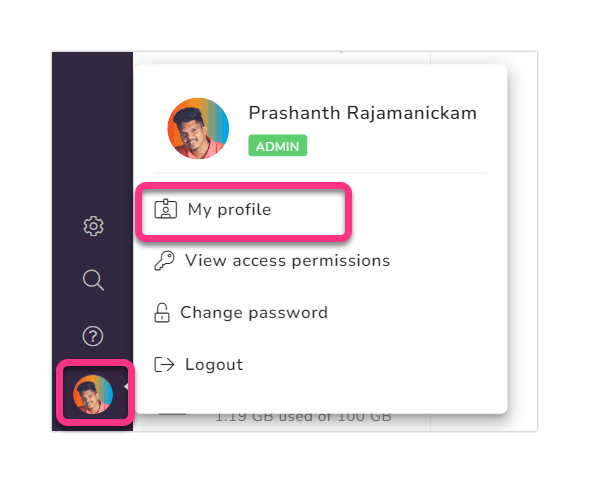 From the

Knowledge base portal

or

Dashboard

, click on the profile image on the bottom left
Select the My profile option, and the blade appears on the right with all the profile information and the delete account button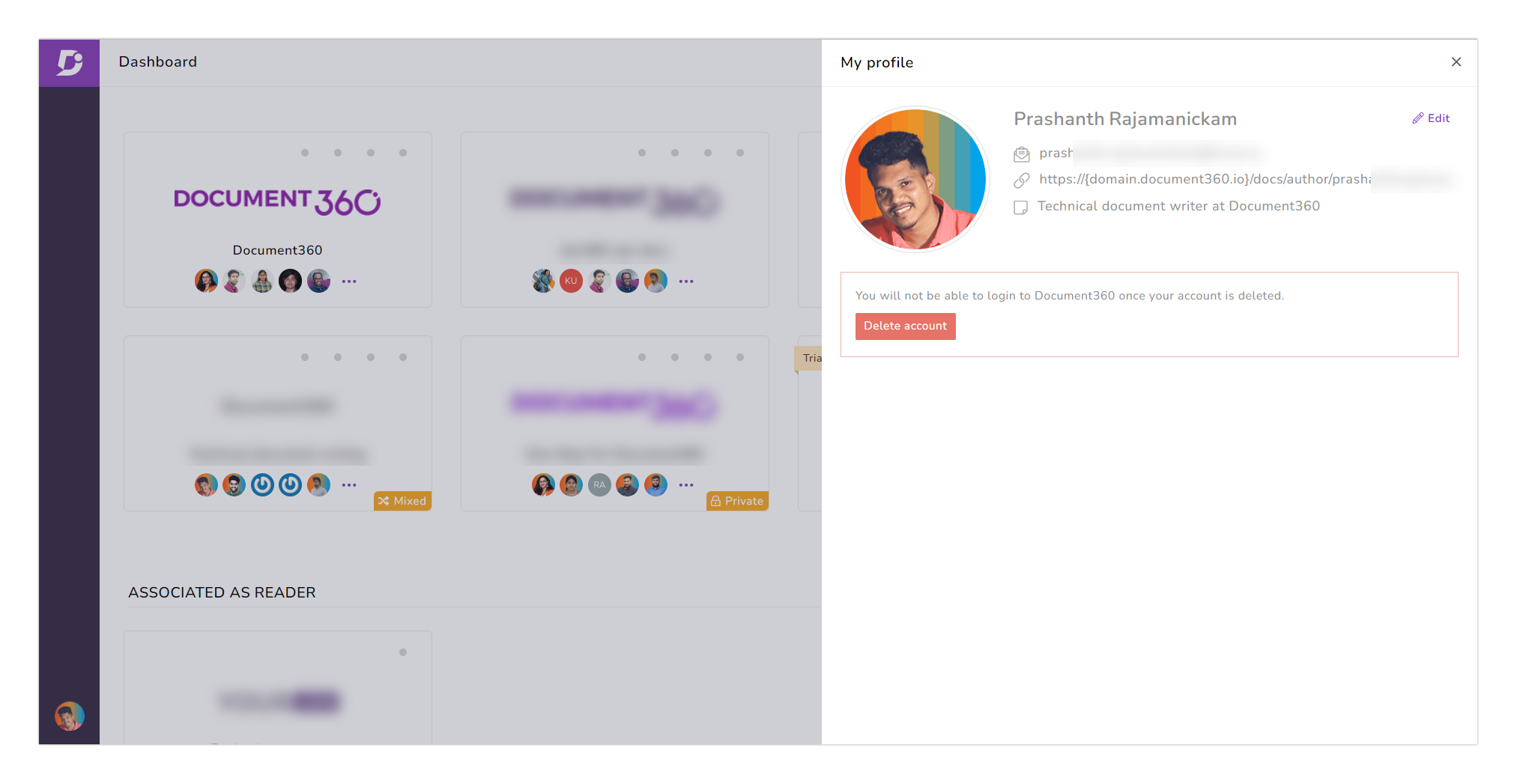 The article contribution statistics are displayed below the profile information while accessing the My profile blade inside a project.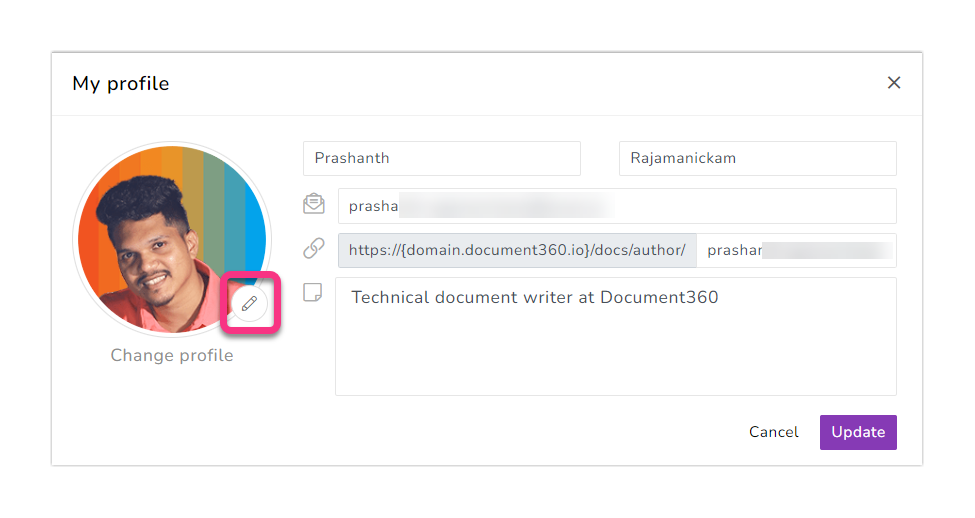 The profile information displayed is

The profile image
First name and last name
Email
Author profile slug
Text field

Click on the Edit option at the top-right to update the information

Type in each of the information in the respective field and click on Update

To change the profile image, click on the Edit icon next to the image, and the local device file explorer opens up. Choose the intended image and click on Open (for Windows OS)

The Delete account button is found at the bottom.
For more information on deleteing your account from Document360, Read this article
---
Accessing 'My profile' from a project
Below the profile information in the My profile blade, the project-specific data breakdown is displayed.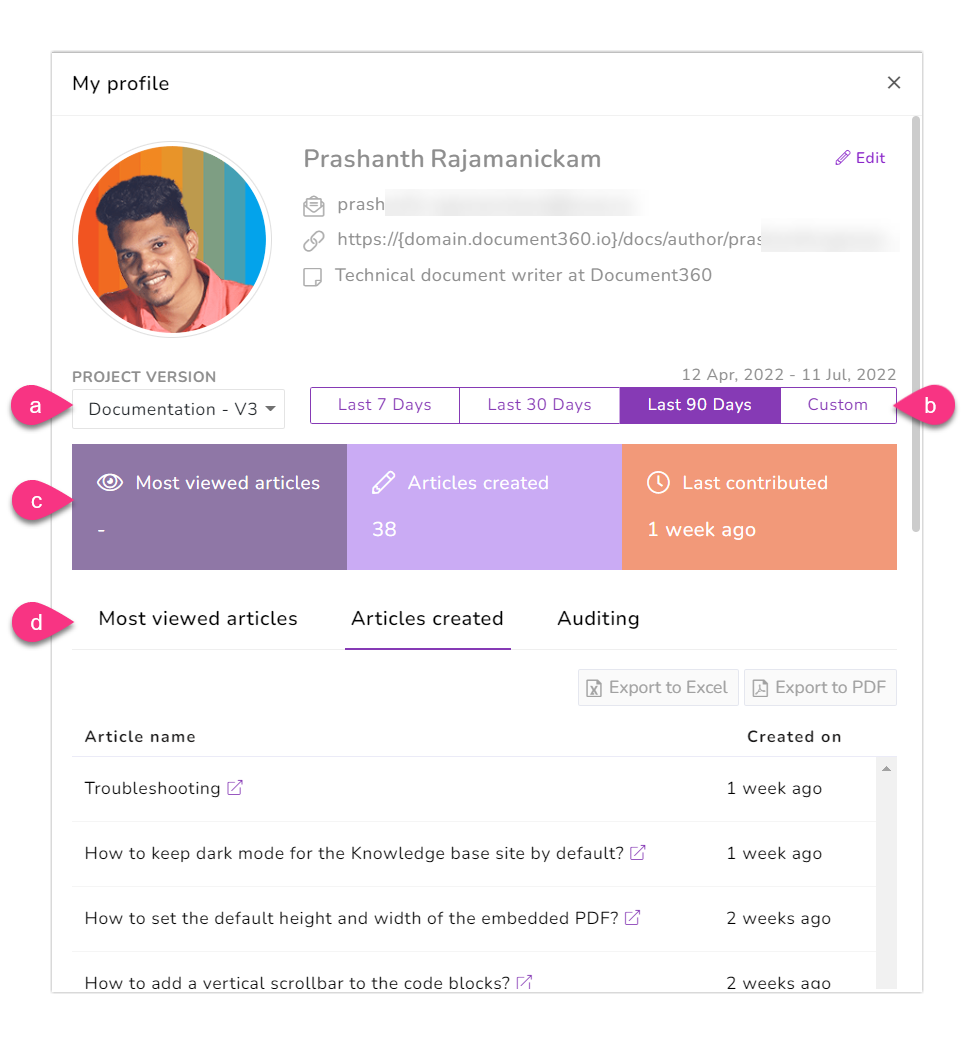 a. Project version
Select the desired version from this dropdown
b. Date filter
The contribution data can be filtered using the date filter available at the top.
Last 7 days
Last 30 days
Last 90 days
Custom date range
c. Contribution data
Three tiles are available here that shows the contribution data in numbers.
Most viewed articles
Articles created
Last contributed
d. Contribution breakdown
This section is available with three tabs to choose from.
Most viewed article
Articles created
Auditing
Each tab provides a clear list of Article and category pages with links to view the knowledge base.
---
¿Te ha sido útil este artículo?
---
What's Next