Article status indicator
Mis à jour le 30 Nov 2020

1 Minute à lire

Contributeurs
---
There is no French content available for this article, You are viewing the fallback version (English).
The article status indicator helps the user to know the status of the articles in the knowledge base overview, without having the check each article individually.
An article can have four different statuses within the Documentation Editor, each represented by a uniquely colored circle. These circle indicators can be seen adjacent to the articles on the left navigation panel.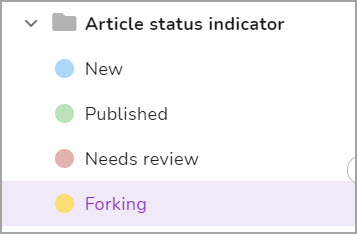 ---
New
An article that's been created and is currently in process, but not published. The article would be visible only in the portal for team members with access.
---
Published
An article that has been made public, and can be viewed and read on your knowledge base.
---
Needs review
An article that has been flagged for review, either by a contributor or by an automated review reminder
---
Forking
An already published article that is being forked (updated or edited), while keeping the original version public.
---
Hidden
There is no status indicator like the above, but it can be identified by a strike through. The hidden article will not be available on the knowledge base site and can only be accessed from the portal. Articles in all statuses can be hidden, using the ••• More and Hide.
Cet article a-t-il été utile?
---