Share feedback
Thanks for sharing your feedback!
Many organizations around the world use Mailchimp for mail communication. Mailchimp is an all-in-one marketing platform that helps you share emails, ads, and other messages with your audience. Mailchimp offers powerful and flexible tools that help you manage the up-to-date audience of contacts, important data like who has interacted with your product, when they subscribed to your emails, and more.
What is a Campaign?
The emails, ads, and other messages shared with your audience through Mailchimp refer to a campaign.
---
Use Case
You have chosen Document360 as your Knowledge base platform. Your company works with multiple external vendors for content contribution. Mailchimp makes for a good communication platform. Document360+Mailchimp integration creates a campaign draft in Mailchimp when a new article is published in your Document360 knowledge base. This campaign can be sent via Mailchimp to a specified recipient. This helps to effortlessly keep your stakeholders in the loop about updates to the knowledge base.
Currently, there is no direct integration option available between Document360 and Mailchimp from either of the platforms.
---
Workaround
As a workaround, you can use Zapier integration to bridge this gap. By connecting Document360 and Mailchimp on Zapier, you can easily facilitate the content flow between these platforms.
Ensure that you have logged into your Zapier account.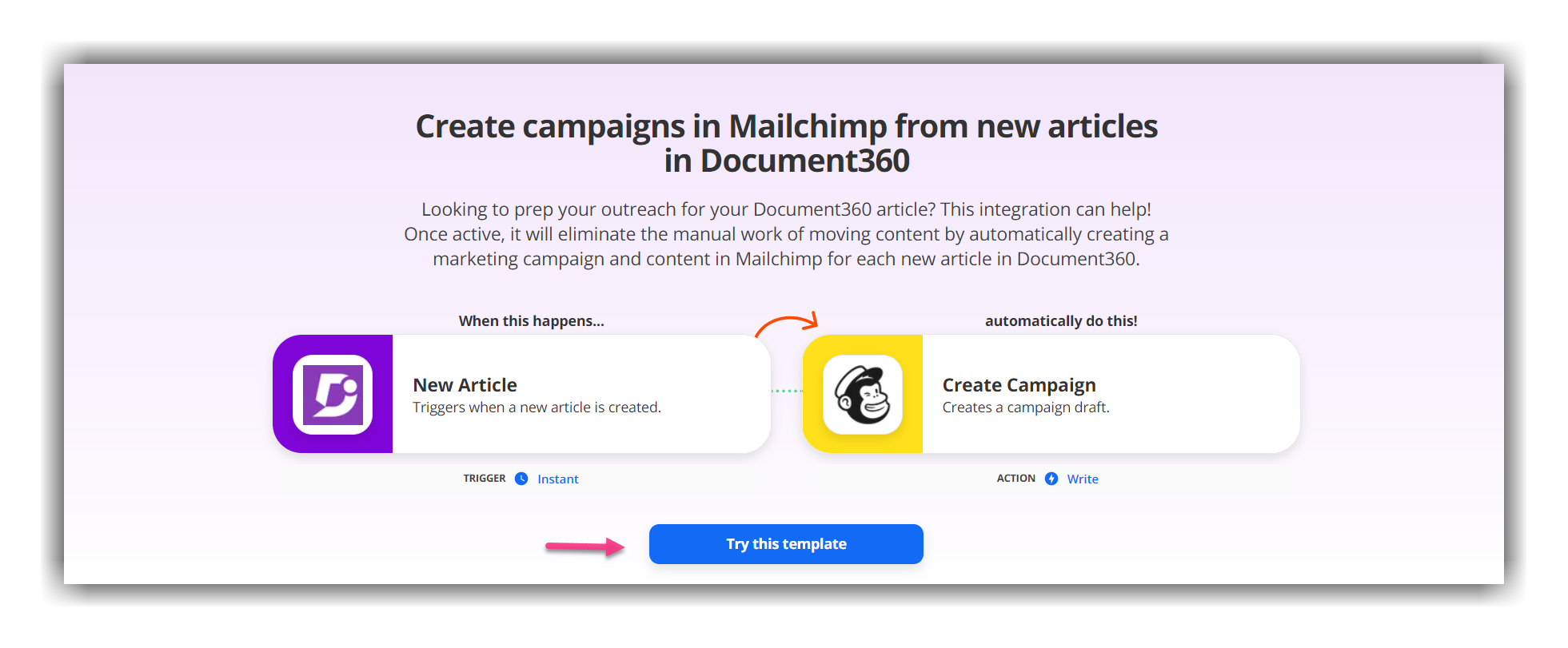 Click on the Try this template button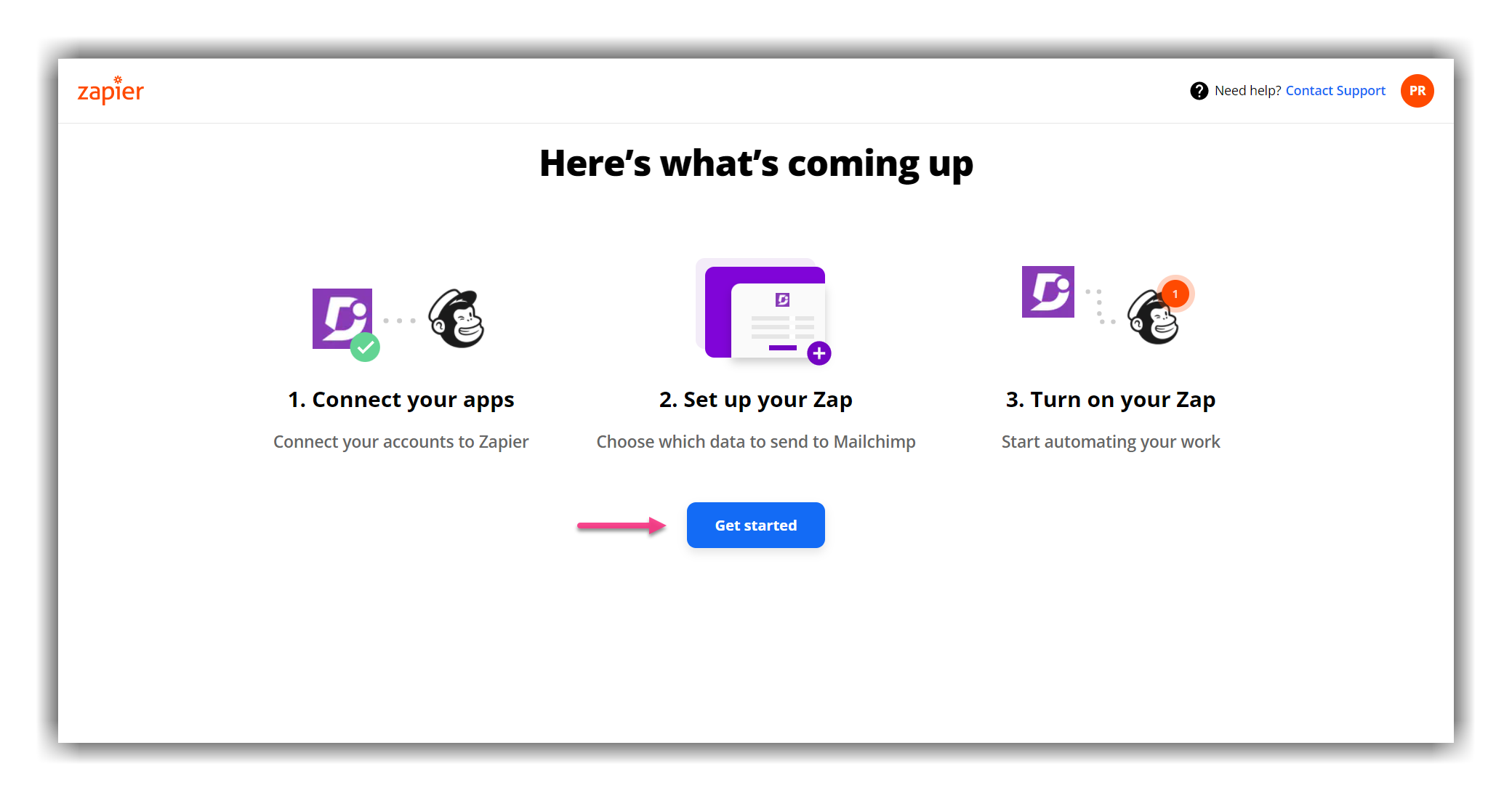 Click on the Get started button
Connecting Document360 and Mailchimp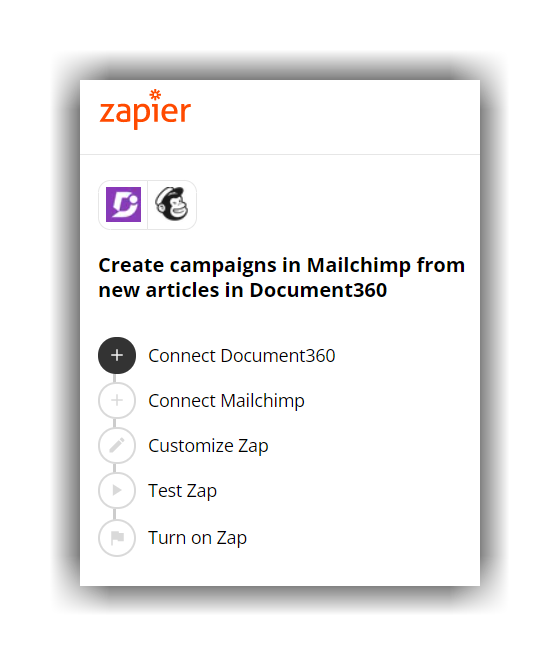 Step 1 - Connect Document360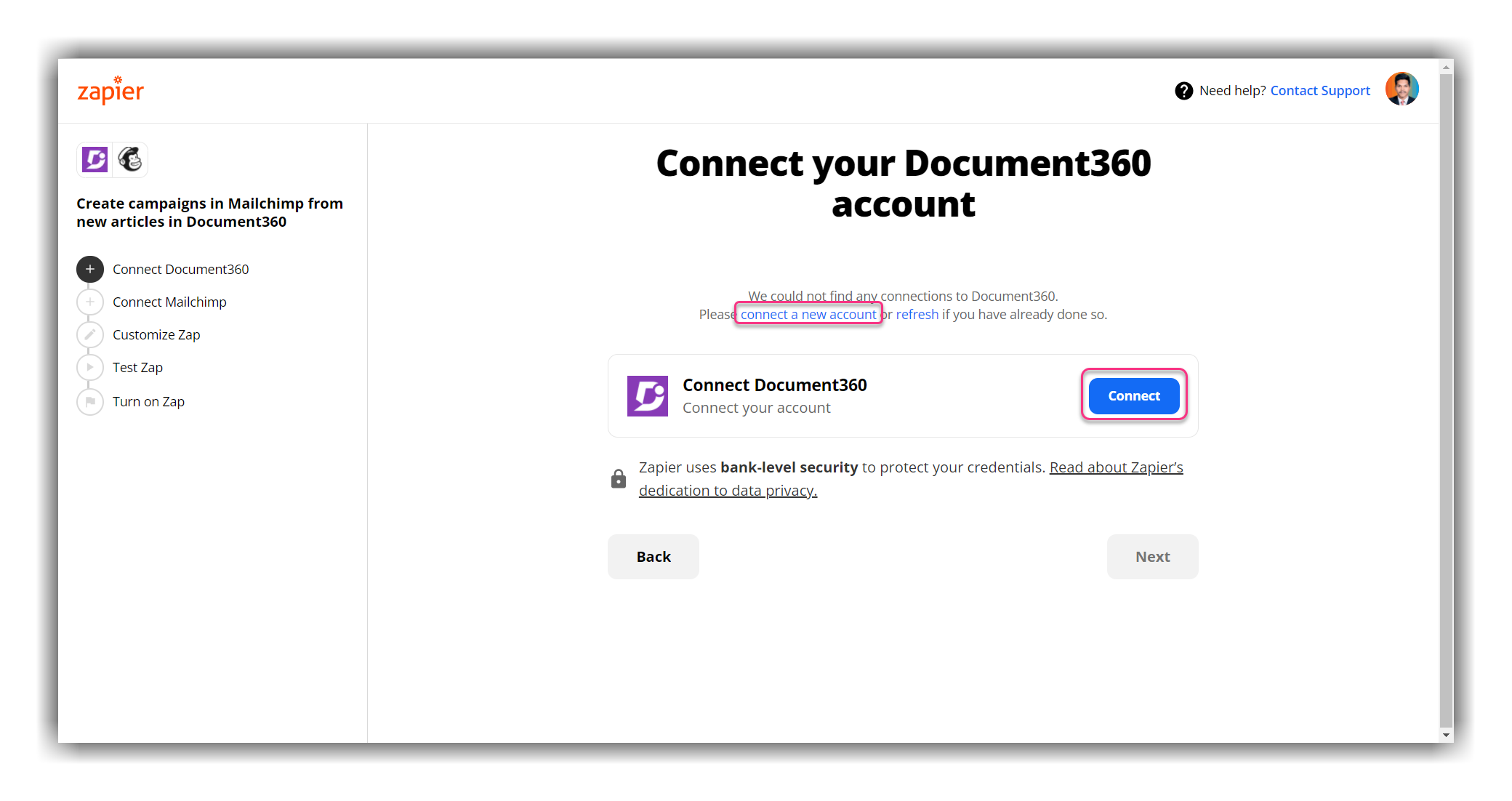 Click on Connect or Connect a new account
A new pop-up window would open with an API token field to connect with the knowledge base project
You can obtain the API token from the Document360 portal
API token generation - Document360
Obtain the Zapier token (API key) generated from the Document360 portal (Settings → Extensions → Team collaboration), click on the Generate icon → Yes (Create extension token prompt), and copy the token by clicking on the Copy button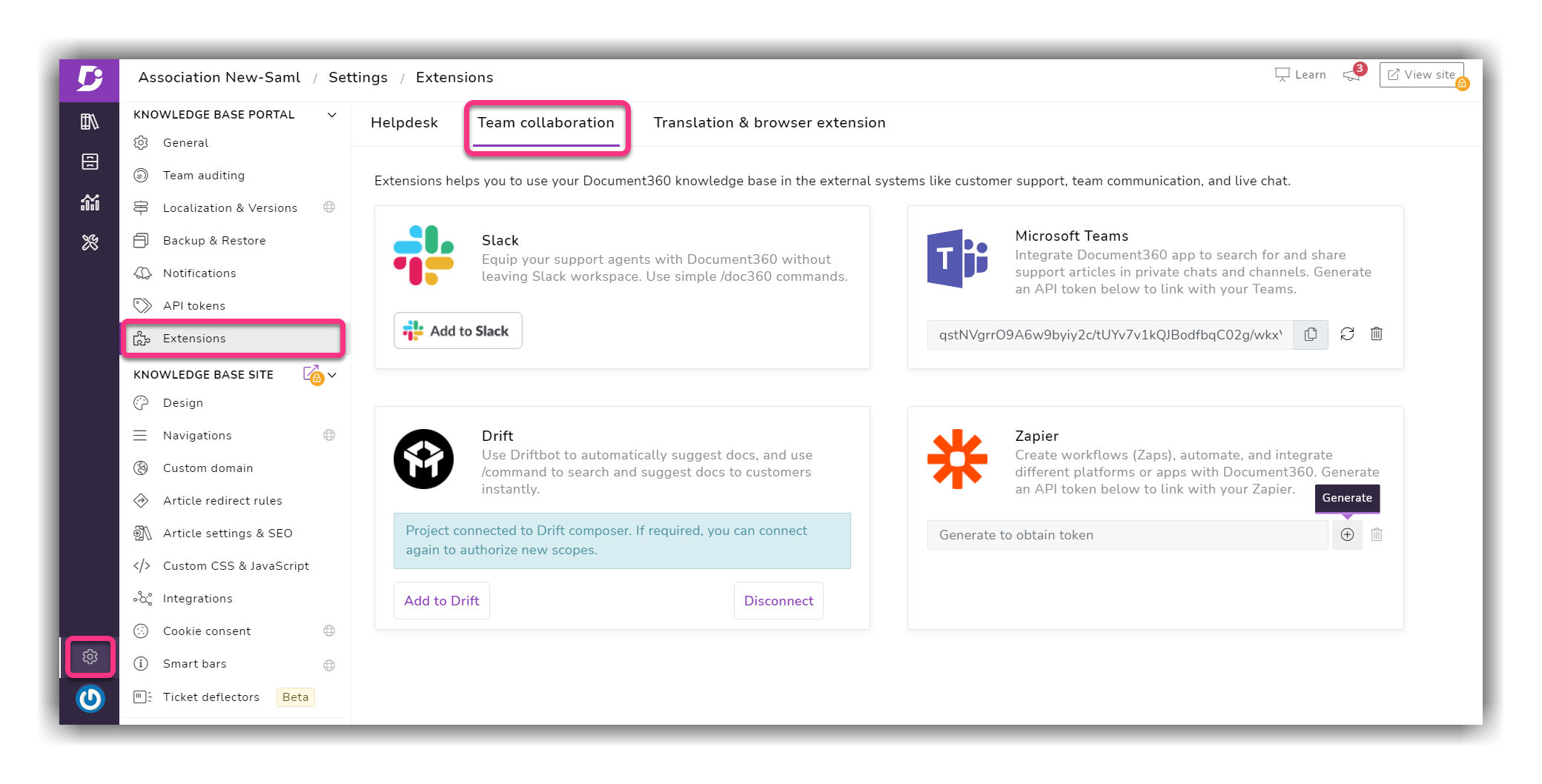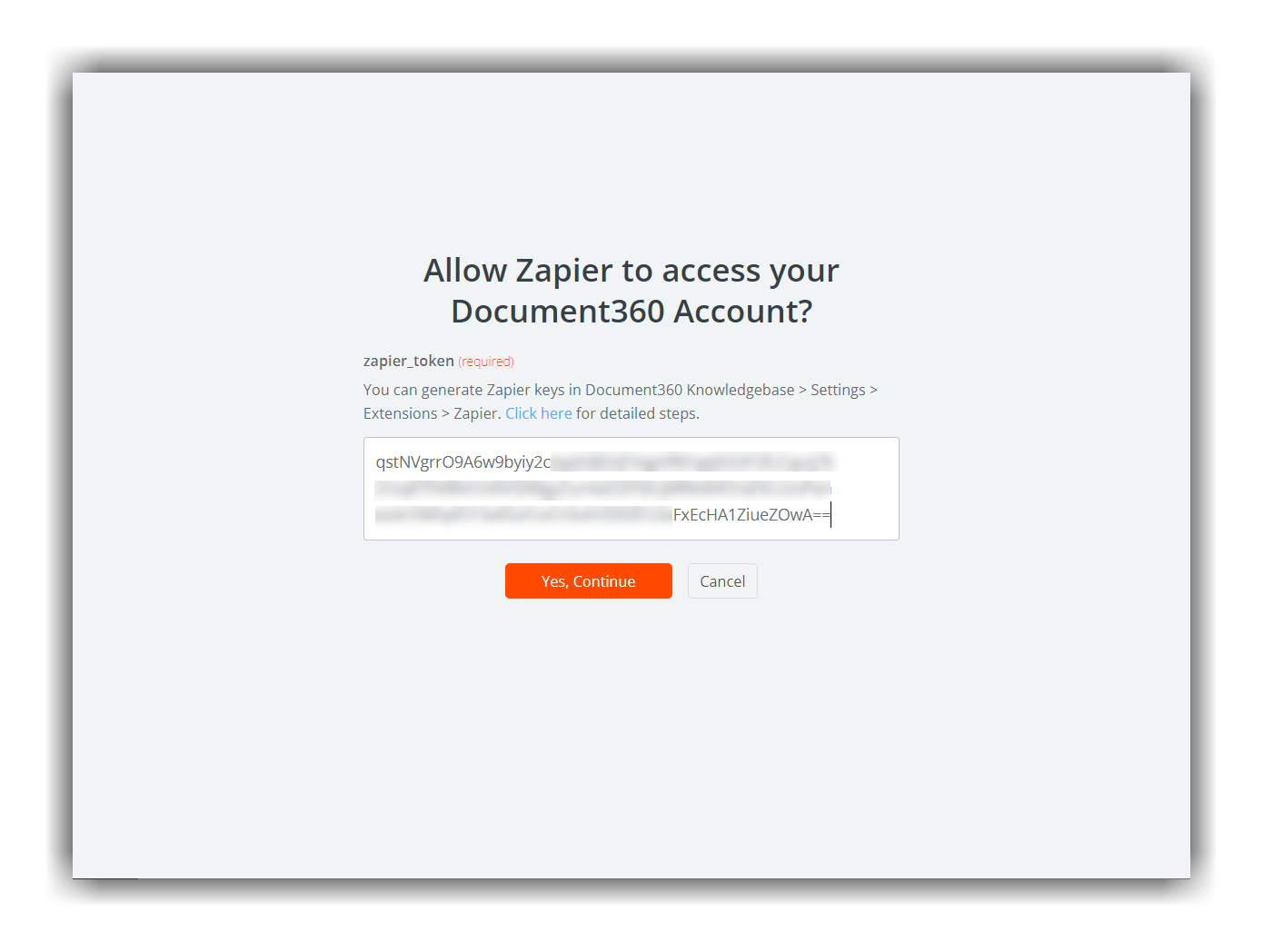 Head back to the pop-up window, paste the API token in the field, and click on Yes, Continue
Click on Continue
If you wish to configure a different account later, you can do that by clicking on Rec... (Reconnect) or Connect a new account
Step 2 - Connect Mailchimp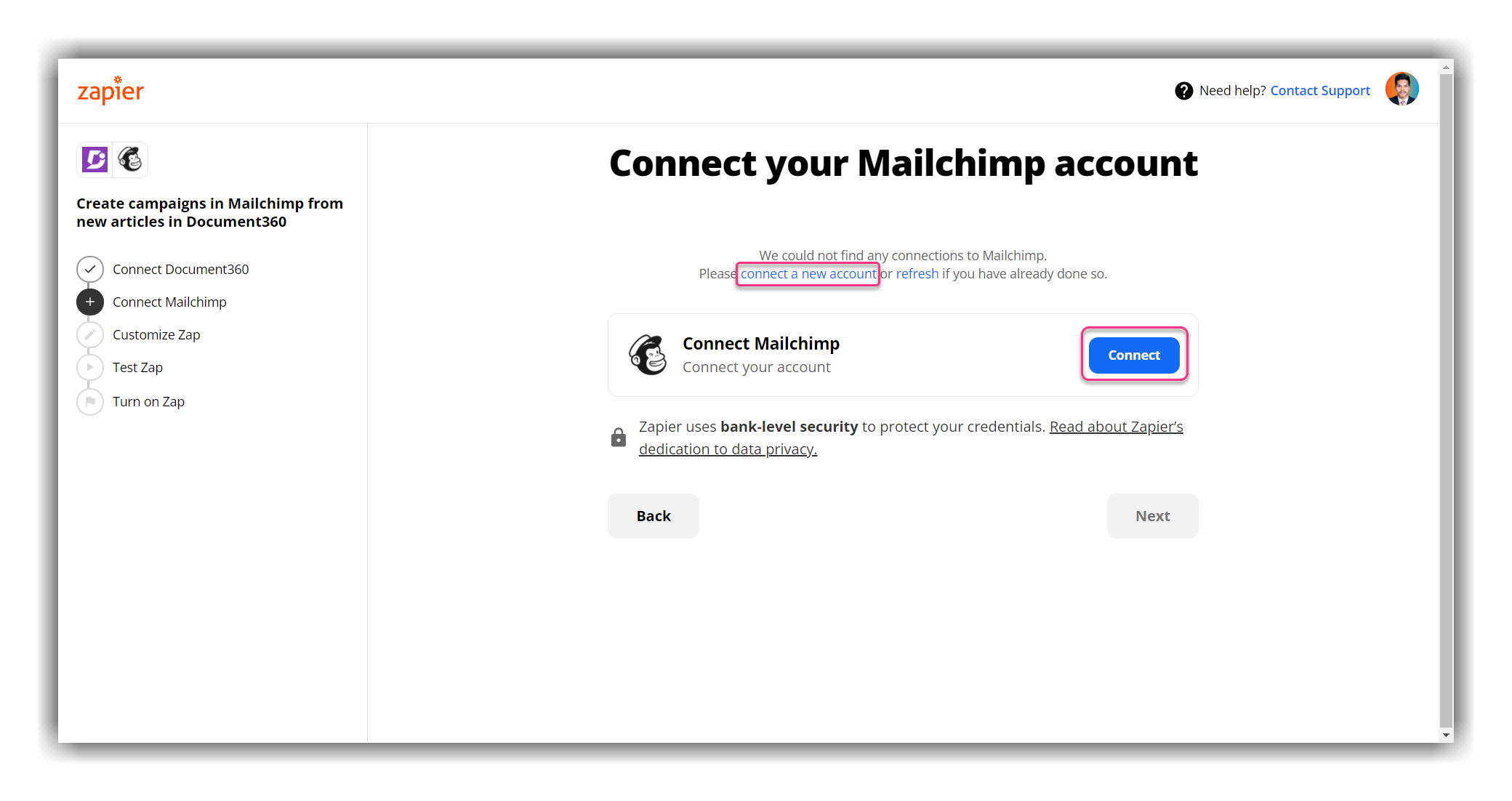 Click on Connect or Connect a new account and key in your credentials on the new access window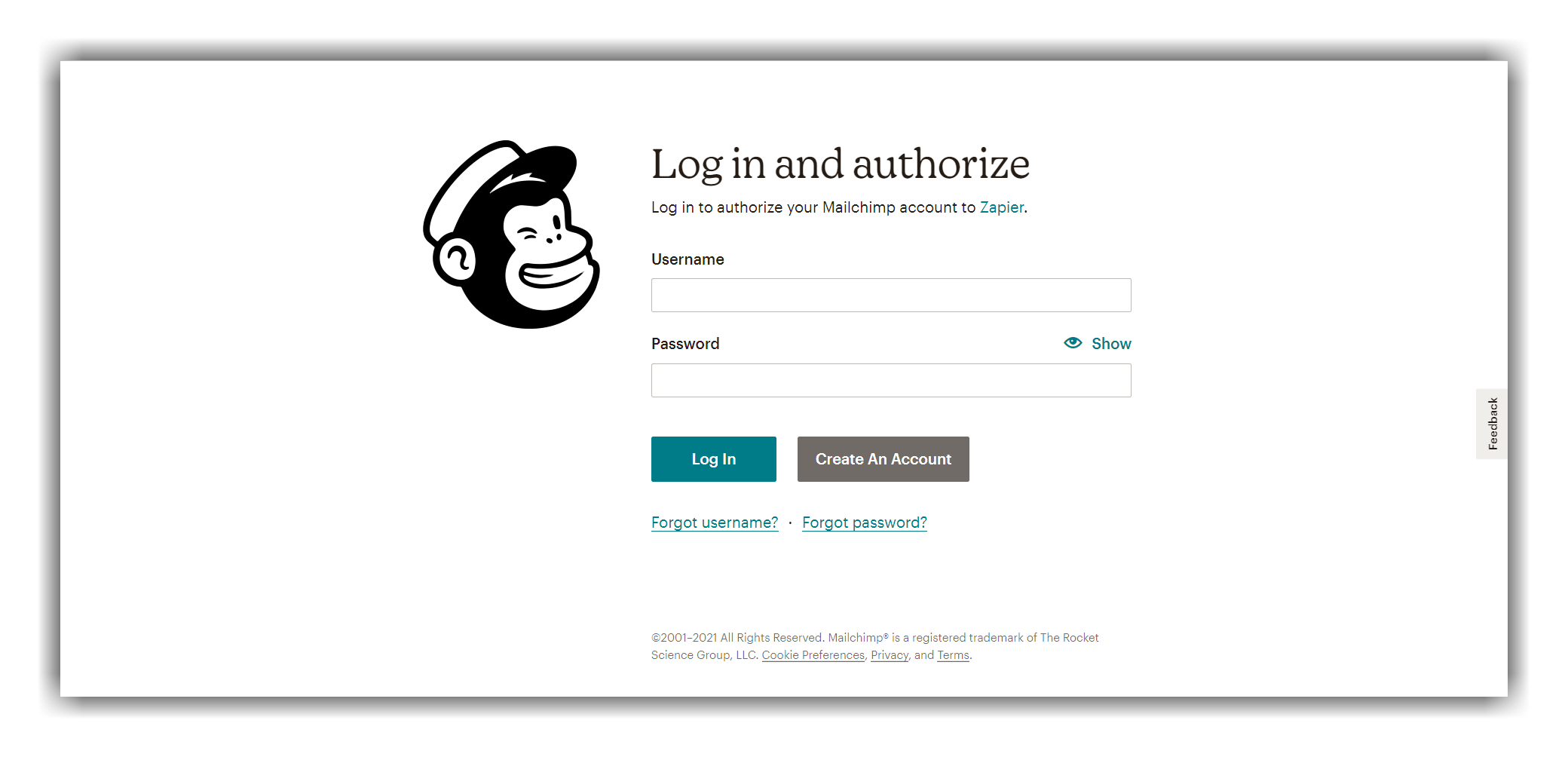 Connecting Mailchimp account
If your account is already linked, you can directly select your account
Select your Mailchimp account → Next
Select the fields you want to edit in Mailchimp → Next
Step 3 - Customize zap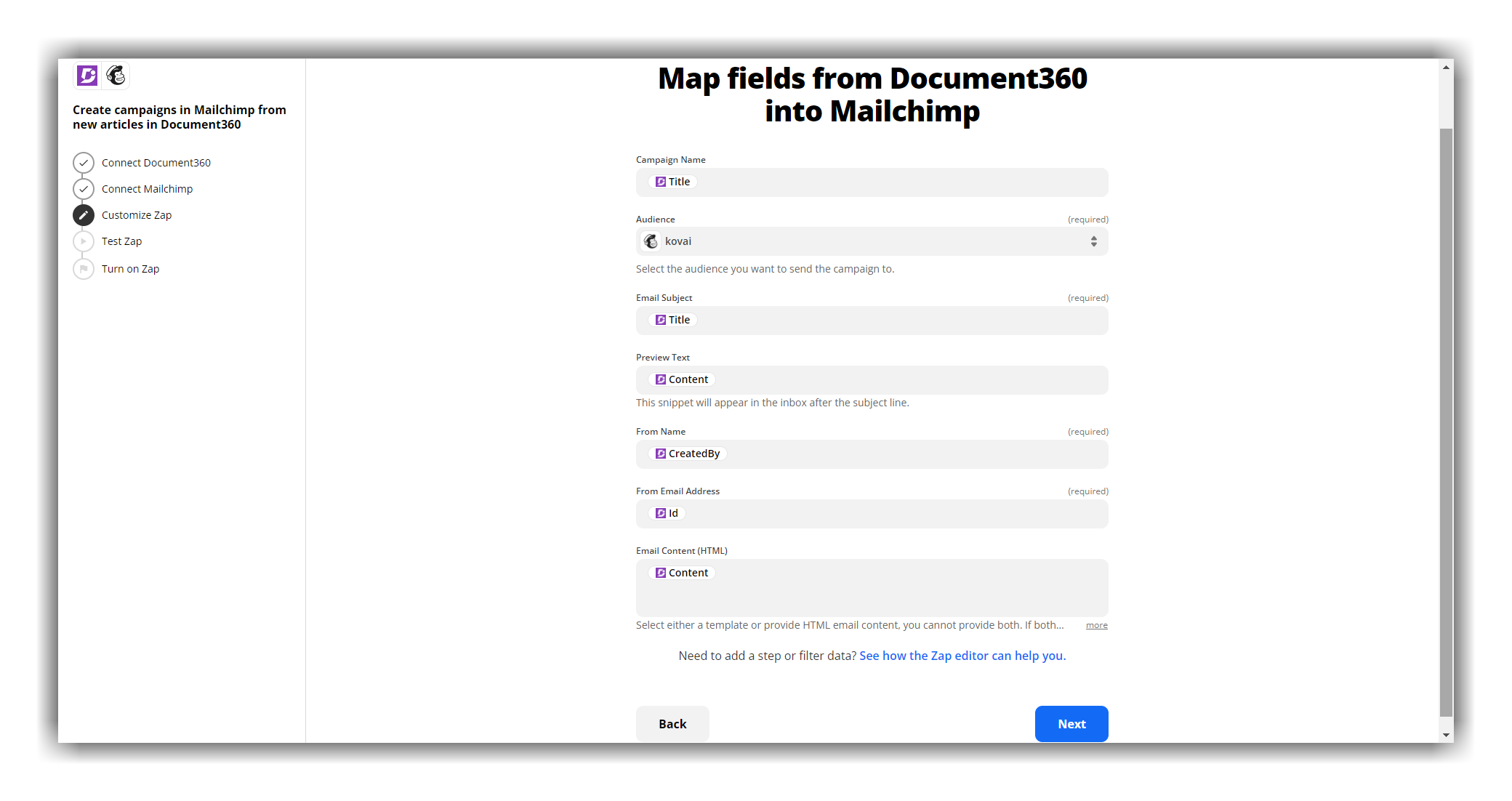 Map the desired fields from Document360 into Mailchimp
Required fields
It is mandatory to fill the fields denoted with *required
You have a plethora of options to choose from (depending upon your business requirements)
Click on the Next button
Step 4 - Test zap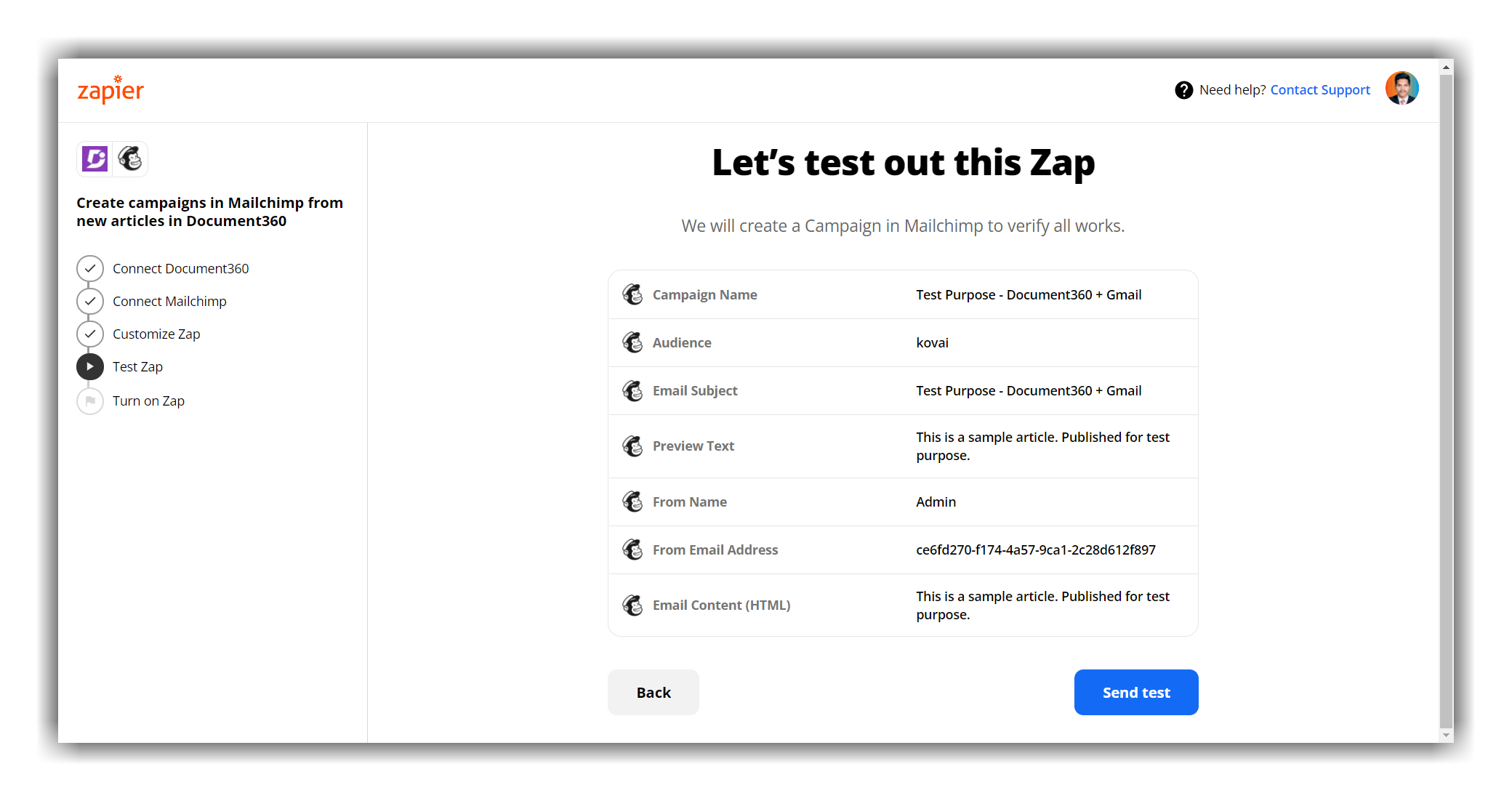 Once you have configured the actions in Mailchimp, the Zap needs to be tested to make sure it's configured correctly
(Zapier would create a Campaign draft on Mailchimp to make sure everything works)
Click on the Send test button
If successful, you would get the message "Test Campaign sent! Check your Mailchimp account to view it.''
Visit your Mailchimp account and you can find the created campaign draft
Head back to the Zapier setup window and click on the Next button
Step 5 - Turn on Zap
Now that the Zap has been tested and made sure it works fine, review/edit the settings before turning on the Zap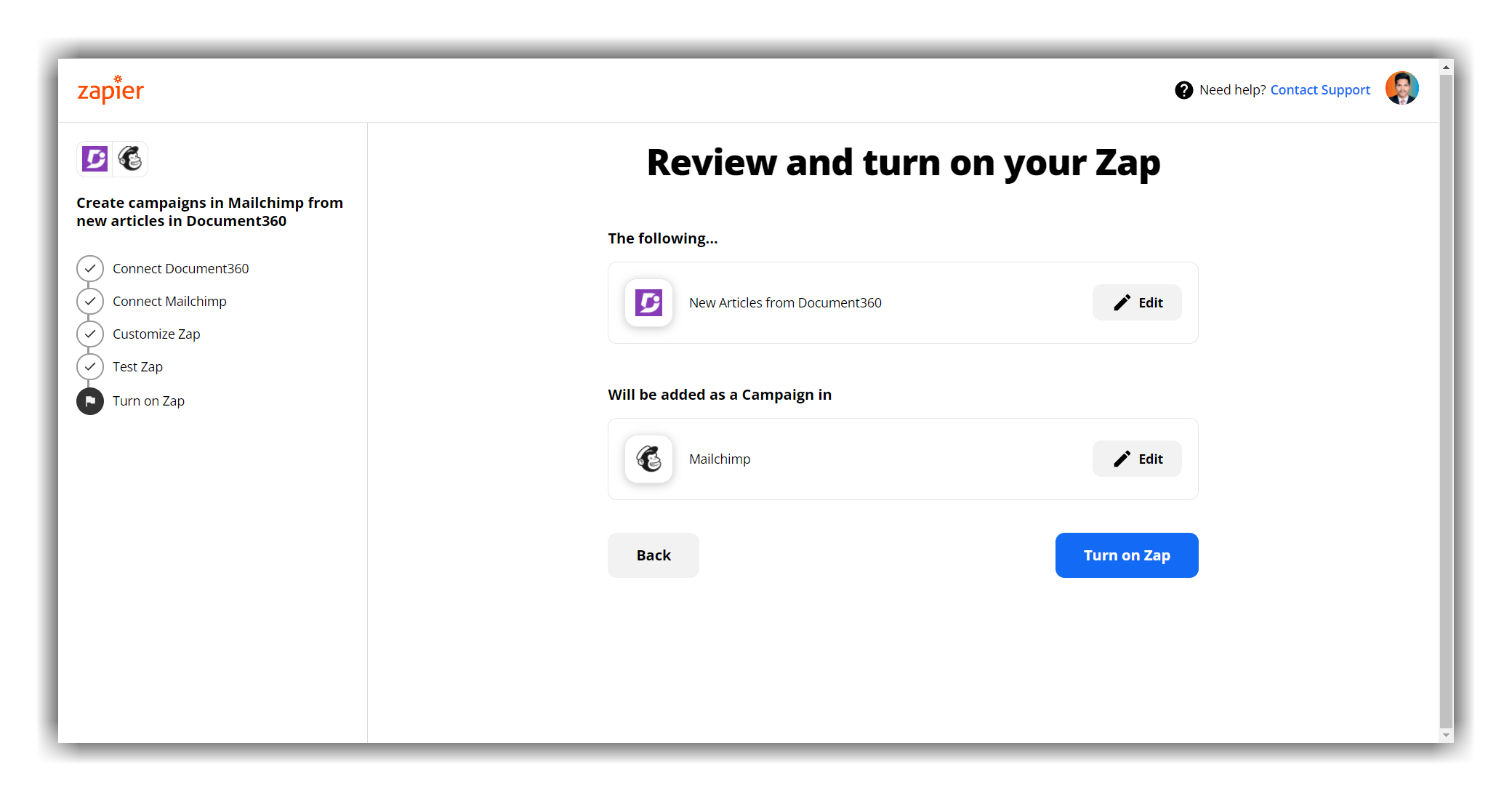 You can edit the settings configured on the trigger and the corresponding action of the campaign draft in Mailchimp

Finally, click on the Turn on Zap button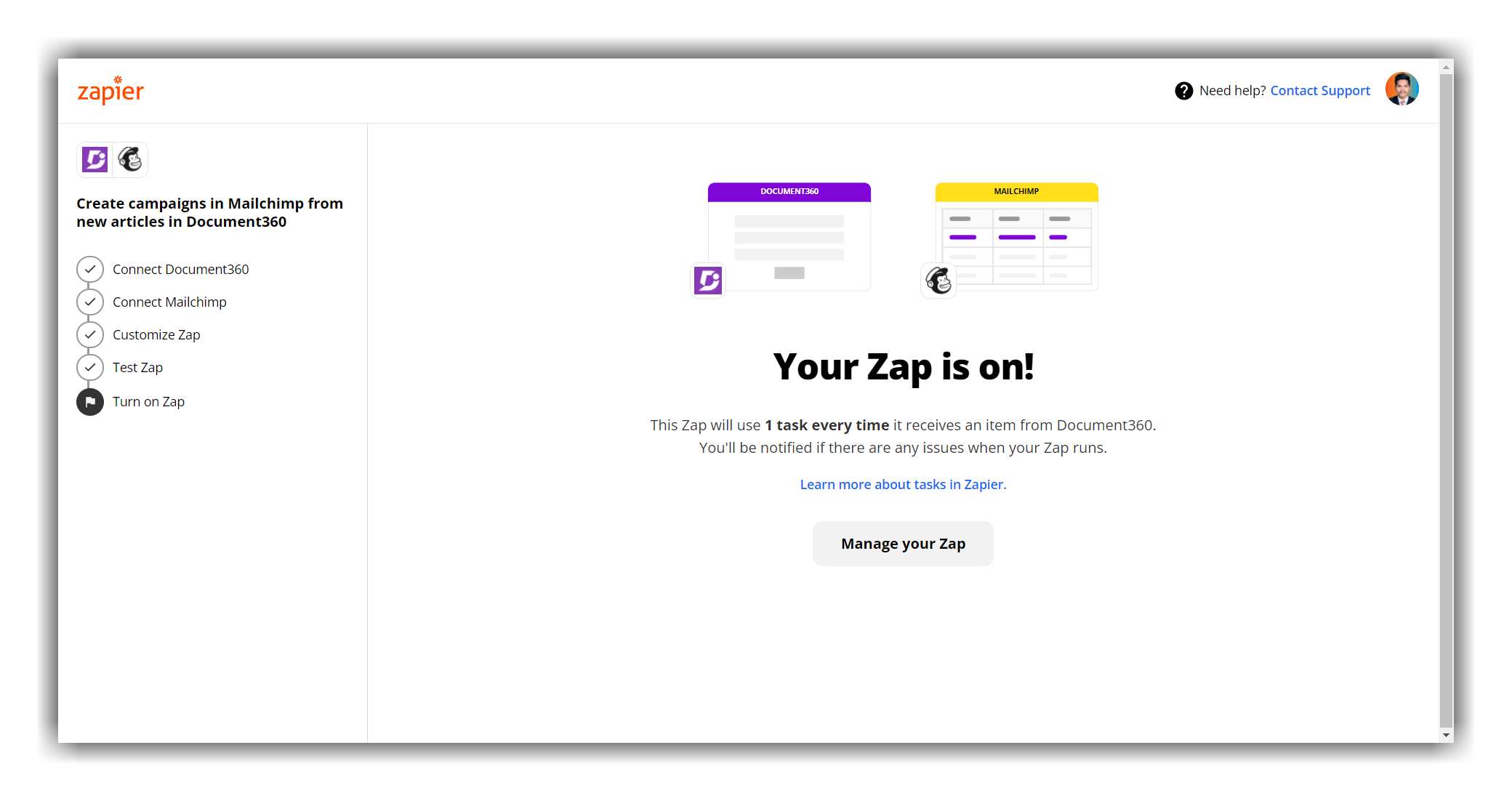 You would get a success message window stating Your Zap is on!
You can click on the Manage your Zap button to go to your Document360+Mailchimp Zap overview page
---
Created Zap overview
Create campaigns in Mailchimp from new articles in Document360
You can view and edit the information about your created Zap on the Zap overview page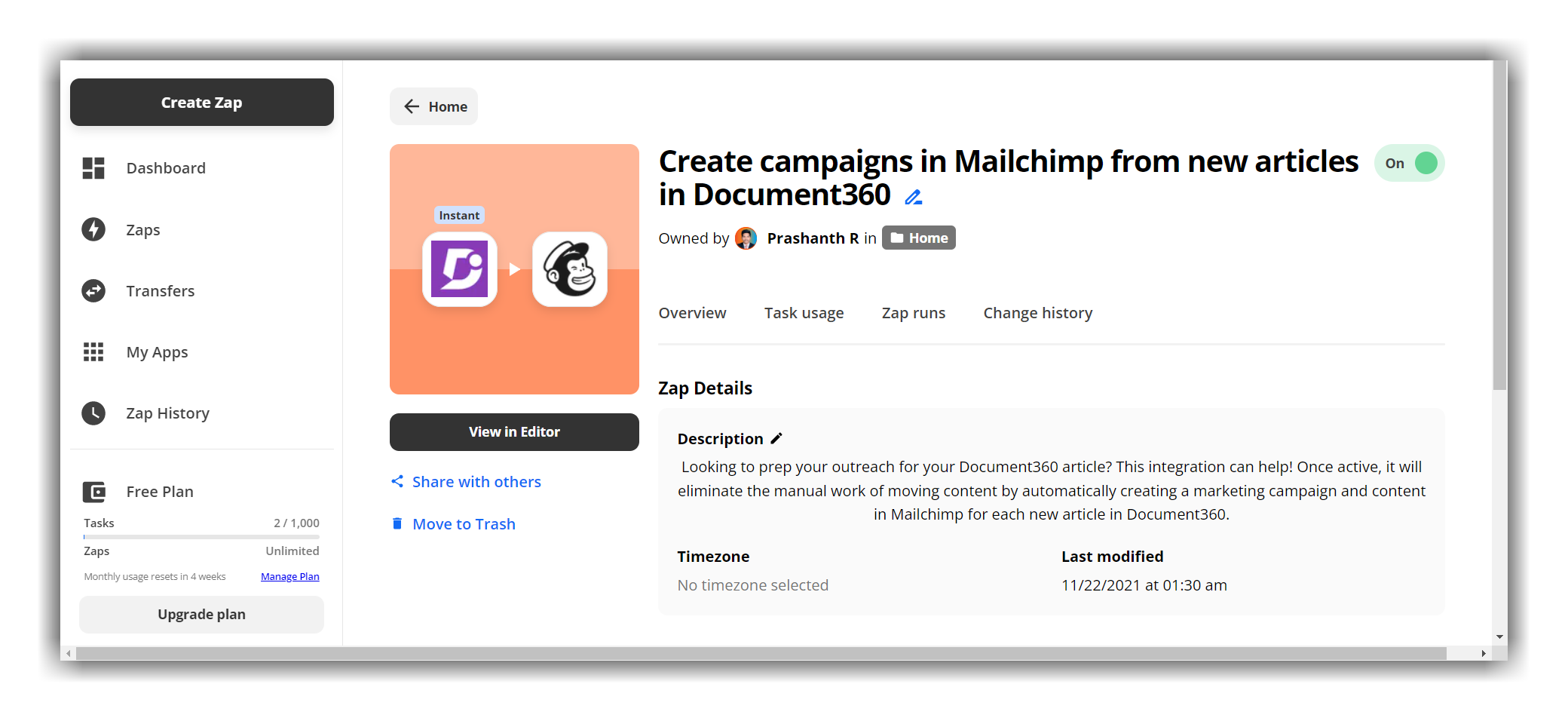 Zap runs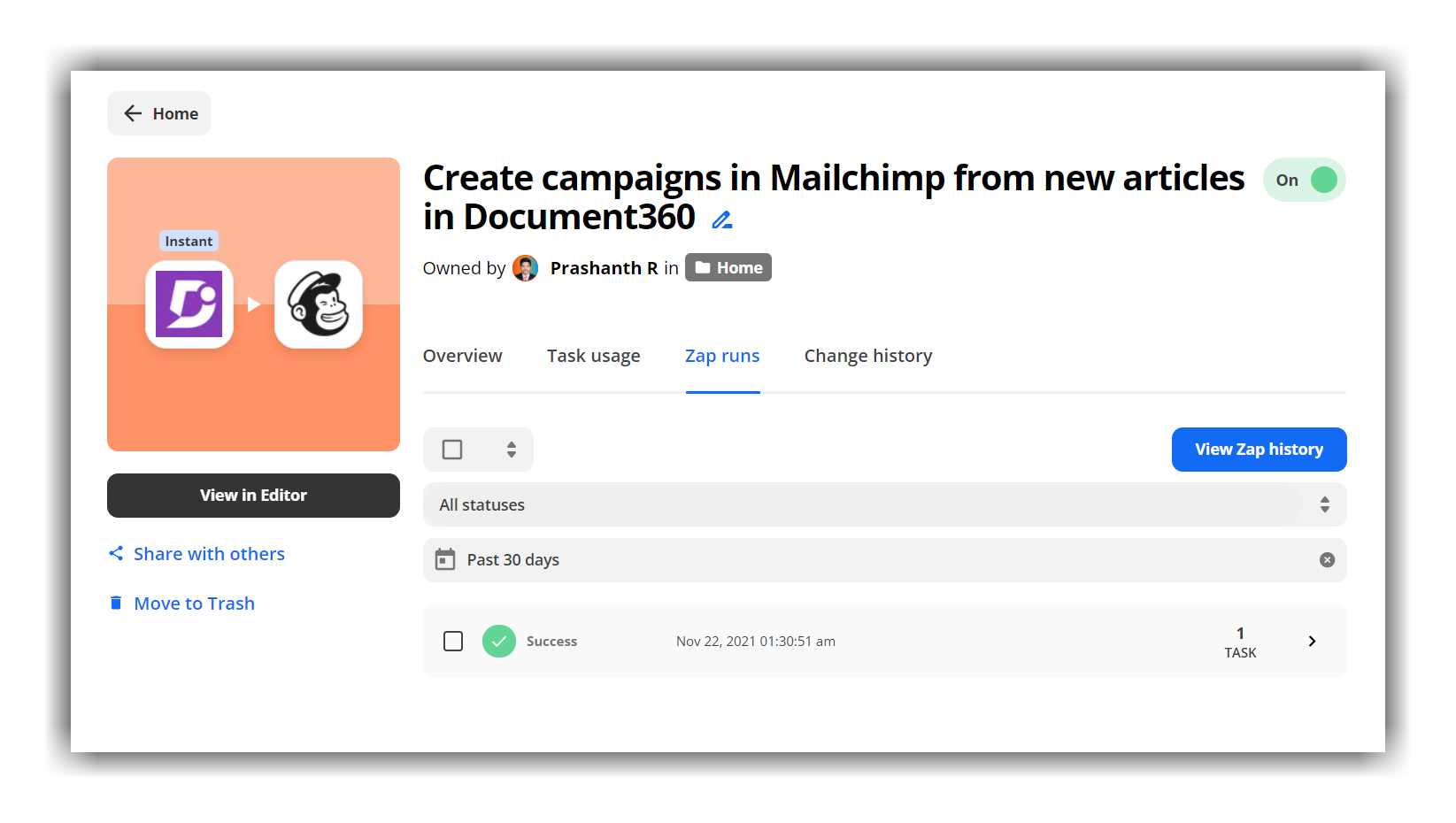 Whenever a new article is created in Document360, zaps runs automatically to create a campaign draft in Mailchimp
---
To make a copy of the Zap, click on the following link https://zapier.com/apps/document360/integrations/mailchimp
If required, you can change the actions
---
Was this article helpful?
---
What's Next