Creating a Document360 account
---
Article Summary
Document360 is a self-serve online library of information about products, services, departments or topics. It has two basic editors: Markdown and WYSIWYG. To create an account, users must provide their first name, last name, job title, work email and phone number. After verifying the email address within 24 hours they can create a knowledge base with access for team accounts or readers. Team accounts can manage versions, languages and categories while readers can only view the content of the knowledge base site.
Share feedback
Thanks for sharing your feedback!
To create a Knowledge base with Document360, you must first create a Document360 account:
Creating a Document360 account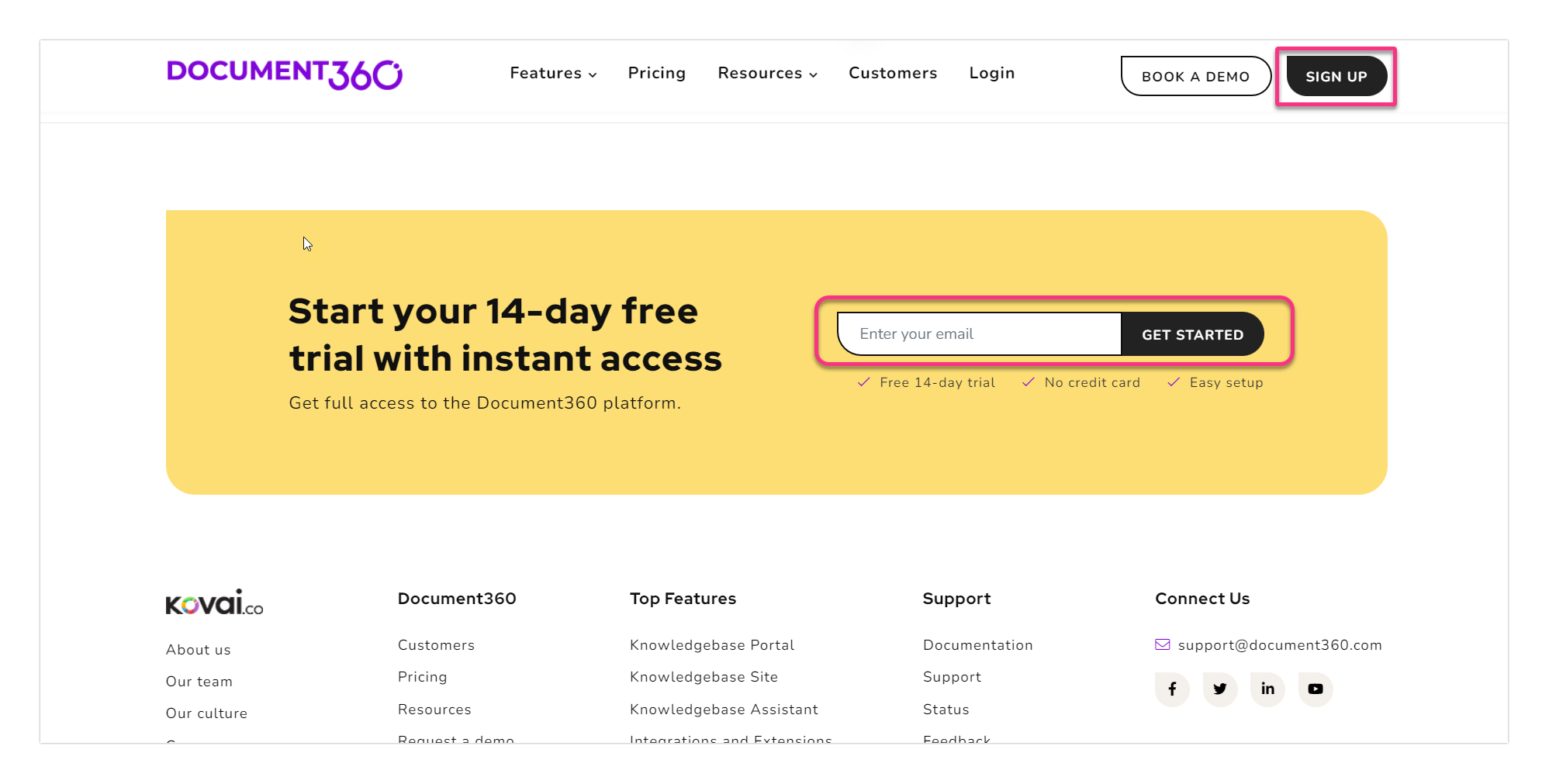 Visit the Document360 website. Click Sign up (or) enter your email in the 'Get started' field and click GET STARTED
Free Trial
All trial accounts get 14 days of free access. No credit card required!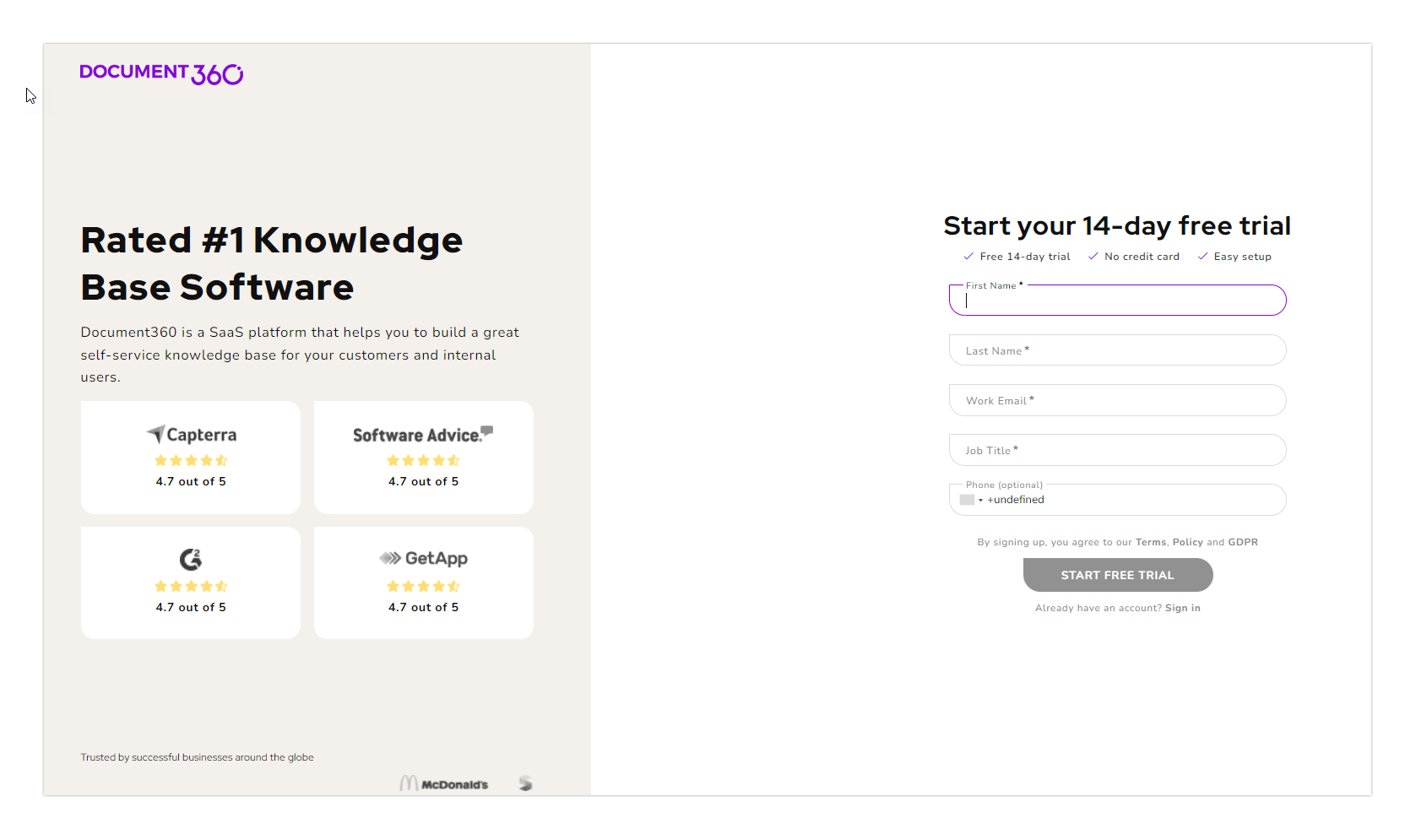 In the signup form, enter your

First name
Last name
Job title
Work email
Phone number (Optional)
Work email
You cannot signup with a personal email domains such as Gmail account or any other miscellaneous/temporary email domain .
Provide a valid email (preferably a work email) as you will receive a verification email.
Mobile signup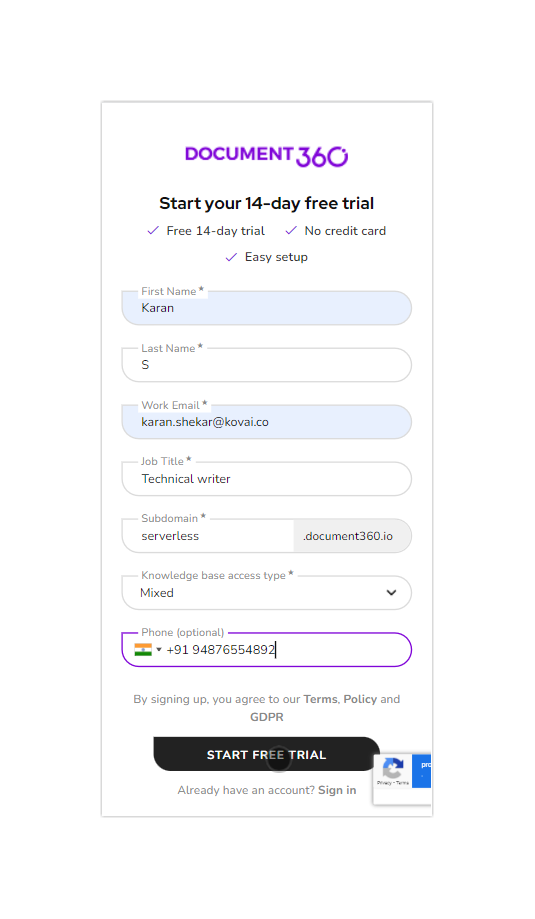 Mobile users must enter a unique domain name and choose the site access on this page.
Once you're ready, click the Start free trial button, and you will be sent a verification email
Mobile users
You must verify your account on a computer. You cannot verify your account on mobile.
You would have access to the Document360 platform, but you have to verify your email within 24 hours
Follow the instructions in the verification mail received to get full access to your 14-day free trial
When you log in for the first time, you will be prompted to Create a new knowledge base.
---
Create a new knowledge base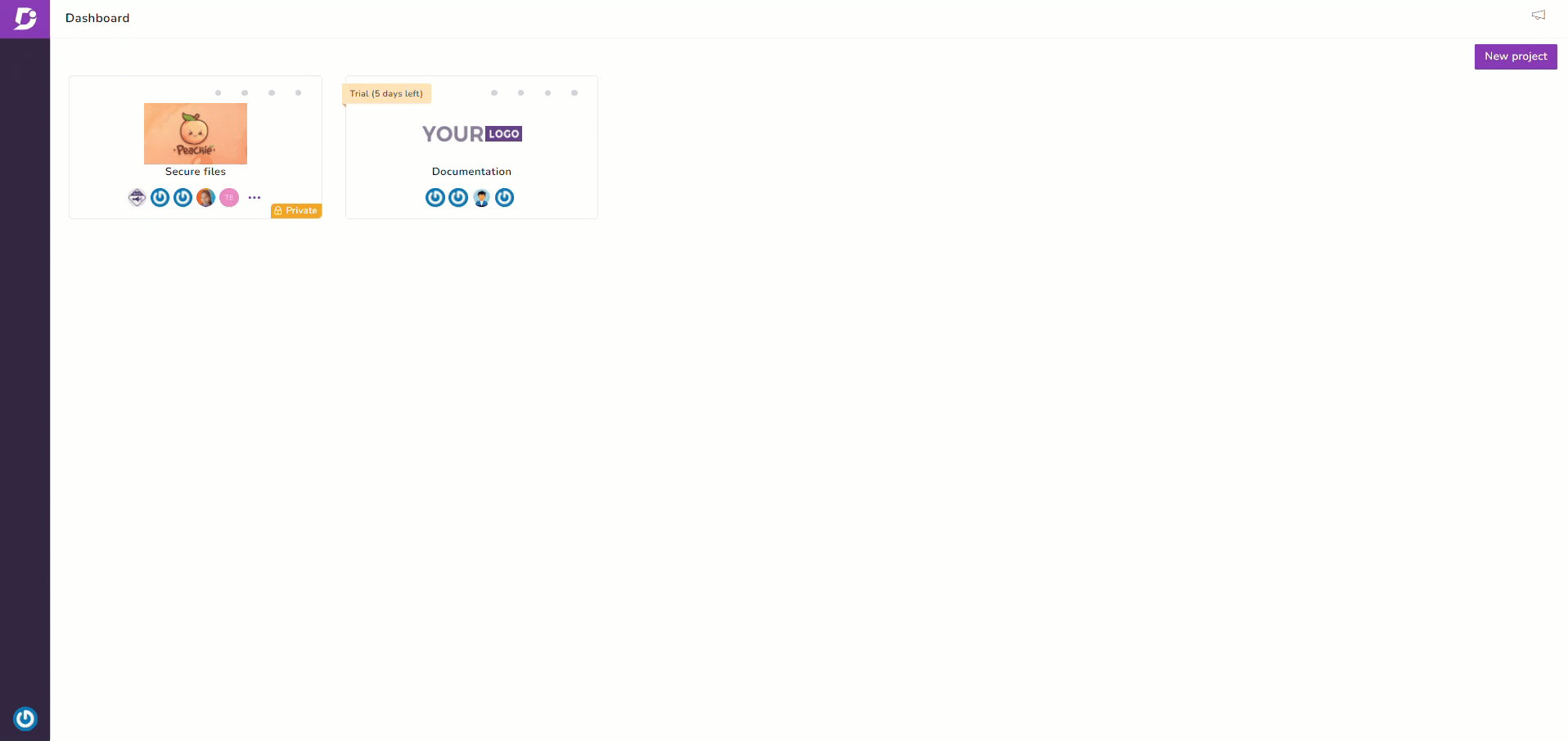 Your Profile
You can add your profile picture, first name, and last name.
Type in the First name and Last name
By default, the First name and Last name provided in the signup window appears here.
Click the Pencil icon on the profile picture to add the profile picture. You can upload a profile picture from your local device storage
Click Save
---
Basic details
Enter your Project name in the Name field
Project name
Only alphabets, numbers, hyphens, and spaces are allowed
Special characters except hyphen are not allowed
The character limit for project name is 30 (including spaces)
Enter your Subdomain name in the Subdomain field
Subdomain name
Only alphabets, numbers, and hyphens are allowed
The subdomain name must be unique
You cannot use an existing subdomain name
The character limit for subdomain name is 30 (including hyphens)
For example, If a company called Babel was creating a knowledge base for its software, they might choose:
Name: Babel
Subdomain: babel.document360.com
If you have two words in your project name, then the autogenerated subdomain is added with a hyphen (-)

Name: Babel Handbook
Subdomain: babel-handbook.document360.com
Subdomain name
You can also change the subdomain name after the project has been created. To change your subdomain name, see
Custom domain mapping
.
Click Next
---
Editor
Choose to edit your documentation in Markdown or WYSIWYG (What You See Is What You Get)

If you mostly create text-based documents, make Markdown your default editor and switch to WYSIWYG (HTML) when you need to add multimedia (images/video) via Article settings
Editor Choice
After you set up your project, you can change the editor for the project.
Click Next
---
Customize your Knowledge base
Upload a logo or type in the company name, either will display on the project card
The character limit for logo text is 30.
Change the primary and secondary colors using the color picker or enter a HEX, RGB, or HSL color code
You can change your logo and color section after the project is created in the Project Settings menu.
Click Next
---
Knowledge base access
Site access
You can change your site access to public/private/mixed after the project is created in the Project Settings menu.
Click Create
The project is created successfully.
Custom domains
During the trial, your project will be hosted under document360.com. However, you can choose a custom domain with any of our paid plans.
Knowledge base site can be accessed only after the project Owner completes the verification. This applies to both Team account and Reader.
---
You can check our simple and transparent pricing for the different plan tiers. Click here to view Document360 plans.
---
Was this article helpful?
---
What's Next