Freshdesk (formerly Freshchat)
---
Share feedback
Thanks for sharing your feedback!
Freshdesk, formerly Freshchat, is a modern messaging software tool for sales and customer engagement teams to communicate with website visitors.
It allows users to deploy an AI-powered chatbox with accessible integration features. The platform also provides from its integration setup to connect with all the modern conversation applications like Whatsapp, Apple Business chat, Facebook, and LINE on your website and inside your mobile app.
Freshdesk comes loaded with features like
One Inbox for all Messages from different communication platforms

Self-service with AI bots.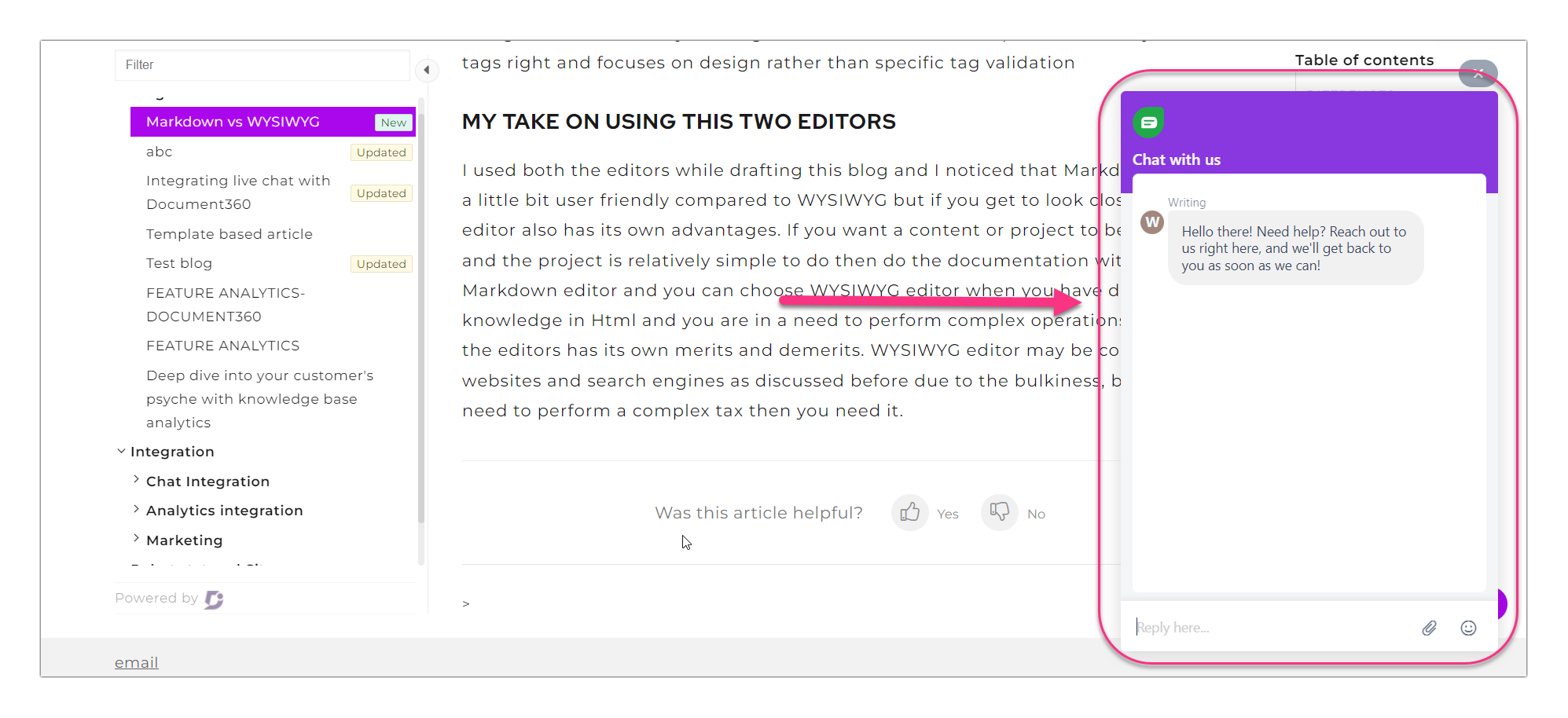 Document360 has an integration feature, where you can connect Freshdesk on your Document360 knowledge base following a few simple steps.
---
Document360+ Freshdesk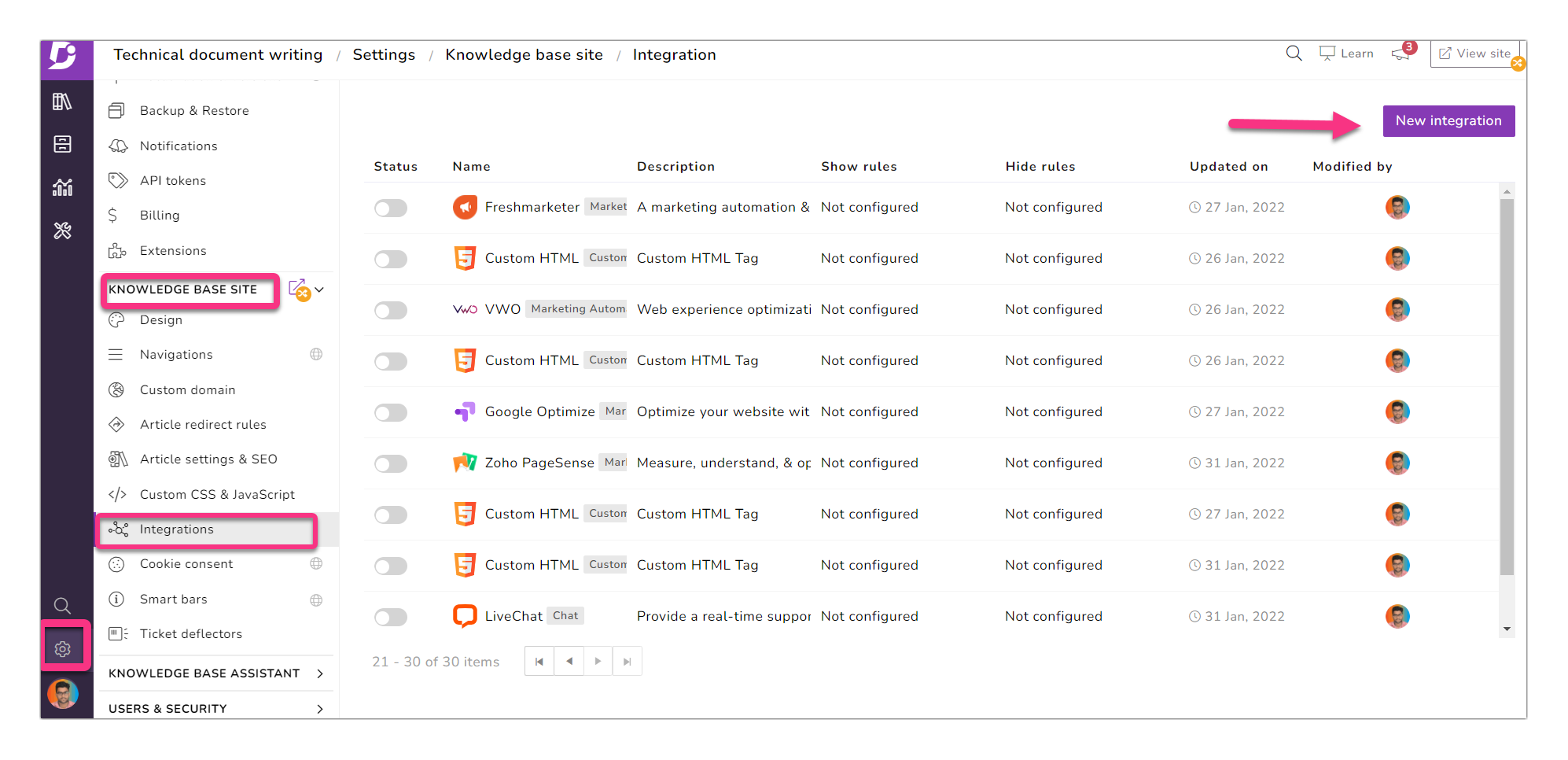 From the Document360 portal, go to Settings → Knowledge base site → Integrations
Click the Add new integration button at the top right, and this opens an Integration setup panel
Select Freshdesk from the list of integrations available in the Integration panel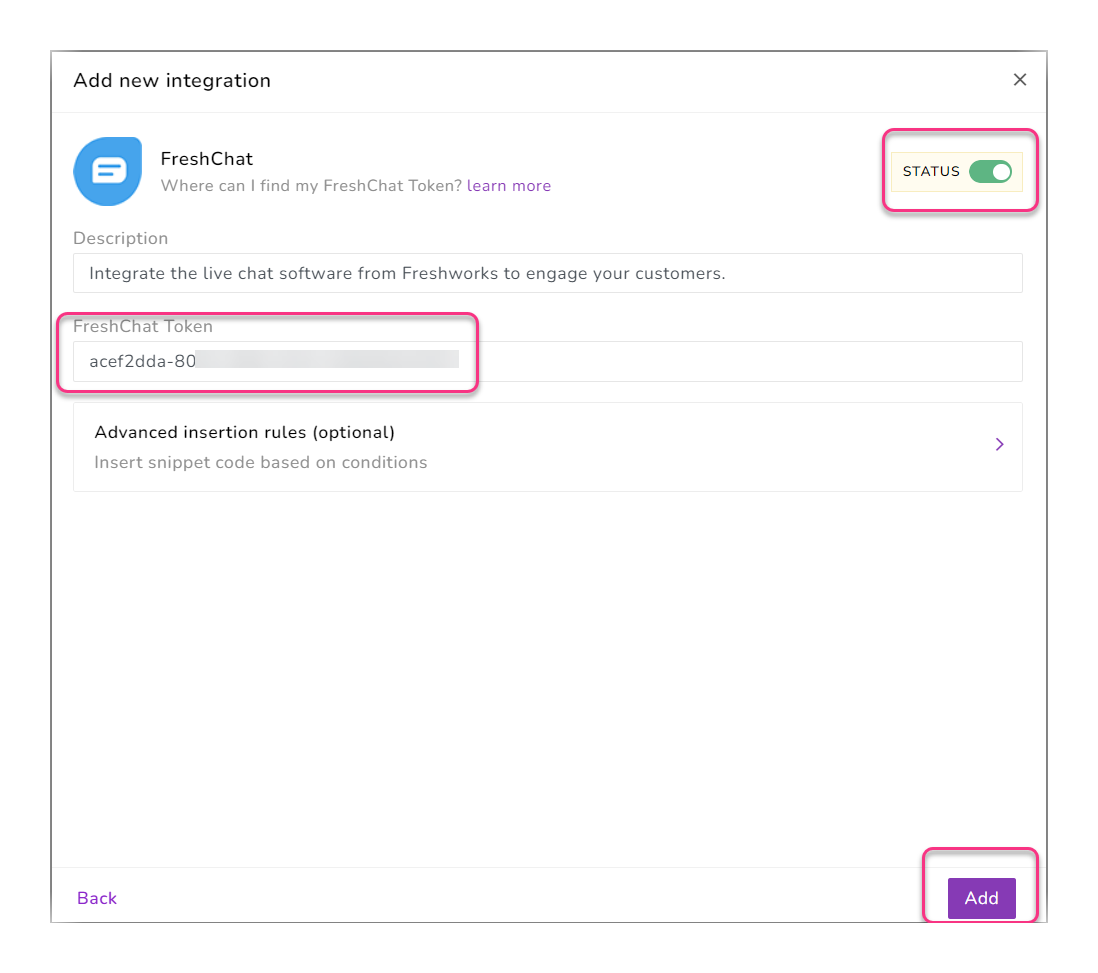 Add a Description and enter the Freshdesk Token
What is a Freshdesk Token?
Freshdesk Token is a small code you can obtain from the Freshdesk application, and use it to integrate with your knowledge base on the Document360 Knowledge base portal.
Enable a Status Toggle bar and click the Add button at the bottom
If required, you can add an advanced insertion rule to your Freshdesk chatbox using the advanced insertion rules option in the integration panel.
How to obtain the Freshdesk Token?
a. If you are an existing user of Freshdesk
Open your Freshdesk dashboard, click Settings →Integration settings → Token (under web messenger category)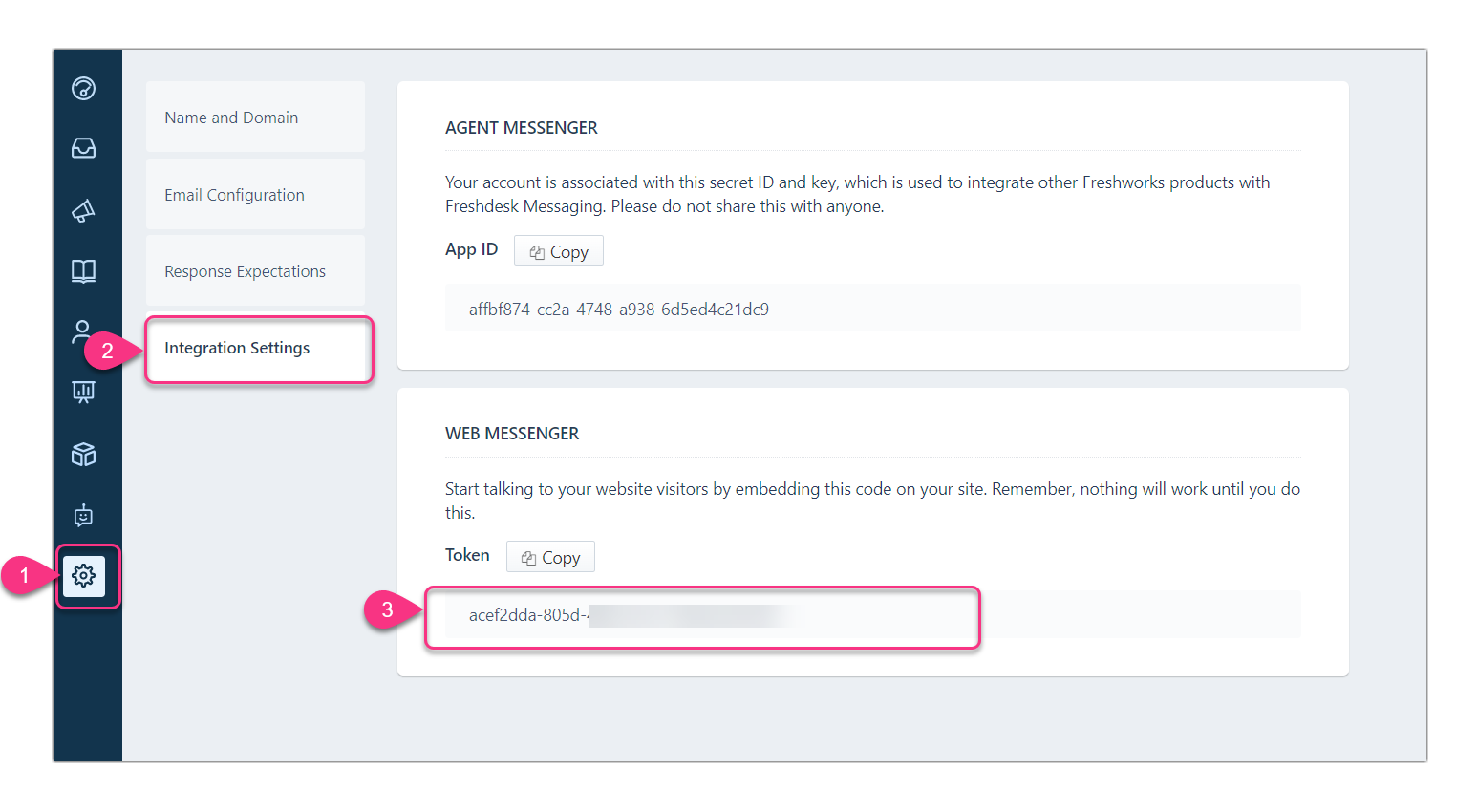 b. If you are a new Freshdesk user
After the initial Freshdesk Account setup, click →Integrate now (From the top bar next to the search bar) → Deploy
Find the code in the snippet (under the Embedded the Freshdesk messaging code to your website category in the Deploy blade.)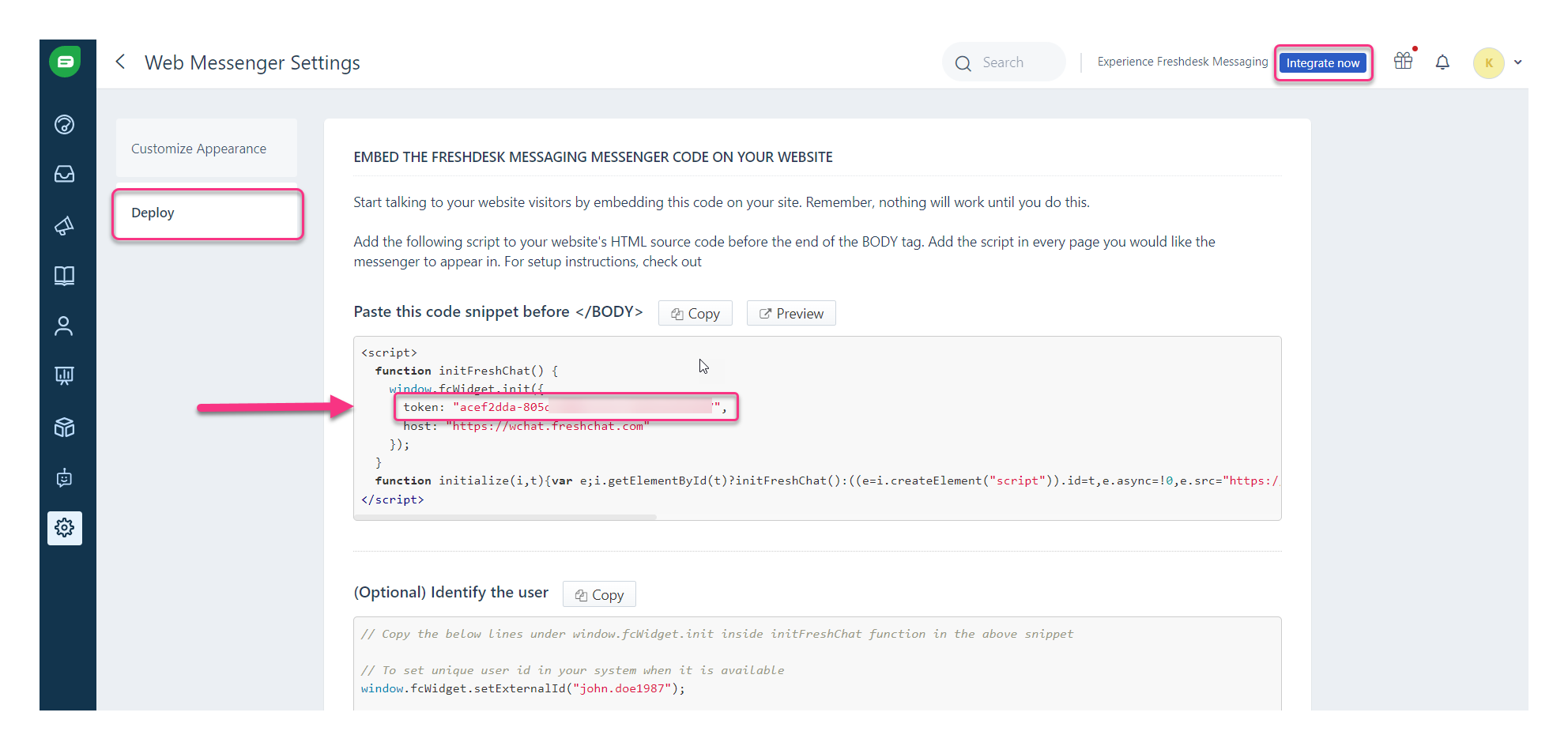 Once you complete the Freshdesk integration with your Document360 knowledge base, you can open your Freshdesk account interface to view and reply to the live chats from your users.
---
Was this article helpful?
---
What's Next