This is the release note of an older version of Document360.
To read about the recent product advancements and releases, check out our latest Release note.
We are starting of 2021 with new hopes and feature updates to Document360.
Before we get into that, here's a look back at Document360 in 2020.
With the January 2021 update, we bring you the addition of smart bar and cookie consent in your knowledge base and 'What's new' feature is another exciting update. We have also made an enhancement with the Enterprise SSO by adding a login page bypass option and strict email domain restrictions.
---
New features
Smart bar
Smart bars allow you to display a banner/bar of info messages overlaying the knowledge base at site level or article level based on certain conditions. Using the smart bar option, you create and add banner(s) at the top and/or bottom of your knowledge base. You can choose if you want the smart bar to appear at a Global level (all the pages of your knowledge base) or Language specific.
The smart bar option can be found under 'Knowledge base site' in Settings menu. You can add text, numbers, characters, or links in the banner content. The smart bar can be set in four custom position and can be edited with styles (Colour theme) of the banner to best suit your page.
Read more→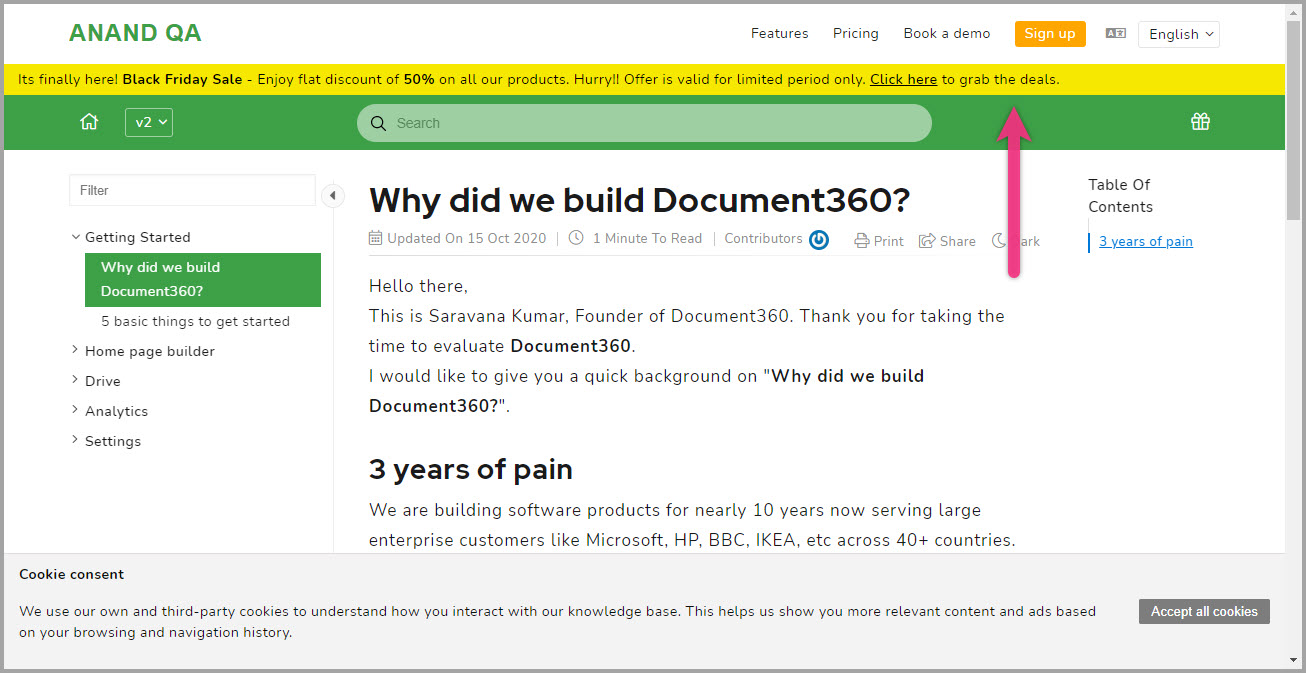 Cookie consent
This option allows you to show a cookie consent banner for your page visitors on your knowledge base. The General Data Protection Regulation (GDPR) mandates that any website should obtain prior consent from the users before collecting, storing, or using their personal or behavioural data.
The cookie consent banner setting can be accessed under 'Knowledge base site' in the Settings menu. You can enable cookie consent banner or pop-up at a global level (all the languages available in the project) or language specific. You can add custom cookie consent messages with basic formatting, add links, and add CTA (Call to action) buttons or icons. You can also edit the banner type (Bar or Pop-up), position, and the looks (theme colour) with live preview.
Read more→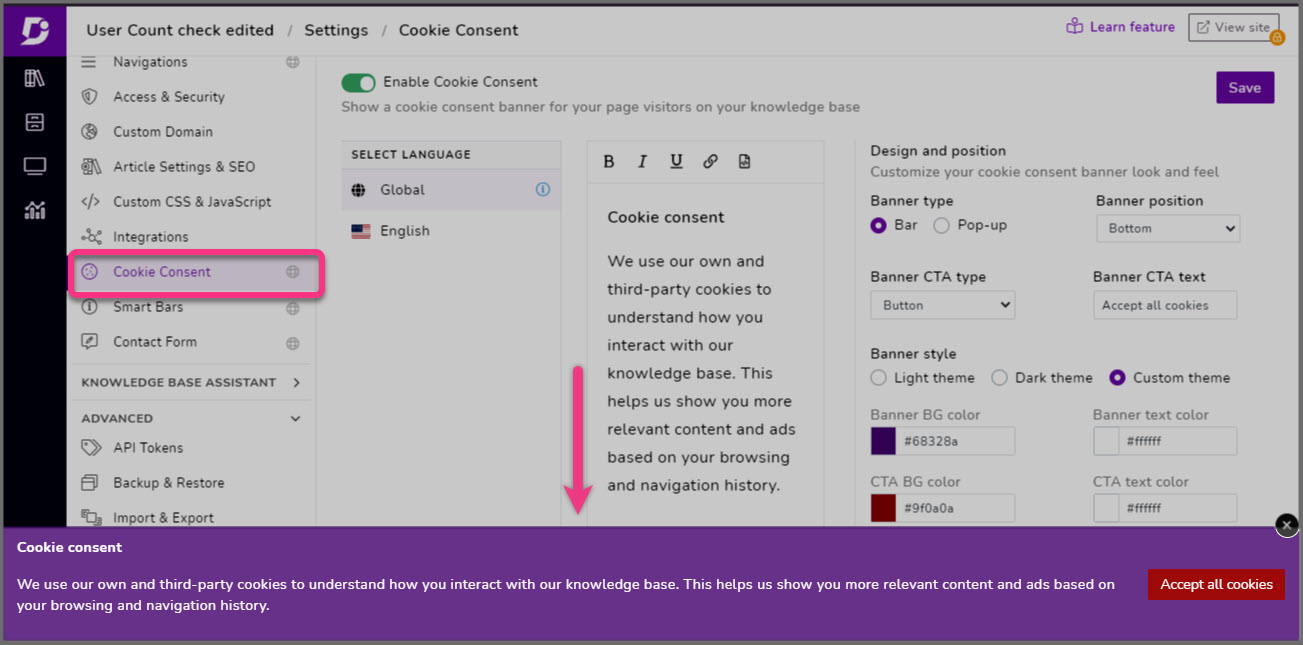 What's new
We have added a new What's new page on your knowledge base window. Readers can access it by clicking on the 'Present box' icon at the top right (blow header section) of the page. Once clicked a new page (Recently updated articles) would appear with the list of recently published articles (both new and forked). Reader can click on the article to visit the article.

---
Enhancements
Enterprise SSO
Bypass Document360 common login page
Make use of this bypass option to skip the Document360 common login page and directly access the SSO login page. This option is available for private projects in which all the members of the project are SSO readers. Once you have configured the project using either of the SSO standards (SAML or OpenID), the bypass setting would appear above the Invite existing users setting.
Read more→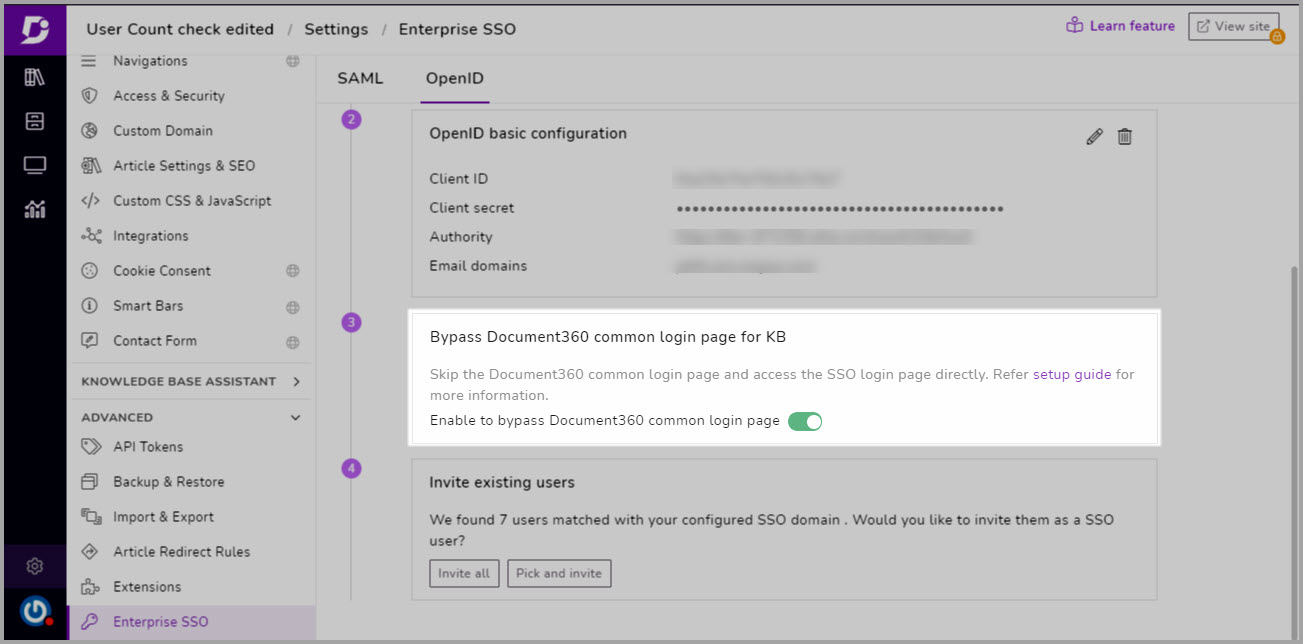 Email domain restriction for SSO users
We have improved the level of security in your project by enhancing the existing email domain restrictions. Now users can sign up as SSO readers only using the permissible email domains specified by the Admin or Owner of the project.
Idle screen timeout
We have added the idle screen timeout for the Document360 portal. If the portal is left idle for 2 hour the screen would display a warning prompt with 60 second timer with option (Stay logged in and Log out). After which the project would have an overlay and you have to hit the Refresh button displayed on your project screen to continue.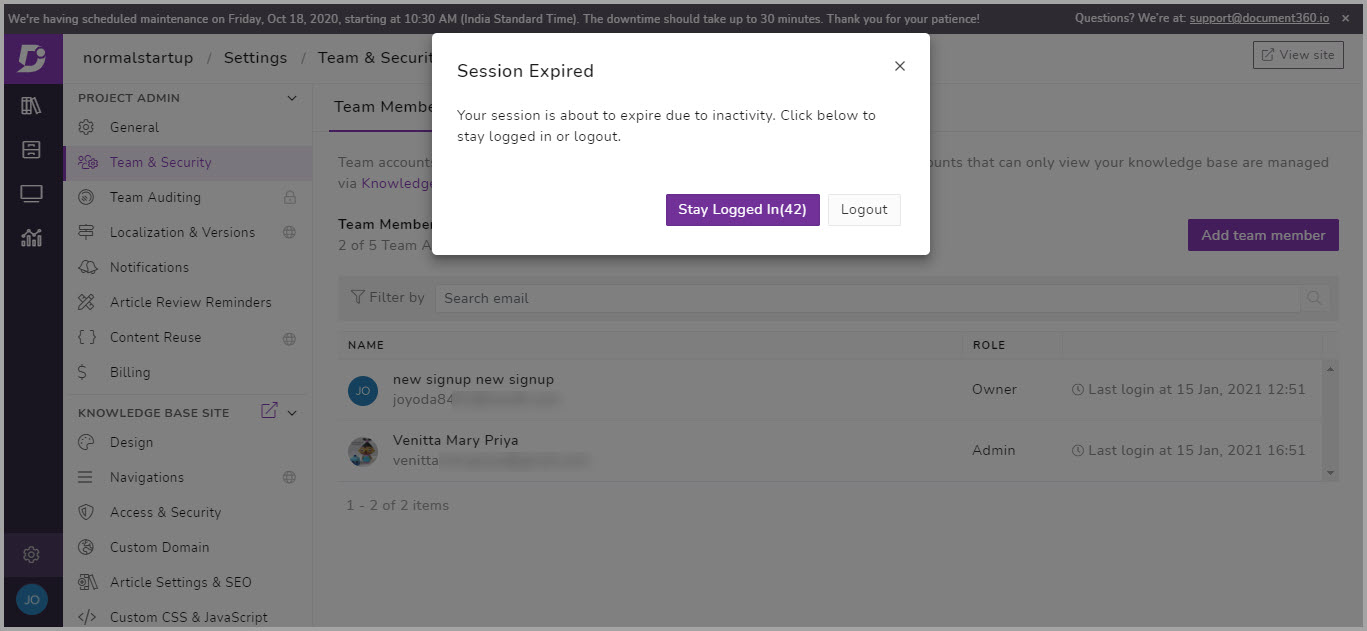 ---
Improvements
• Based on customer request, we have added article links in the Team audit and notification channel for specific article events (Ex. Article publish, Article contributors updated, and more)
• In the Team accounts section of Analytics menu, we have added an identifier badge for SSO user. This would help you differentiate regular team accounts from SSO team accounts.
---
Was this article helpful?
---
What's Next