Tag dependency viewer
25 Nov 2021

1 Minuut om te lezen

Bijdragers
Tag dependency viewer
Bijgewerkt op 25 Nov 2021

1 Minuut om te lezen

Bijdragers
---
The content is currently unavailable in Dutch. You are viewing the default English version.
Share feedback
Thanks for sharing your feedback!
To access the Tag dependency viewer overview page, go to Content tools → Tags → Click on the applicable 'number' data available under the Articles, Category (page), or Files (Drive)
You can view a blade window on the right with in-depth information about the tag.
---
Tags used in Article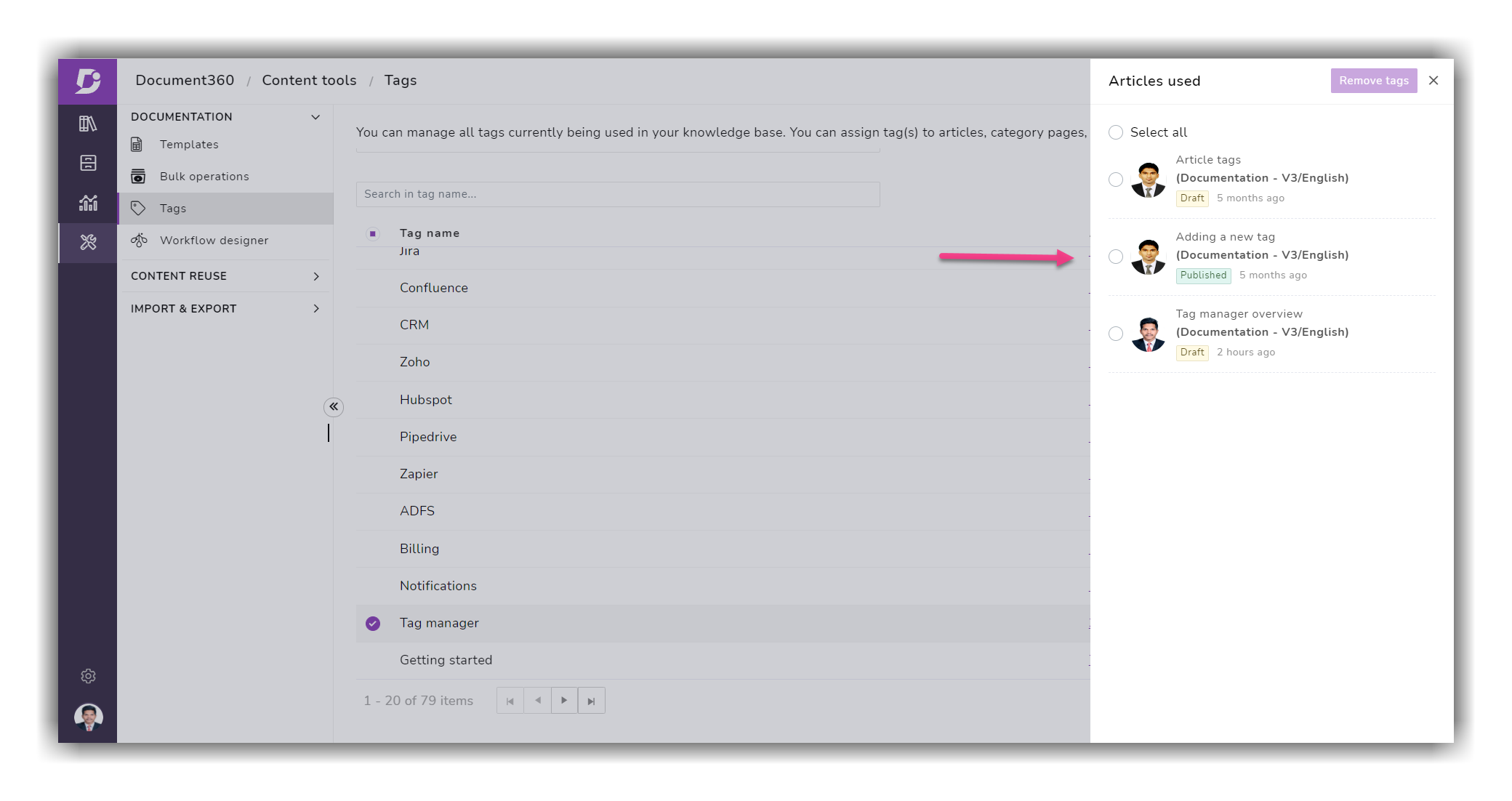 a. On the blade, you can view the list of articles the tag has been used
b. You can find the following article information:
The article title
The article location
The article version and language
The team member account name and profile picture who has added the tag
The article status (Published, Draft, New article)
The time/date range when the tag was added
c. Click on the article information to go to the editor
Remove the tag from any of the listed article
Click on the check box adjacent to the desired article and click the Remove tags button
If you want to remove the tag from all the listed articles, select the Select all check box and click the Remove tags button
---
Tag used in Categories (page)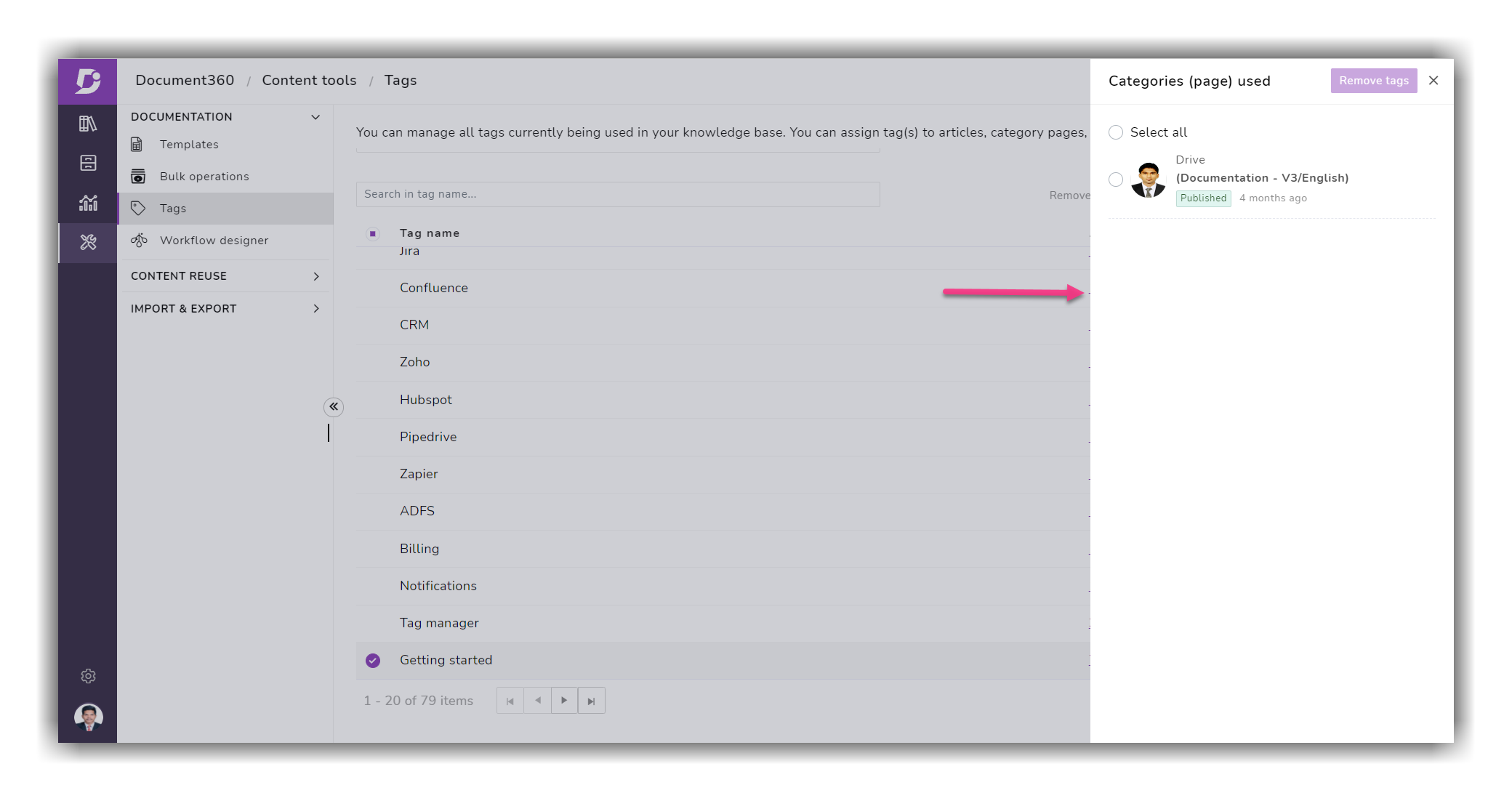 a. On the blade, you can view the list of category pages the tag has been used
b. You can find the following category page information:
The category page title
The category page location
The category page version and language
The team member account name and profile picture who has added the tag
The category page status (Published, Draft, New Article)
The time/date range when the tag was added
c. Click on the category page information to go to the editor
Remove the tag from any of the listed category pages:
Select the check box adjacent to the desired category pages and click the Remove tags button
If you want to remove the tag from all the listed category pages, select the Select all check box and click the Remove tags button
---
Tag used in File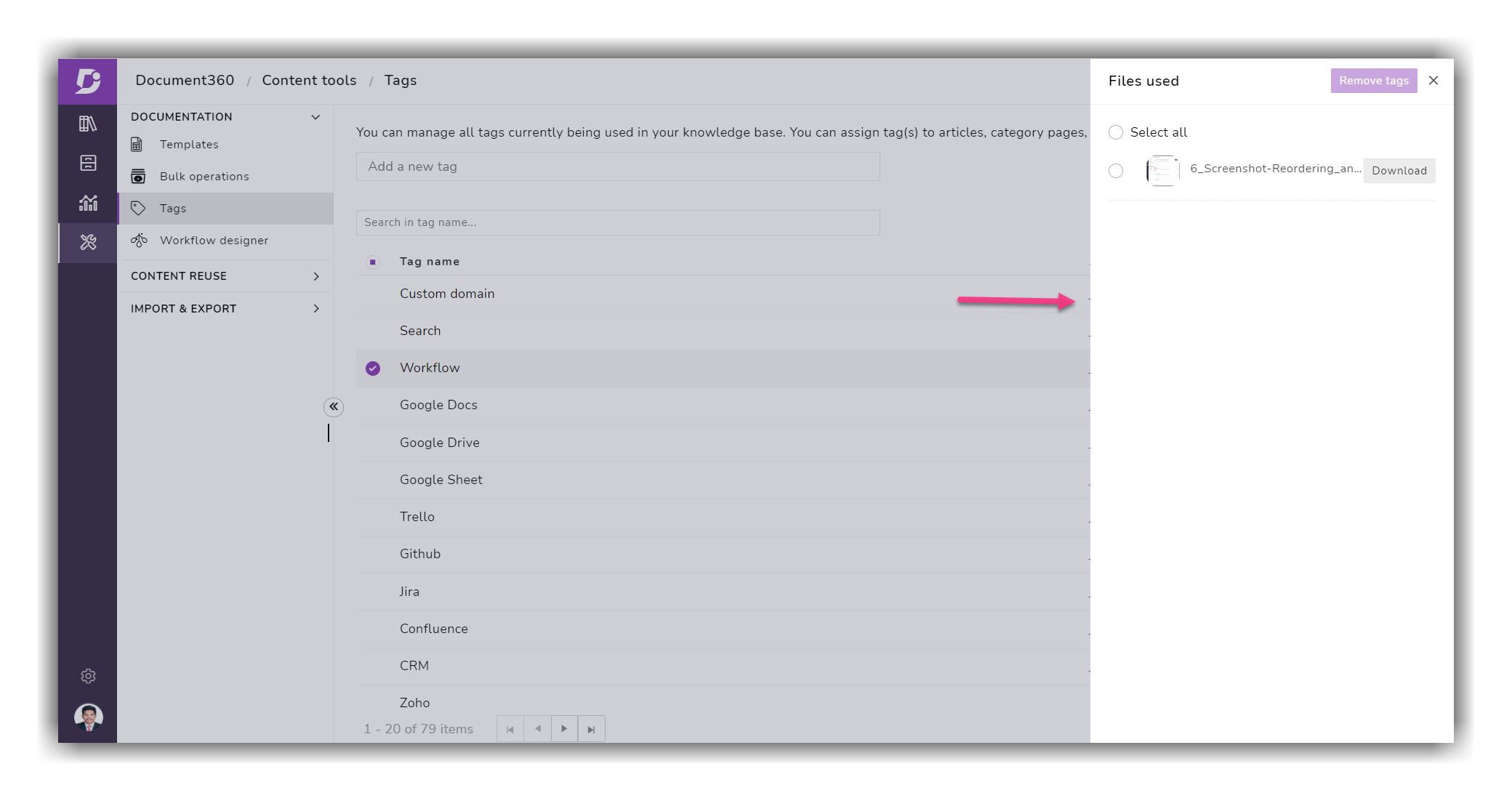 a. On the blade, you can view the list of files the tag has been used
b. To download the file, click on the Download button
Remove the tag from any of the listed files
Select the check box adjacent to the desired files
If you want to remove the tag from all the listed files, select the Select all check box and click the Remove tags button
---
---
What's Next