The following details can be displayed at the top of your articles when they are viewed in the knowledge base. Make changes to these details in the Article Settings and SEO page in Settings.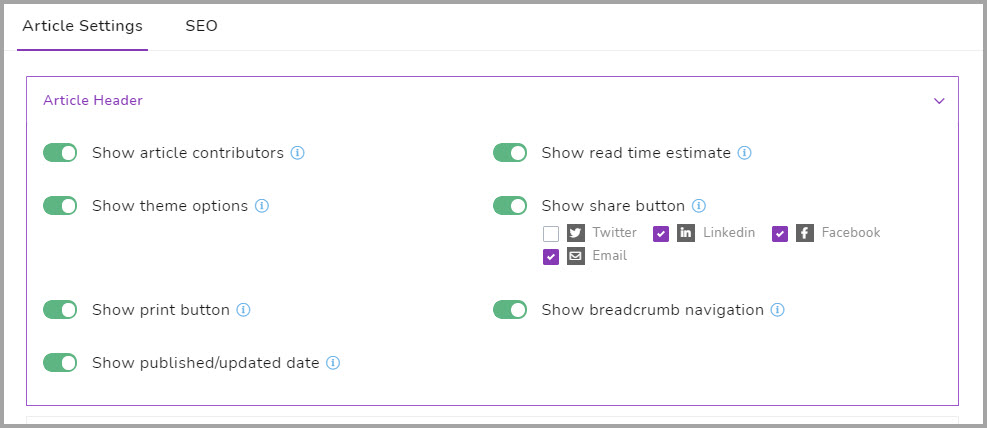 Changes made in Article Header settings will be applied to every article in the project.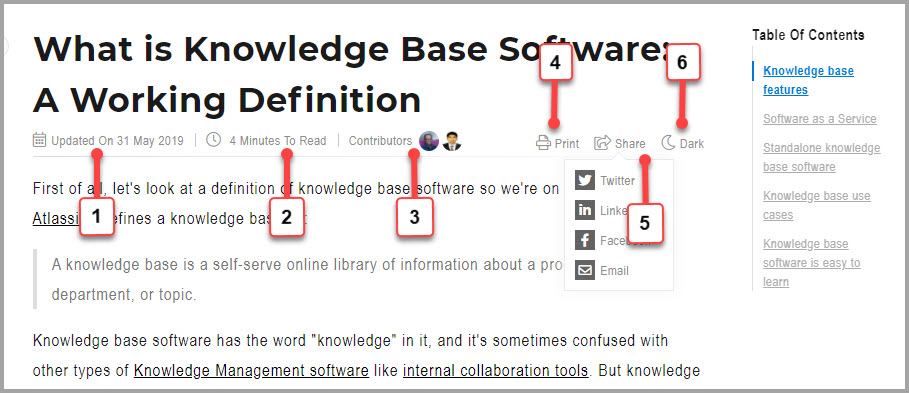 1. Show Published/Updated Date
When on, a date will display indicating when the article was published or last updated. (ex. Updated On 09 Jan 2020)
2. Show Read Time Estimate
When on, an estimated read time for each article will be shown. (ex.4 Minutes To Read)
3. Show Article Contributors
When on, a list of project members who contributed to the article will be shown. Project member names can be clicked to view a list of all articles they contributed to.
4. Show Print Button
When on, a print button is shown. Reader click on this and a print preview window would open.
5. Show Share Button
When on, a share button is shown. The share button, when clicked, displays a list of social media sites. You can choose to enable individual social media sharing options (Twitter, Facebook, LinkedIn, Email).
6. Show Theme Options
When on, the readers can toggle between Light and Dark mode of your Knowledge base.
7. Show Breadcrumb Navigation
When on, breadcrumb navigation will show above the public category manager. (ex. Category/sub-category/)
Was This Article Helpful?
---