Share feedback
Thanks for sharing your feedback!
Kommunicate is a chat software for websites that allows customers to contact website handlers in real-time. Kommunicate bridges the gap between you and your customer by providing you with the solution to connect with your customer online instantly. Kommunicate also has an AI Bot feature that you can integrate.
Document360 comes with an integration feature, where you can integrate Kommunicate with your Document360 knowledge base. Using Kommunicate also cuts the cost as a single agent can talk with several customers simultaneously and still retain the same high customer satisfaction rates.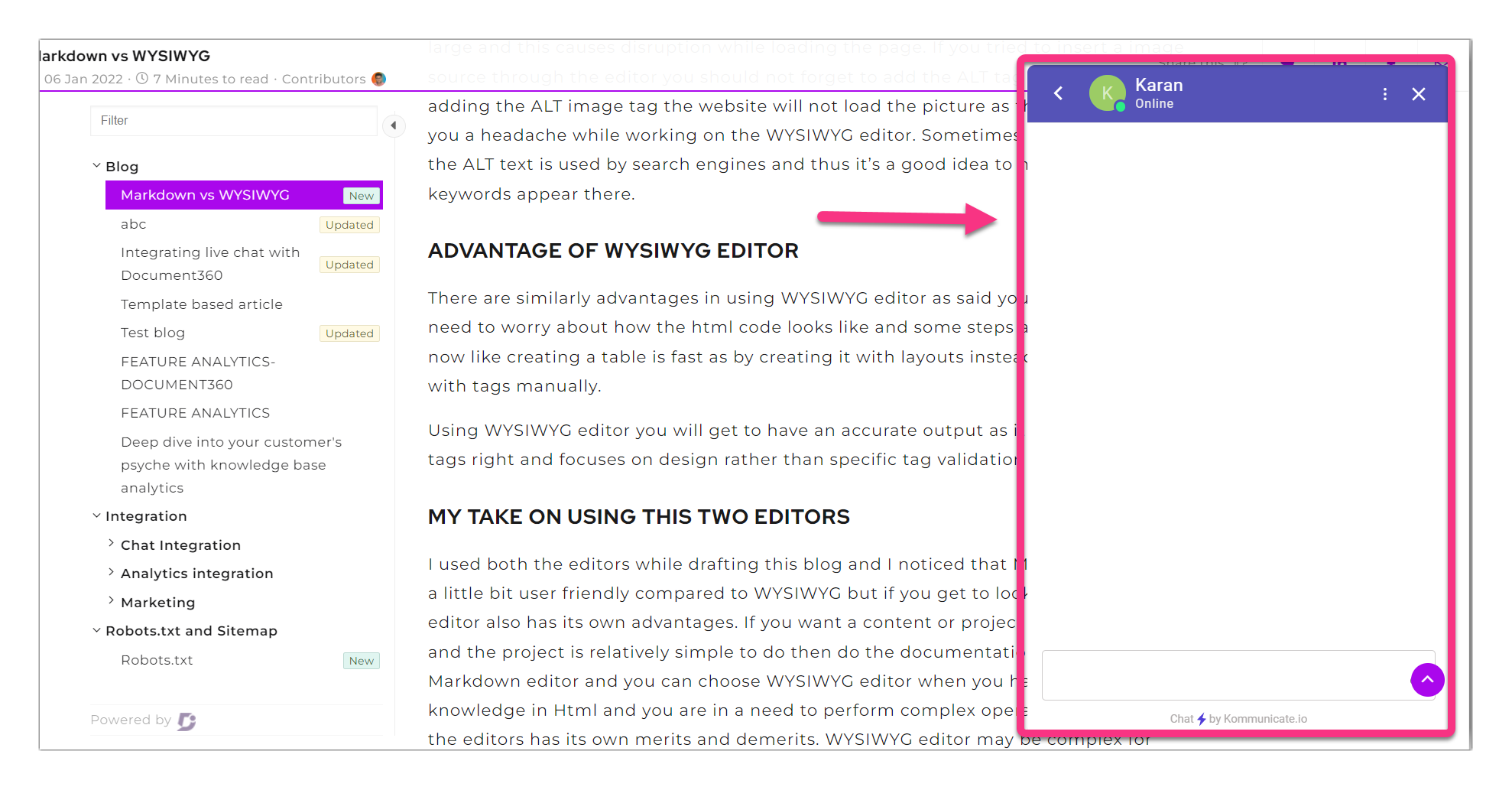 ---
Document360+ Kommunicate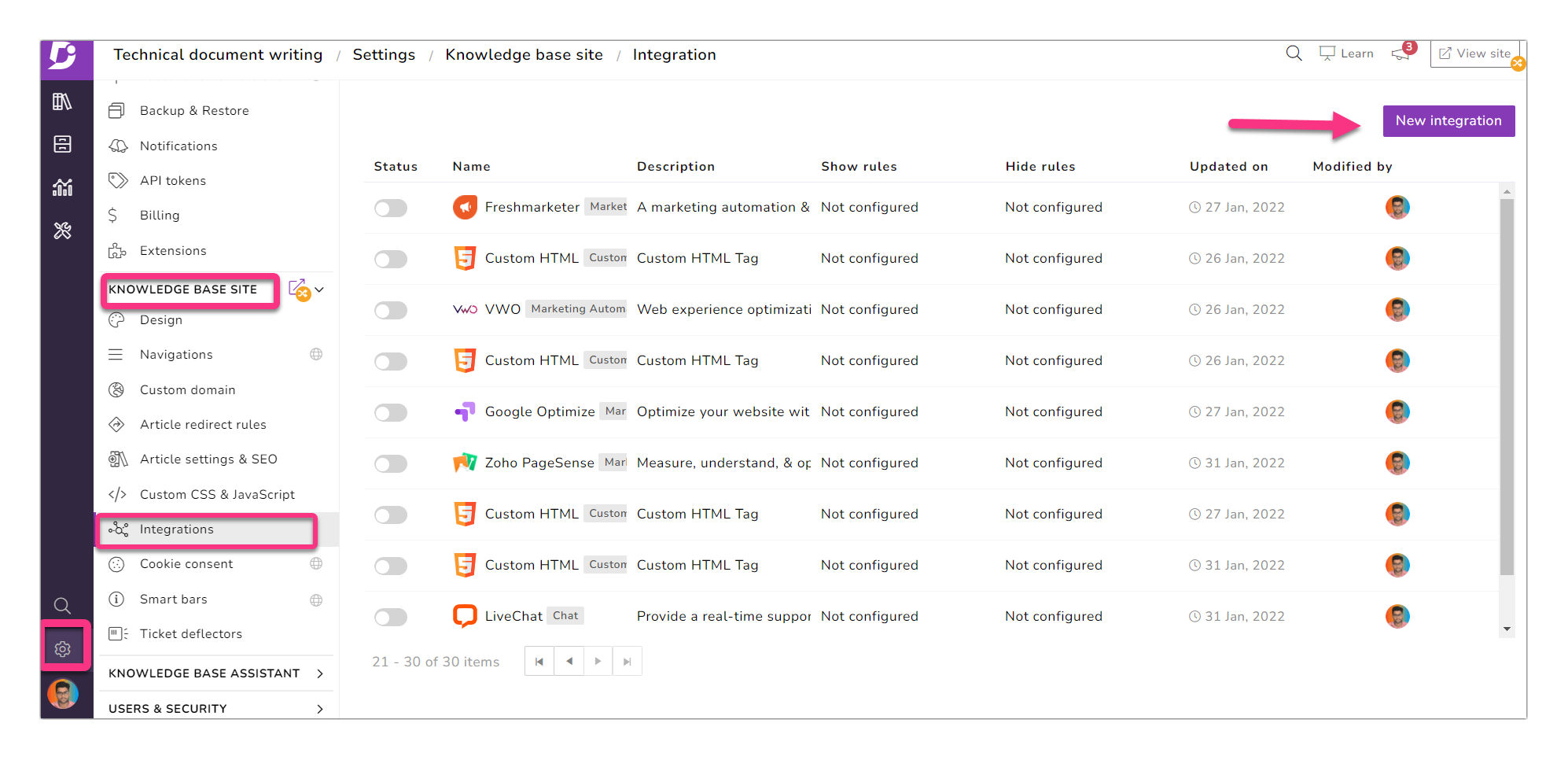 Follow these steps to integrate kommunicate with your Document360 knowledge base.
From the Document360 portal, go to Settings→Knowledge base site→Integrations
Click the Add new integration button at the top right, and this opens an Integration setup panel
Select Kommunicate from the list of integrations available in the Integration panel.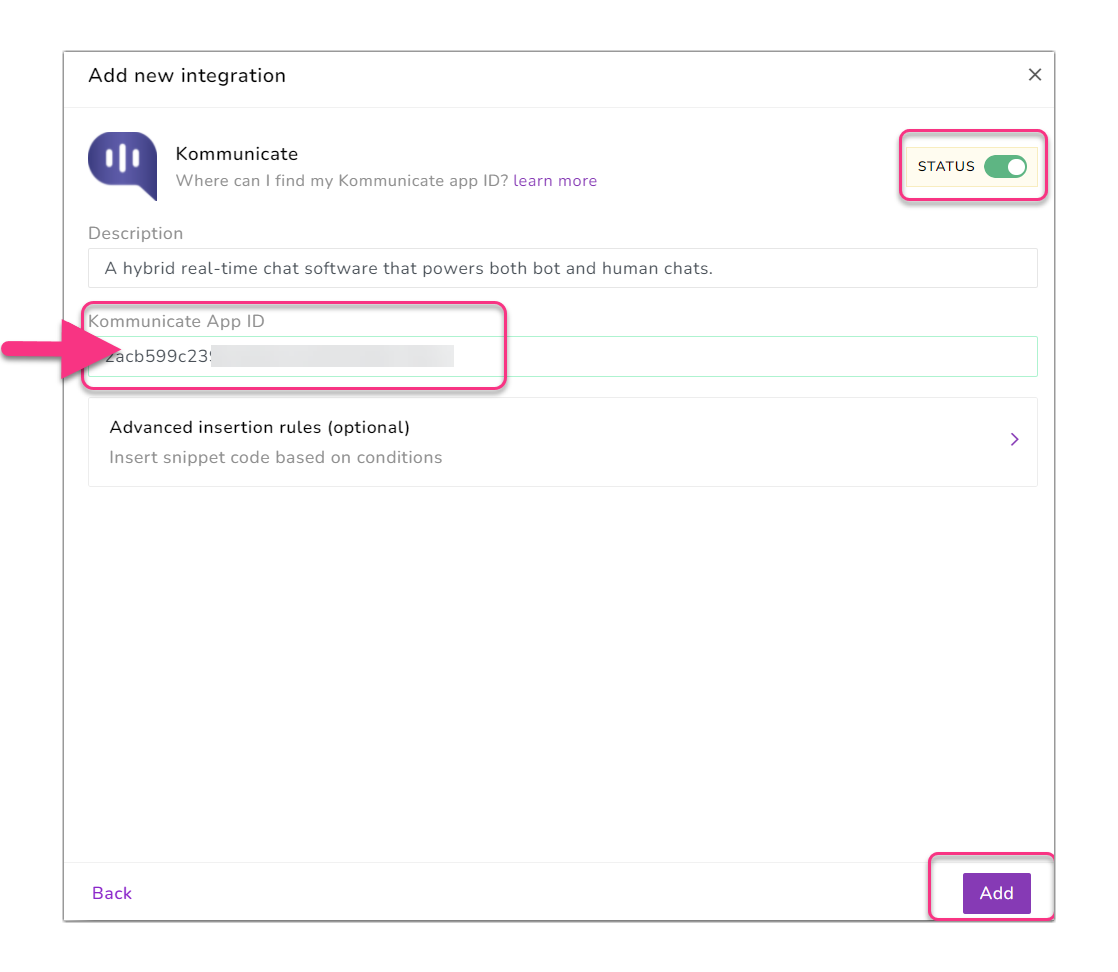 Add a Description and enter the Kommunicate App ID
What is Kommunicate App ID?
Kommunicate App ID is a small code that you can get from the Kommunicate application, and you use it for Document360+Kommunicate Integration in the Document360 Knowledge base portal.
Enable the Status toggle bar and click Add button at the bottom
If required, you can add advanced insertion rules to your Kommunicate chatbox using the advanced insertion rules option in the integration blade.
---
How to get the Kommunicate App ID
a. If you are an existing customer in Kommunicate:
Open your Kommunicate dashboard, click the Settings (icon)→Install and copy the Kommunicate App ID from the Installation blade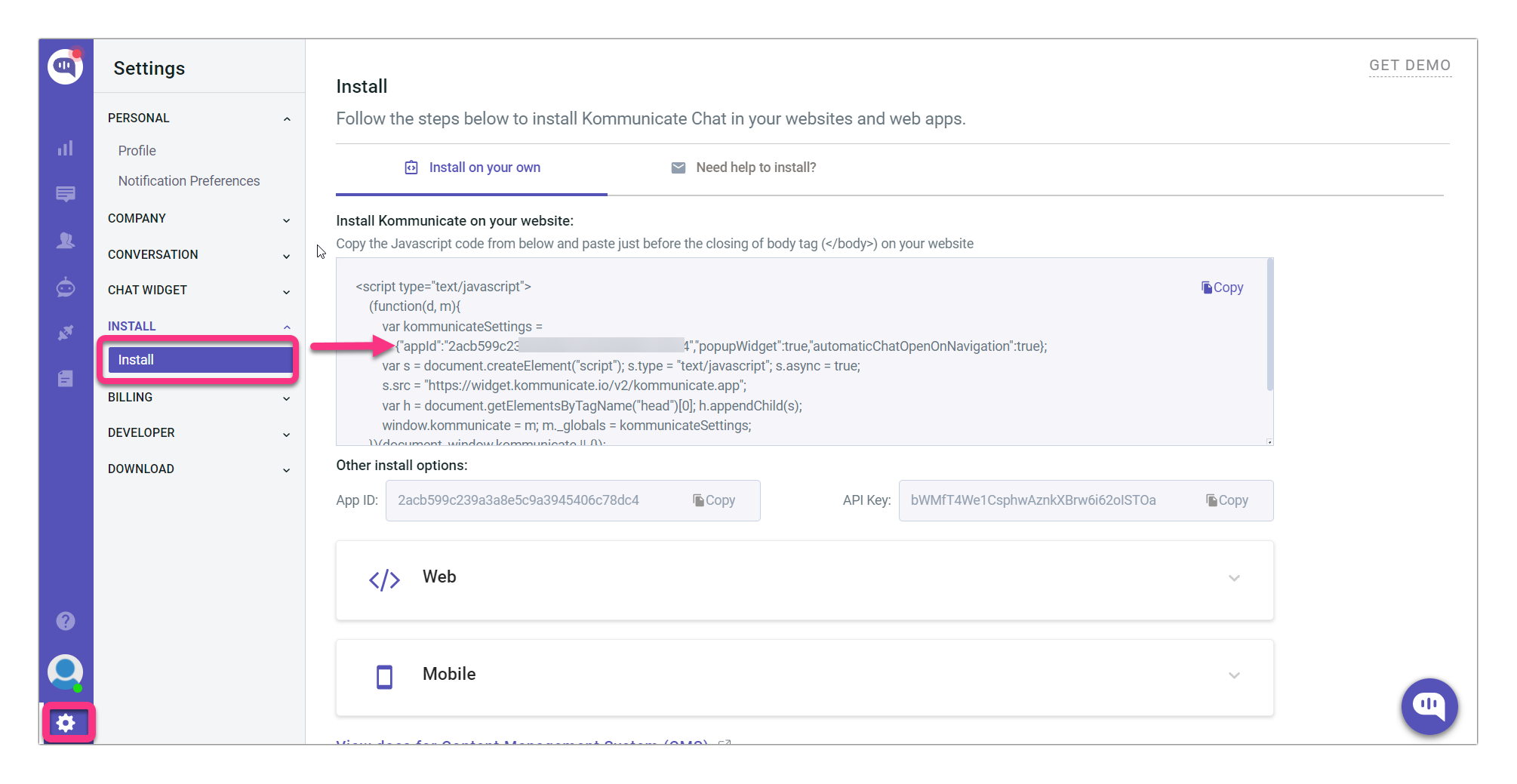 b. If you are a new Kommunicate user/customer:
You can copy the Kommunicate ID during the installation process in the Kommunicate account setup. After setting up the account, you can also get the App ID following the first step.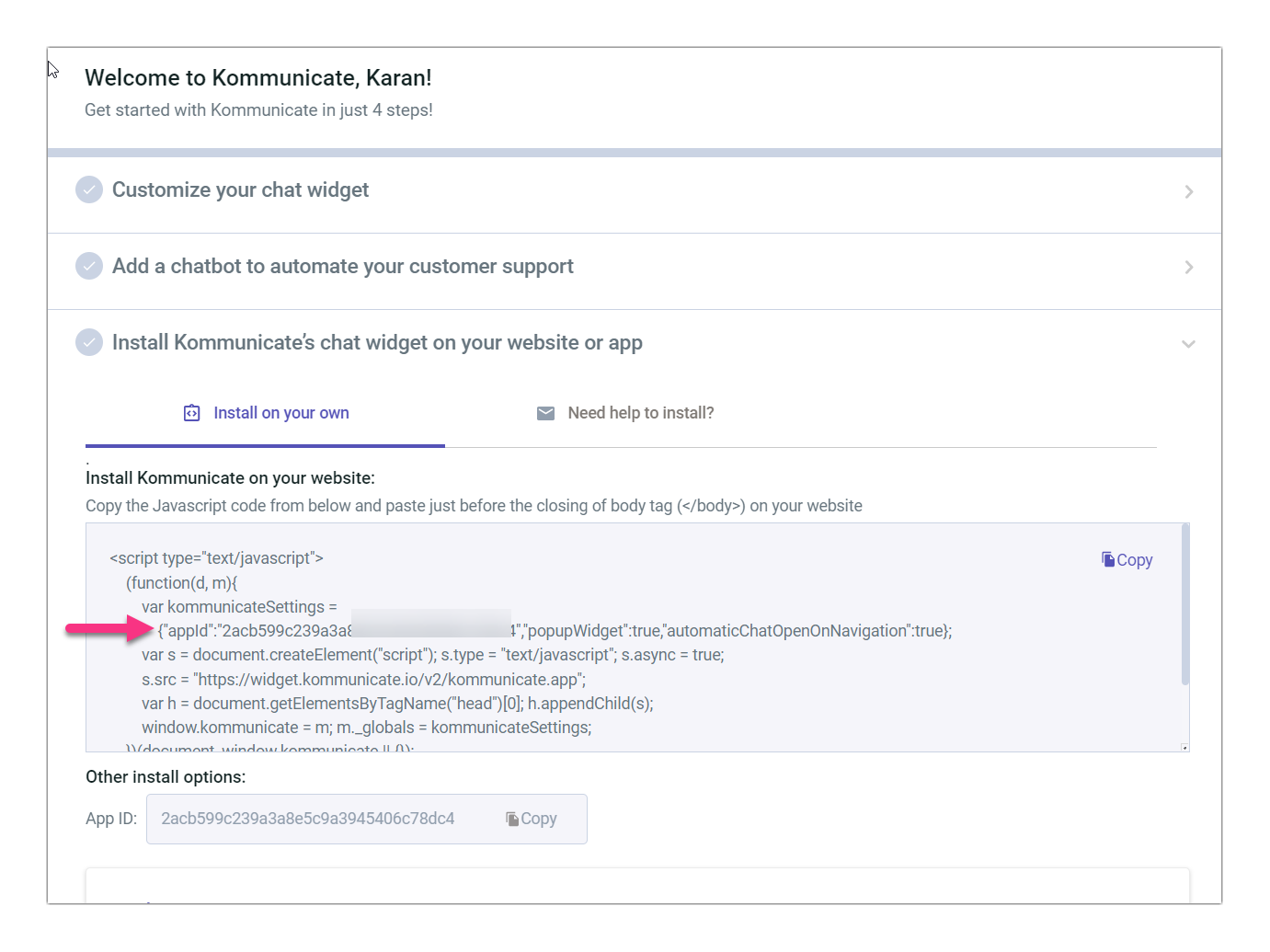 Once you complete the integration setup in the Document360 knowledgebase, you can open your kommunicate account interface to view and reply to the live chats from your users.
Why should you integrate Kommunicate?
In the Kommunicate AI chatbot, you can qualify leads, schedule meetings, and support your customers 24/7. Thus, you can manage customer conversations more efficiently with less churn rate.
---
Was this article helpful?
---
What's Next