February
10 Mar 2021

1 Minuut om te lezen

Bijdragers
February
Bijgewerkt op 10 Mar 2021

1 Minuut om te lezen

Bijdragers
---
There is no Dutch content available for this article, You are viewing the fallback version (English).
This is the release note of an older version of Document360.
To read about the recent product advancements and releases, check out our latest Release note.
We're here with our February 2021 releases and improvement. As an enhancement to the Drive, File replace feature has been added, which makes it easier for users to swap files which are used in documentation. We also have made a handful of minor improvements in UI/UX and Knowledge base font options.
---
New Features
File replace
Another important feature update to the Drive is the File replace option. You can replace files of the same extension and type (ex. Jpeg, .pdf, .png, and more) with the same file name and metadata. This comes in handy when you want to update a certain file in an article. To access this, click on the ••• more option adjacent to any file on the Drive. Another way to do this is to click on the file in the Drive page and in the right blade window click on the File replace button.
Read more →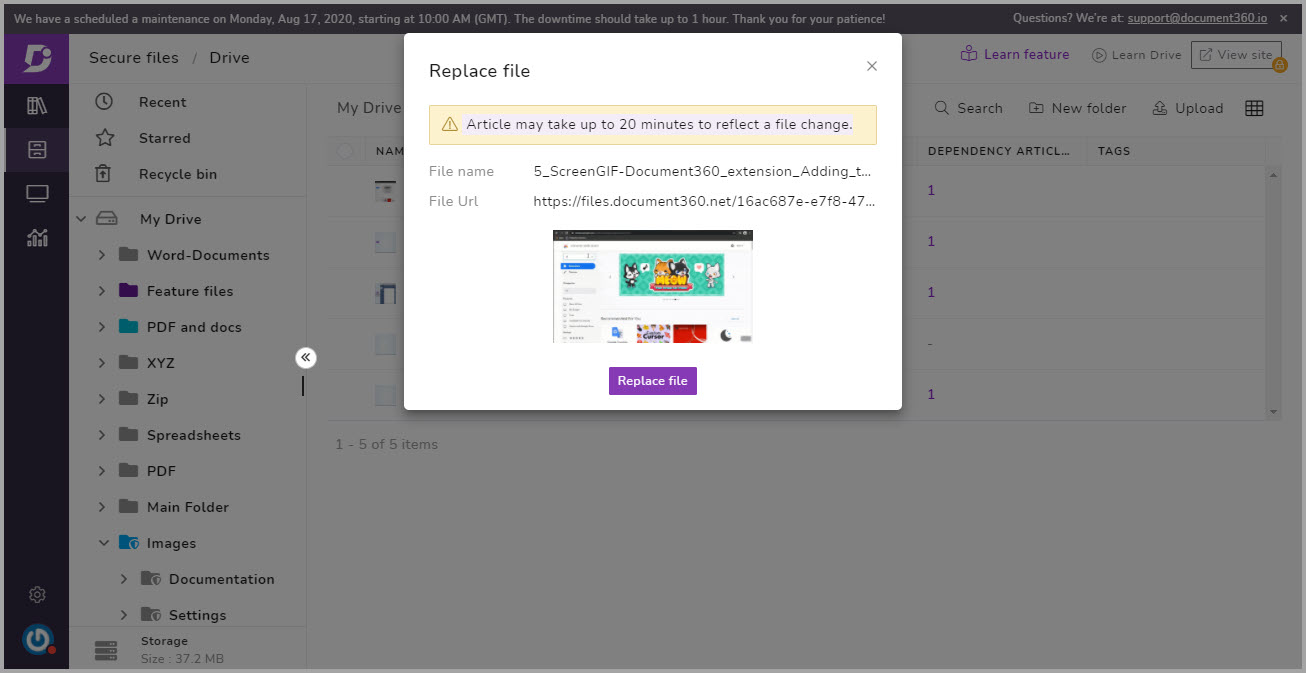 ---
Improvements
Few changes have been made for SSO users in our public API Documentation under the Teams category
You can now Reorder the versions display on your project for readers. In the Settings→ Project Admin→Localization & versions you can use your mouse pointer to drag drop the version vertically.
Font options have been added to the Design section of your Knowledge base. Go to Settings → Knowledge base site→ Design. You can now change the Body and heading fonts of your Knowledge base.
Control on social media share feature – You can now enable individual social media share option in your Knowledge base articles.
The Overview option in the Analytics menu has been renamed to Geography
---
---
What's Next