Team account overview page
25 Jan 2022

2 Minuten te lezen

Bijdragers
Team account overview page
Bijgewerkt op 25 Jan 2022

2 Minuten te lezen

Bijdragers
---
There is no Dutch content available for this article, You are viewing the fallback version (English).
Team accounts are the contributors to the knowledge base. They can view and manage the content of a knowledge base as per their roles and access.
---
What is a team account?
A Team account is an end-user who must log in with their credentials to access and manage the knowledge base's version(s), language(s), categories, and articles.
Team account attributes
Here are some more attributes of a team account in Document360:
Portal role and Content role & access can be set for a team account, which restricts them from viewing and managing the features and documentation (version, language, category, or article) outside of their assigned scope
A Team account is applicable when a knowledge base site access is set as Public, Private, or Mixed
A team account has access to the knowledge base portal as per their assigned scope
A team account in Document360 can either be a Regular team account or an SSO (Single Sign-On) team account.
A team account can be associated with one or more Team account groups
---
Accessing the Team account overview page
From the knowledge base portal, click on Settings → Users & Security → Team accounts & groups and the Team account tab would be the default selection.
Team account overview page elements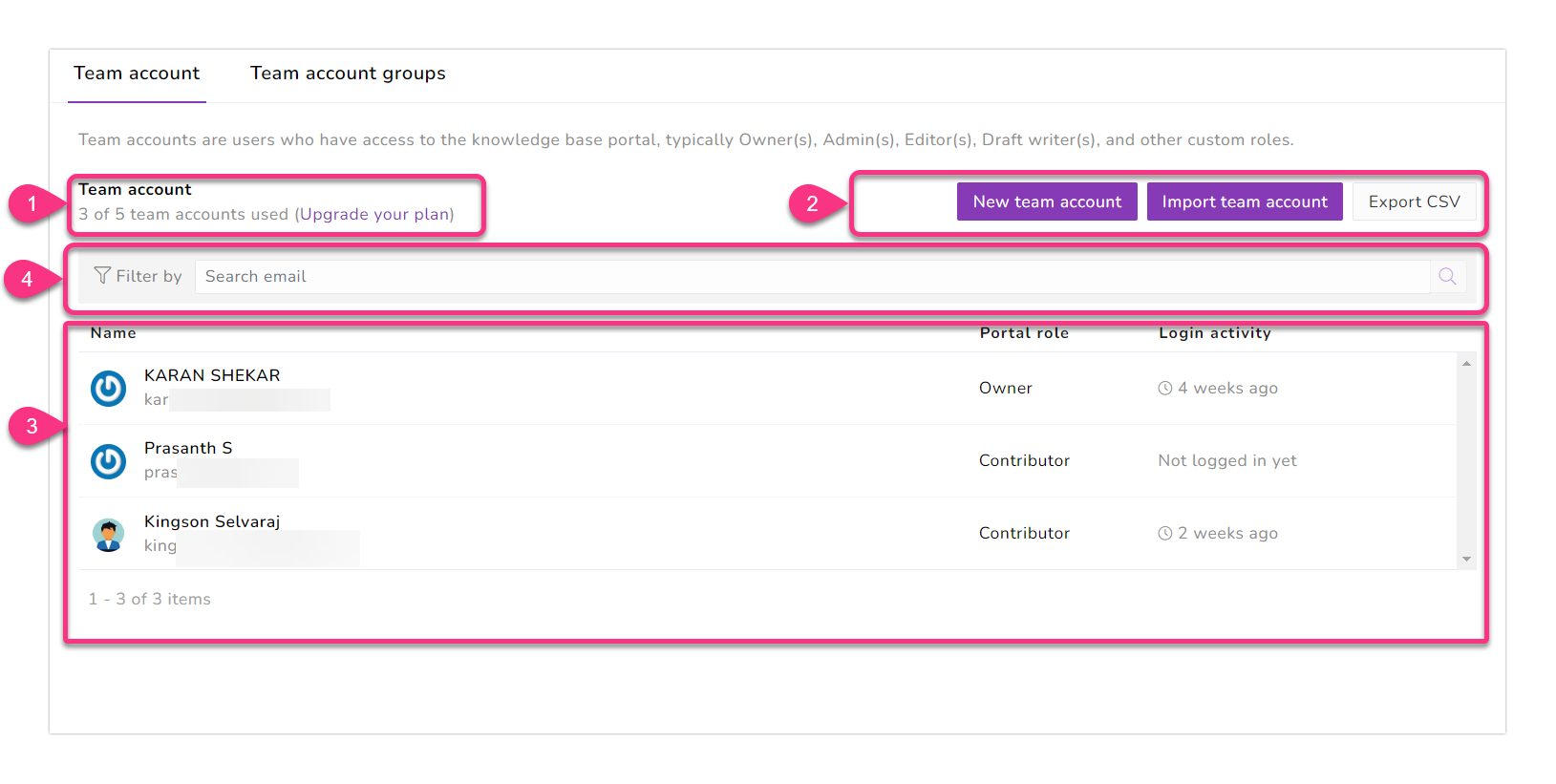 1. Team accounts used
On the left, users can observe the limit for the team accounts in the project and the number of team accounts used. However, you can buy more team accounts as per your requirements. Click on the below link to read about the buy more team accounts option:
Buy more team accounts
2. Managing Team account
The New team account, Import team account, and Export CSV buttons can be found on the right. The functions that these buttons perform are self-explanatory. However, you can find detailed information about these functions in the Managing team account.
3. Team account search
Users can search for team accounts with their email. Type the search term in the search bar and press the Enter/Return key, then the result is populated.
4. Team accounts list
This section provides an overview and the list of all available team accounts in your knowledge base project.
The information available here are:
The profile image of the team account
The team account name and email
Their portal role
Their last login activity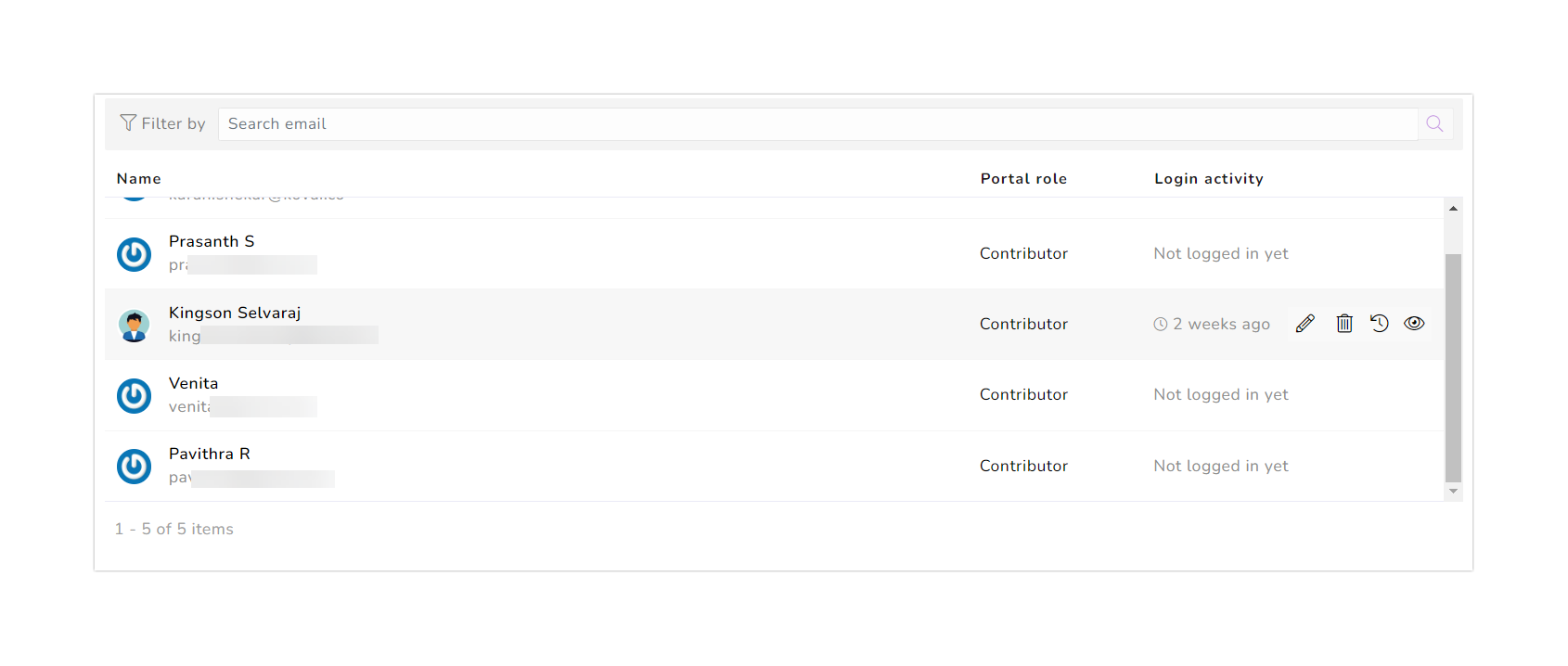 a. Name: The name and email of the team account are shown here. If the name of the team account is not provided, only the email would appear
b. Portal role: The role of the team account would appear here. By default, the team accounts can be assigned as Contributor, Owner, or Admin. You can also add custom roles and customize them as per your requirements. To read more about portal role, see Portal role.
The Owner and Admin can assign any role to a team account by default.
c. Login information: The last login details of the team account, such as date and time(UTC), are shown here
d. Other options: When you hover over any team account, a blade appears with the below options
Edit
Delete
Send verification & Invitation email
Email history
View Permission
---
Was dit artikel behulpzaam
---
What's Next