Text columns block
10 Nov 2022

1 Minuut om te lezen

Bijdragers
Text columns block
Bijgewerkt op 10 Nov 2022

1 Minuut om te lezen

Bijdragers
---
There is no Dutch content available for this article, You are viewing the fallback version (English).
Add lists of features, an about section, or a contact section on your home page using the text columns block. Each column includes an icon, a title, and a space for the description text.
For example, you can add descriptions of the major features.

---
Adding text columns block
From the

Knowledge base portal

, go to Documentation → Home page builder and the Home page builder page appears
In the home page builder, click on the + (Add a new block) icon on the right in-between the body blocks (or below the header section)
Select the Text columns option. A Text columns block is added
---
Available options
Click on ••• at the top right corner of the text columns block to get access to the below options:
a. Change all icons color: To change the color of all icons in the block. You can use this to keep the same color for all the icons in the block
b. Remove section: To delete the block
---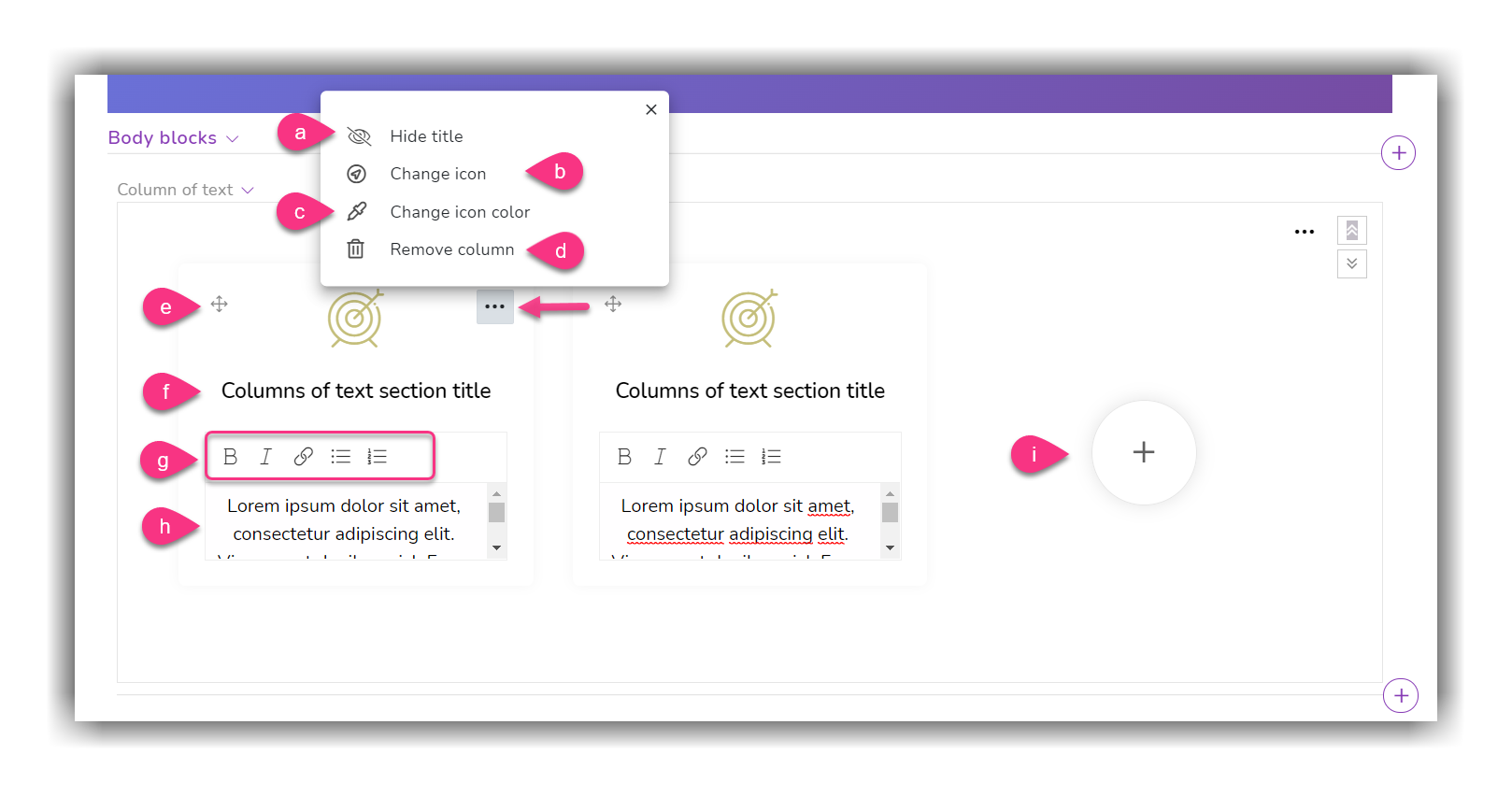 Hover the mouse pointer over the top right corner of a column. You can see the ••• icon. Click on the ••• icon to get access to the below options:
a. Hide title: To hide the title of the column
b. Change icon: To change the icon of the column
c. Change icon color: To change the icon color of the column
d. Remove column: To remove the column
e. Drag: Click and drag this icon to relocate the column
f. Title: To edit the title of the column
g. Text format: You can format the content of the column with the below options:
Bold: To bold the text

Italic: To Italicize the text

URL/Link: To add a URL or link inside the content of the column

Unordered list: To make a list denoted with bullet points for each item

Ordered list: To make a list denoted with numbers for each item
h. Content: To add/edit the content of the column
i. Add column: To add a new column in the block
---
---
What's Next