Article revision
02 Nov 2022

2 Minuten te lezen

Bijdragers
Article revision
Bijgewerkt op 02 Nov 2022

2 Minuten te lezen

Bijdragers
---
There is no Dutch content available for this article, You are viewing the fallback version (English).
Article versions are an important safeguard for any documentation or article that is continually being updated and revised by multiple contributors.
In Document360, any time a project member clicks the Edit button on a published article, a new unpublished version of that article is created. The old version is added to the article's version history but remains available on the knowledge base site until the new version is published. This option allows project admins, reviewers, and contributors to compare differences between versions and revert to a previous version at any time.
Don't worry, creating a new version of an article doesn't erase your content. Only you can do that.
---
Creating an article version in View history
There are two ways to create a new version of an article:
Method 1
Open a published article in the Documentation Editor
Click Edit in the top right of the editor. This action creates a new version and opens it as a draft in the text editor.
Method 2
Go to the desired article in the Documentation Editor
Click the View history option (the clock icon) in the right menu bar
Click Fork on the desired version listed in the history
Click Yes in the pop-up. This action will create a new version of the article with the selected article content version.
To edit the new version, click Open
---
Article revision
The below options are available in Article revision:
Fork: To create a new version of the article. This would be added to the version list
Delete: To delete the article version
Deletion of the published article
You cannot delete a published article version. You can only delete the unpublished article version.
Open: To open the article version in the editor
Workflow history: To view the workflow history of the article version
You can make any previous version of an article public by opening that version in the editor and clicking Publish.
You can also see detailed information about each version including the version number, contributor, created date, and version visibility.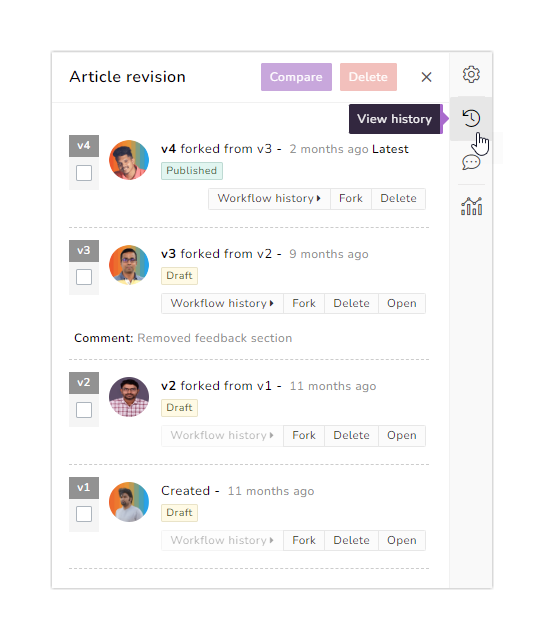 ---
Viewing differences between two versions of an article
You can open any two versions of an article at any point in Article revision and compare them.
To compare two versions of an article:
Go to the desired article in the Documentation editor
Click View history option in the right menu bar
Select the checkbox of the desired versions you want to compare
Click the Compare button
Different ways to view differences between versions
There are four different ways to view the differences between versions:
Code Diff: To view both versions in markdown syntax. The older version appears on the left, and the newer version appears on the right. Content removed will be represented with a red background, while content added is represented with green background
Rendered Diff: To view both versions in preview mode
Older version: To view the older version in both markdown syntax and preview mode
New version: To view the newer version in both markdown syntax and preview mode
An explanatory GIF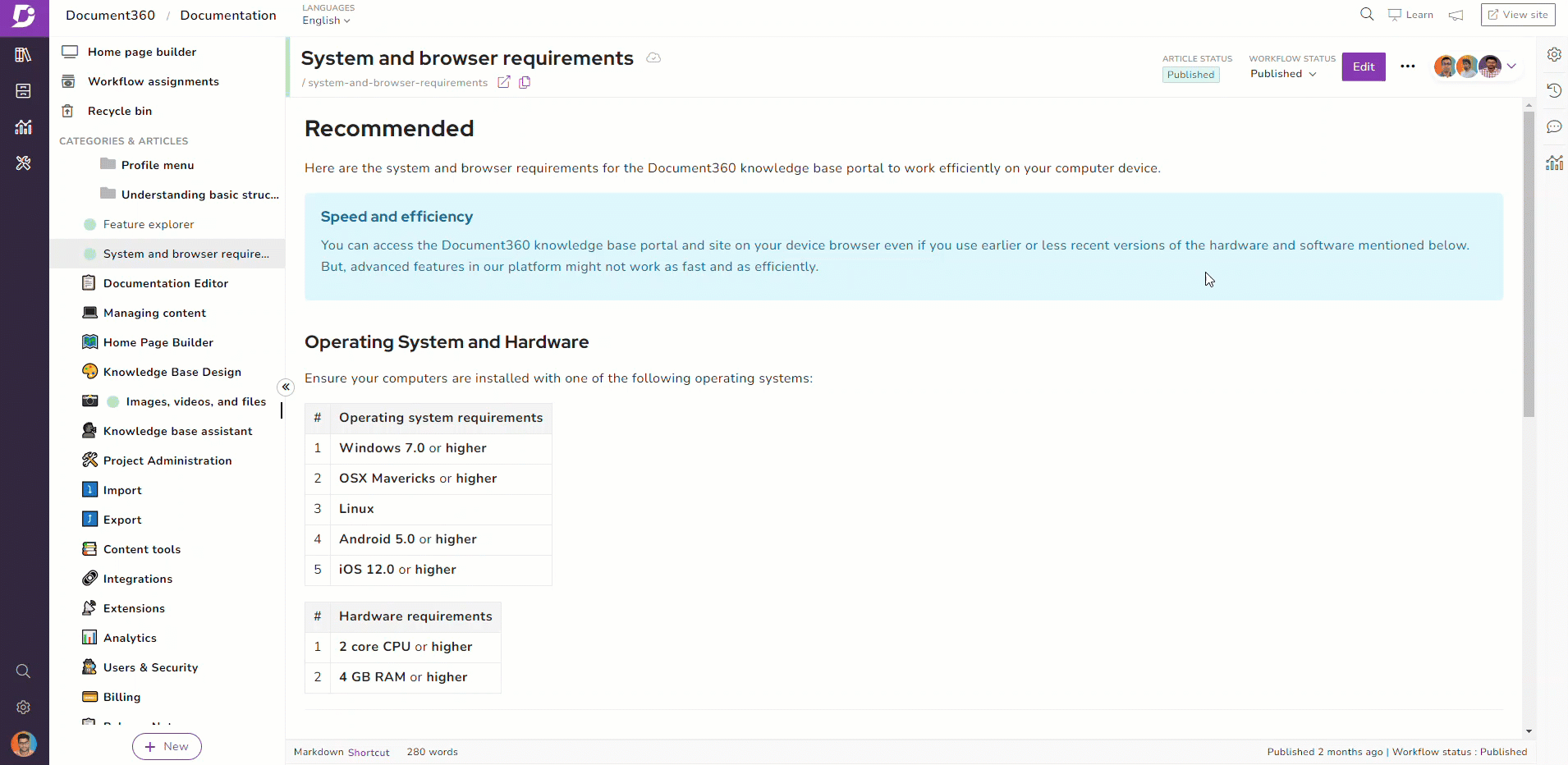 ---
---
What's Next