Troubleshooting - Knowledge base design
---
Article Summary
This article provides a step-by-step guide to resolve the issue of PDF option not working on Knowledge base site. It suggests checking whether the PDF option is disabled in Settings, and if any HTML code is added in Custom JavaScript window. It also suggests checking whether the URL links are correct in Footer navigation and updating them if required. Finally, it resolves the error 'Footer settings failed to save'.
Share feedback
Thanks for sharing your feedback!
PDF option is not working on Knowledge base site
Check whether the PDF option is disabled in Settings

Go to Settings → Knowledge base site → Article settings & SEO and Article settings tab is the default selection
Under Article header section, you can find the Show download pdf button toggle
Make sure that the toggle is On. If the toggle is Off, turn it to On
Navigate back to the Knowledge base site and check for the issue
If the issue still persist, check the below scenario
Check if any HTML code is added in Custom JavaScript window

Go to Settings → Knowledge base site → Custom CSS & JavaScript → Custom JavaScript
Check for HTML code in the Custom JavaScript window. If there is any HTML code, copy the code and paste in your desired space
Delete that particular code in the window and click Save
Go to Settings → Knowledge base site → Integrations → New integration and select Custom HTML
Paste the copied HTML code in the Begin body section and click Add
Navigate back to the Knowledge base site and the issue would be resolved
---
How to resolve the error - 'Footer settings failed to save'?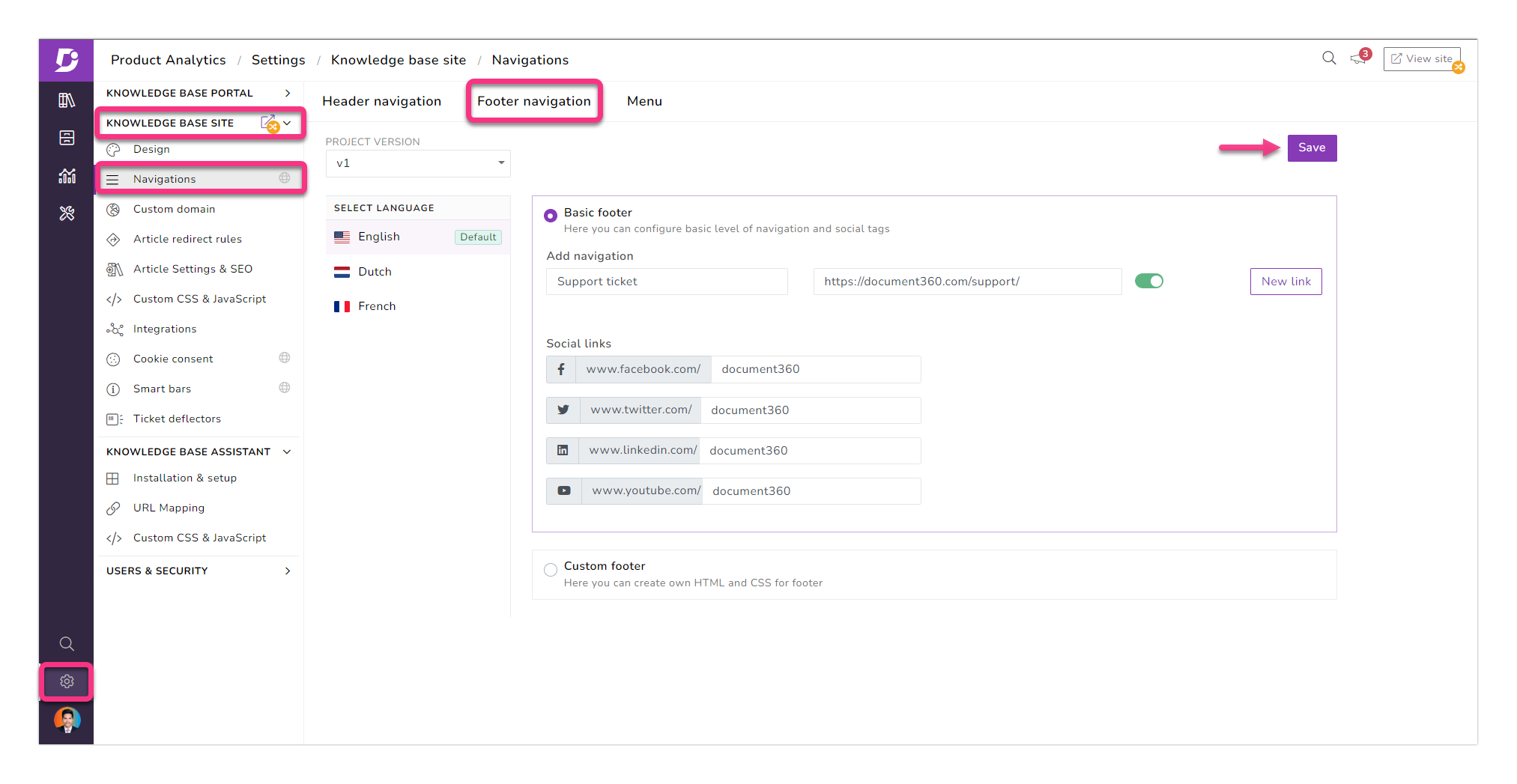 Go to Settings → Knowledge base site → Navigations → Footer navigation
Check whether the URL links are correct. If required, update the links
For example, the social media links must not contain '/'
Click Save
The issue would be resolved
---
Was this article helpful?
---
What's Next