Article translation status indicator
---
To make it easily identifiable, a globe symbol appears along with the article status under the categories on the left tree view. In fact, this is not just limited to articles; even some elements and options on the side menu would have the globe symbol next to them indicating Localization available.
In project versions containing multiple languages, you can find the new article translation status indicator found above the text formatting toolbar in both markdown and HTML editors.
Note
You wouldn't find the translation status indicator in the default language articles.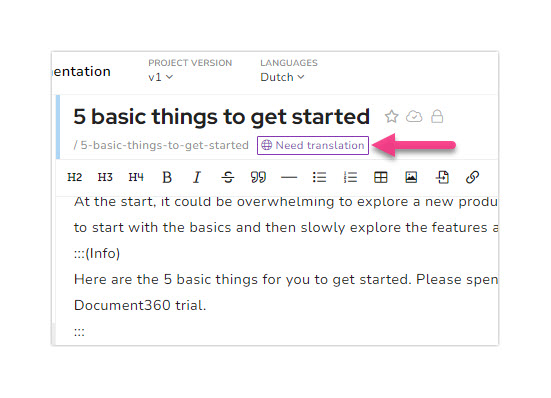 The Need translation status appears as a default status in the first instance in all other language articles. The article can either be an existing article created from the base version or if you add any new article.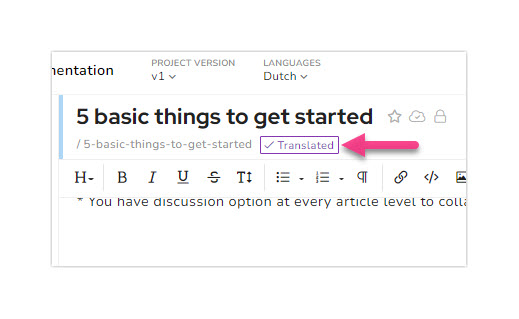 You can always change the status by clicking on the Need translation indicator and selecting Mark as translated.
To perform machine translation:
Click Need translation → Machine translate, and a Translate confirmation prompt appears
Type in 'yes' and click Yes
For more information, see Machine translation.
---
Article translation status indicators
Here is a clear representation of the translation status and what it indicates.
| Status | Indication |
| --- | --- |
| Need translation | The article is not yet translated or requires additional translation |
| Translated | The article has either been machine or manually translated to the destination language |
---
Was this article helpful?
---
What's Next