Updating article contributors
22 Jun 2022

1 Minuut om te lezen

Bijdragers
Updating article contributors
Bijgewerkt op 22 Jun 2022

1 Minuut om te lezen

Bijdragers
---
There is no Dutch content available for this article, You are viewing the fallback version (English).
Document360 automatically tracks the project members who have created, forked, saved, written, or published an article and includes them in the public contributor list, if shown.
Readers in knowledge base site can click on the avatars within the contributor list to view any other articles that project member has contributed to.
By default, team members who have taken any action on an article will be added as a contributor, however, project members can be manually added or deleted to the contributor list, as well.
---
To add or delete a contributor
In the Text Editor, click See all contributors drop down to open the contributor list. If a project member hasn't uploaded a profile photo, their avatar will be the default Gravatar image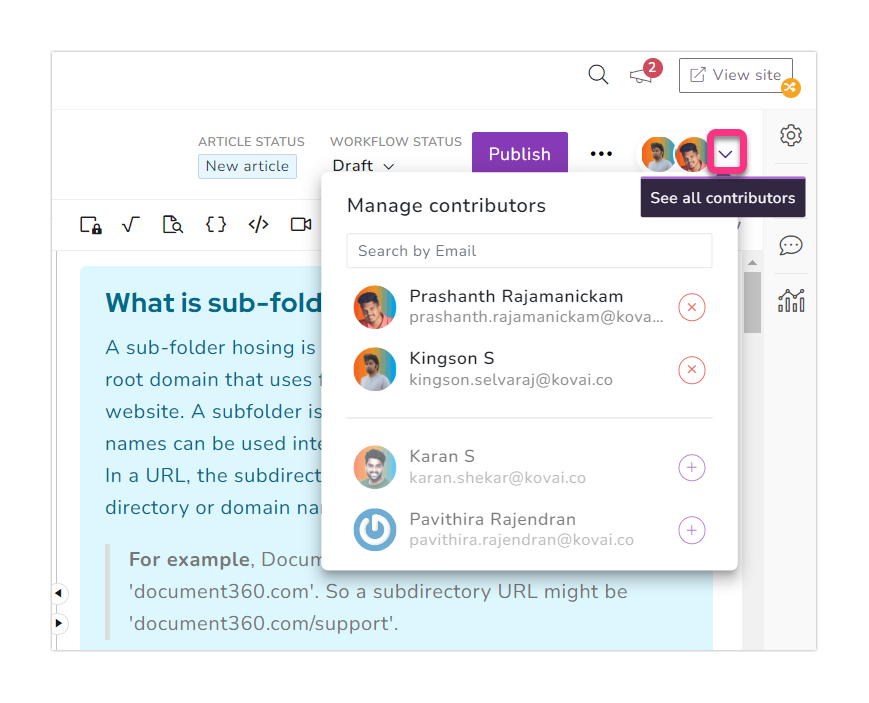 Search a project member by entering their email
To add a contributor, click the purple '+'. To delete a contributor, click the red '✗'
---
---
What's Next