This is the release note of an older version of Document360.
To read about the recent product advancements and releases, check out our latest Release note.
We are back again with our April 2021 new feature releases and enhancements. Some of the most awaited features like Article template and an all-new updated category manager is a part of this release. We are adding a new extension for Salesforce in this release. Other than these major highlights we also have few slightly smaller yet significant enhancements like import of team accounts, automatic article status indication, Enterprise SSO binding type addition, and minor performance improvements.
---
New features
Article templates
Document360 article templates are predefined templates that you or any other member from the project can make use of while writing articles for your Knowledge base. The templates could be for a simple user guide, FAQ, Release notes, or pretty much anything you can create as a custom article template. Regardless of the use cases, article templates provide design consistency and style for your brand.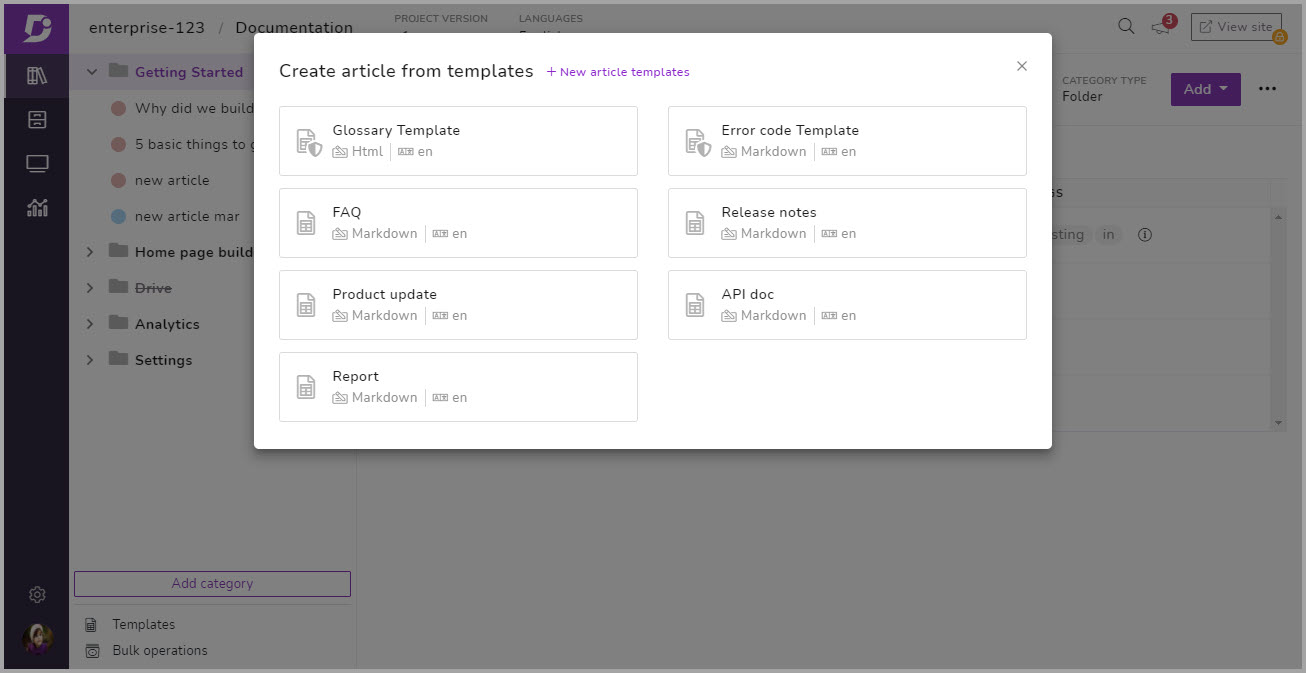 In Document360 you can create new articles from any of the basic system templates or create/save from your own article template, which you can reuse any number of times in your project. You can access templates on the portal by clicking on the Templates option at the bottom of the category manager.
Introduction of Category types
Earlier a category was just a folder for the articles, but now you can choose to do more with categories. We have introduced two new category types along with the basic folder type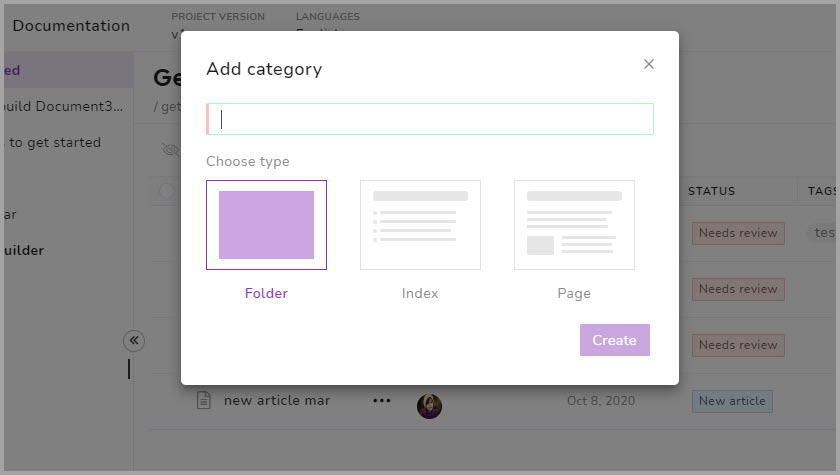 Folder: This is the basic category type which acts just as a simple bucket folder for articles and sub-categories
Index : This type of category acts as an index to all the articles present within the folder and a preview excerpt from the article.
Page: This type of category is similar to the articles you create under the categories in your project.
You can choose these category type when you create a new category or change the type of existing categories.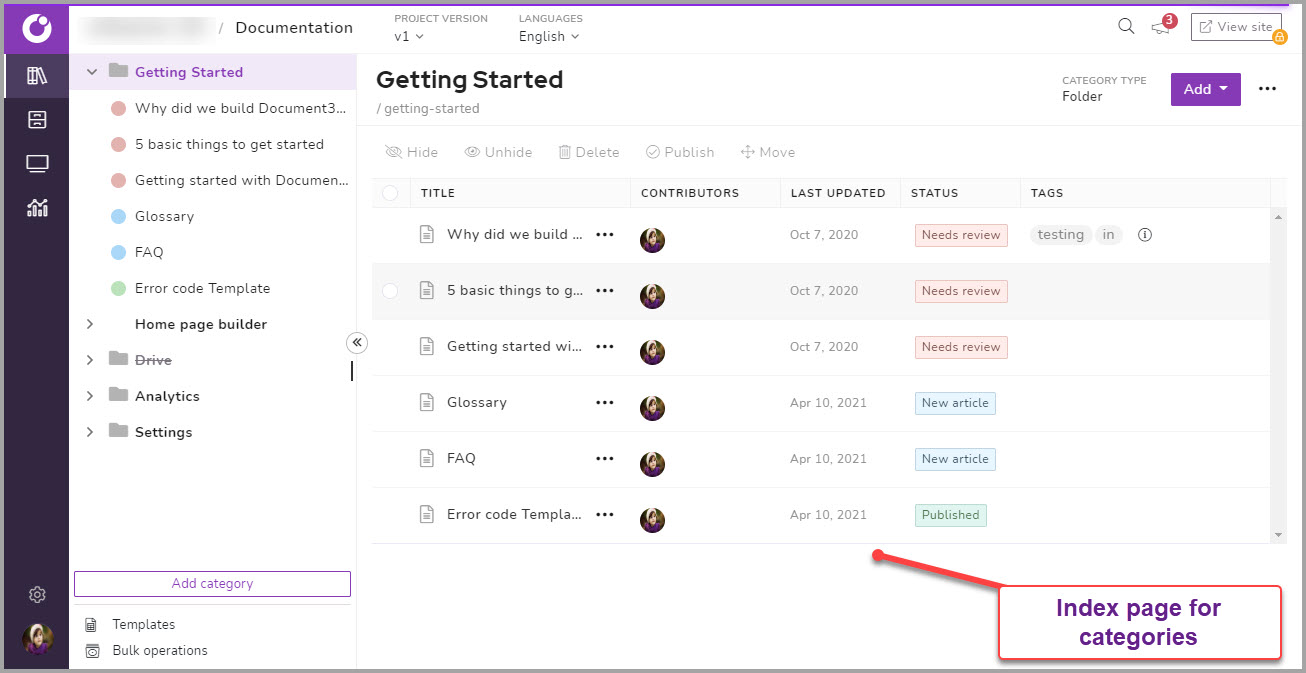 We have also improved the UI of the existing category manager in the Documentation editor. You can find new option of Templates added to the left side category navigation pane.
---
New Extensions
Salesforce
We introduce another powerful Document360 integration with the Salesforce platform. What this integration achieves is, it enhances and equips your support agents with a powerful knowledge base while serving customers. You can look-up or share articles easily and create articles for your knowledge base right from Salesforce.
The multiple use cases with Document360 integration in Salesforce makes it a value proposition for brands and people who engage with Salesforce environment.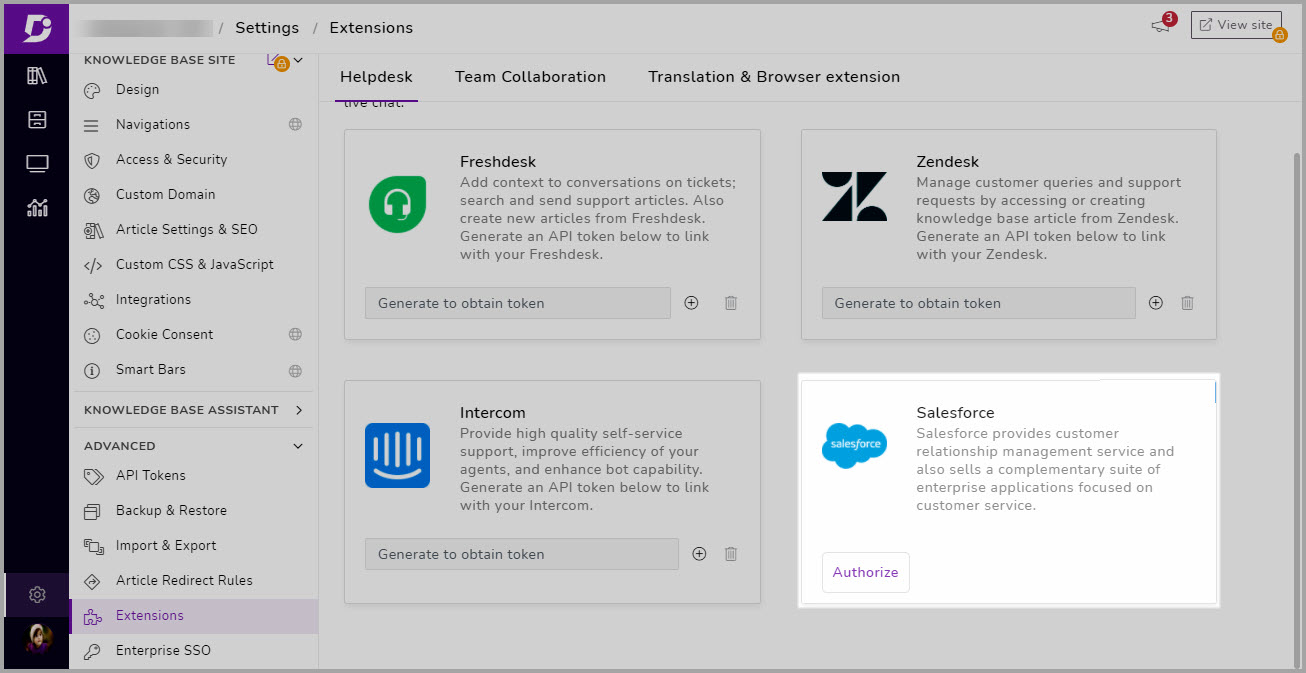 ---
New Integrations
We have introduced 4 new integrations to the Document360 platform.
| | Integration | Type | About the platform/app |
| --- | --- | --- | --- |
| 1 | Belco | Chat | Live chat and messenger on your website to talk to visitors in real-time. |
| 2 | Gorgios | Chat | Gorgias helps you communicate with your customers from multiple channels. |
| 3 | FullStory | Analytics | Makes it easy to solve problems, find answers, and optimize your customer's experience. |
| 4 | Sunshine Conversations | Chat | Enables businesses to communicate with their customers across every popular messaging app. |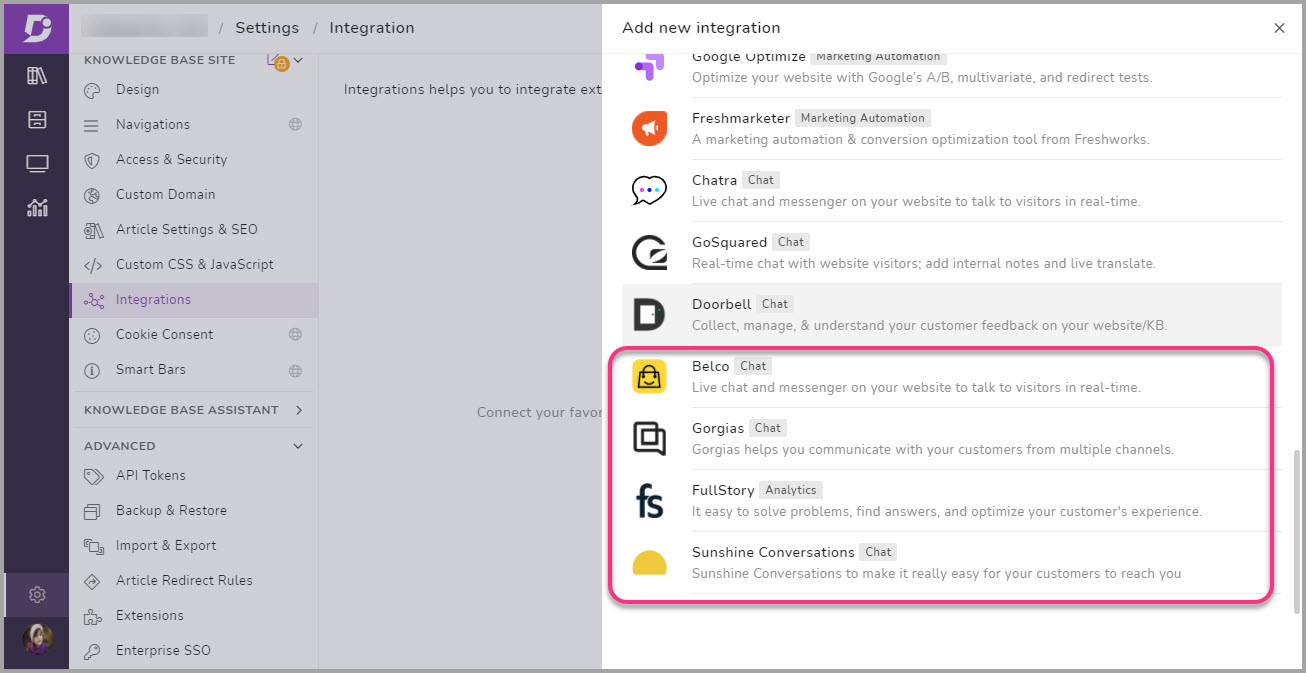 ---
Enhancements
Import team accounts
We have introduced the option to import team accounts from your local storage in using CSV file. This work similar to the import of reader accounts. You can find the standard template in the portal for the .CSV file.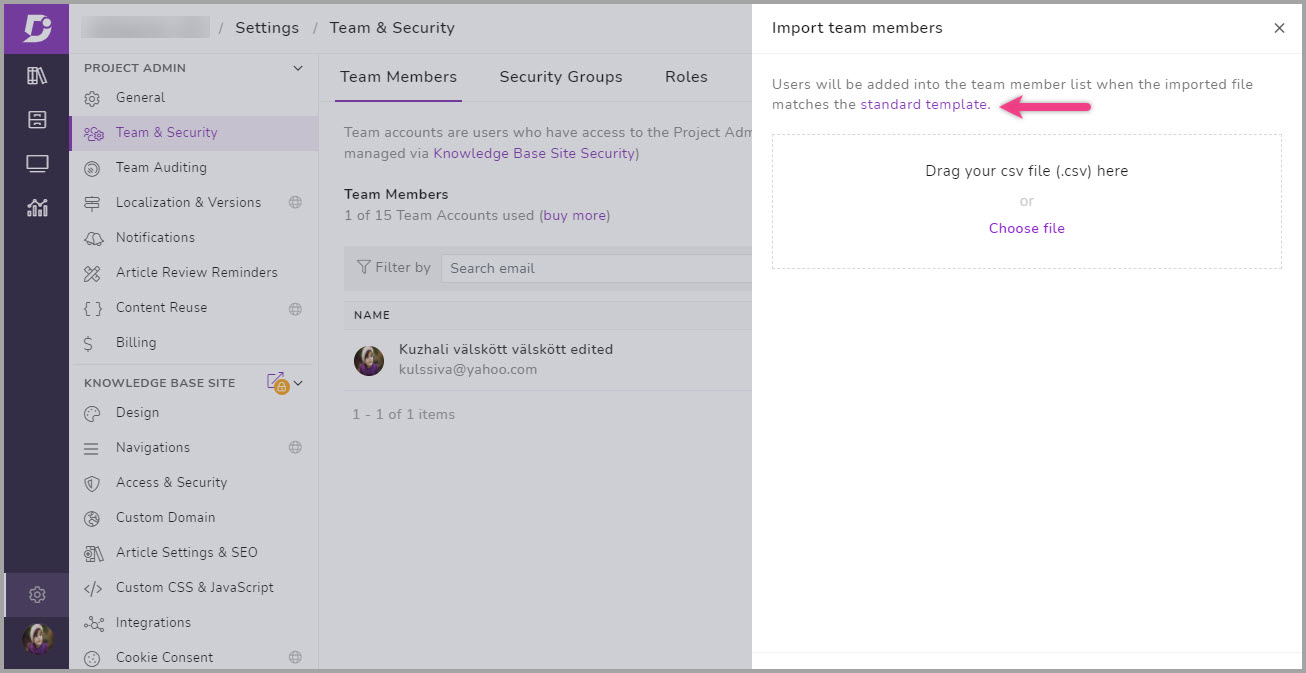 Article attachments from external source
Now user can add attachments to the articles from external source via URL. Earlier attachments could only be added from your Document360 Drive.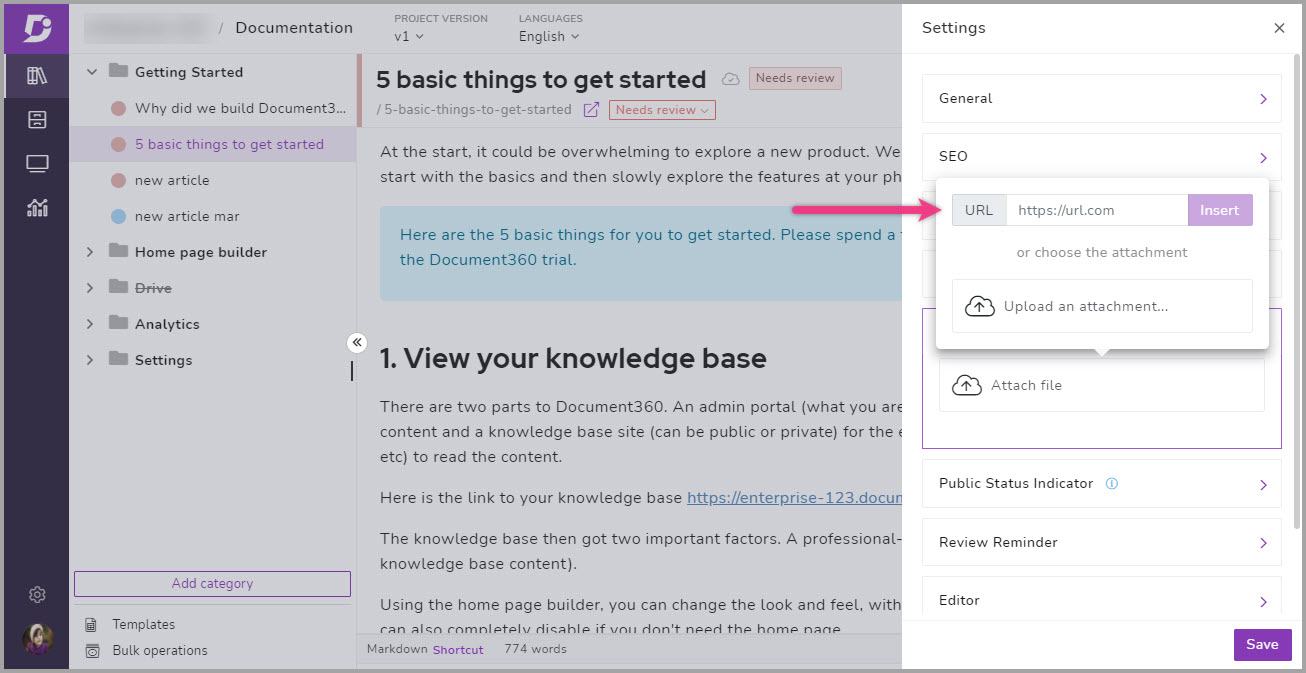 Automatic article status indication
Now you can set automatic status (New/Updated) for articles in your initial publish or forked publish accordingly. You can enable this feature in the portal (Settings →Knowledge base site → Article settings & SEO → Category manager).
The default time period would be set as 30 days, however you can set any value between 1 and 90 days.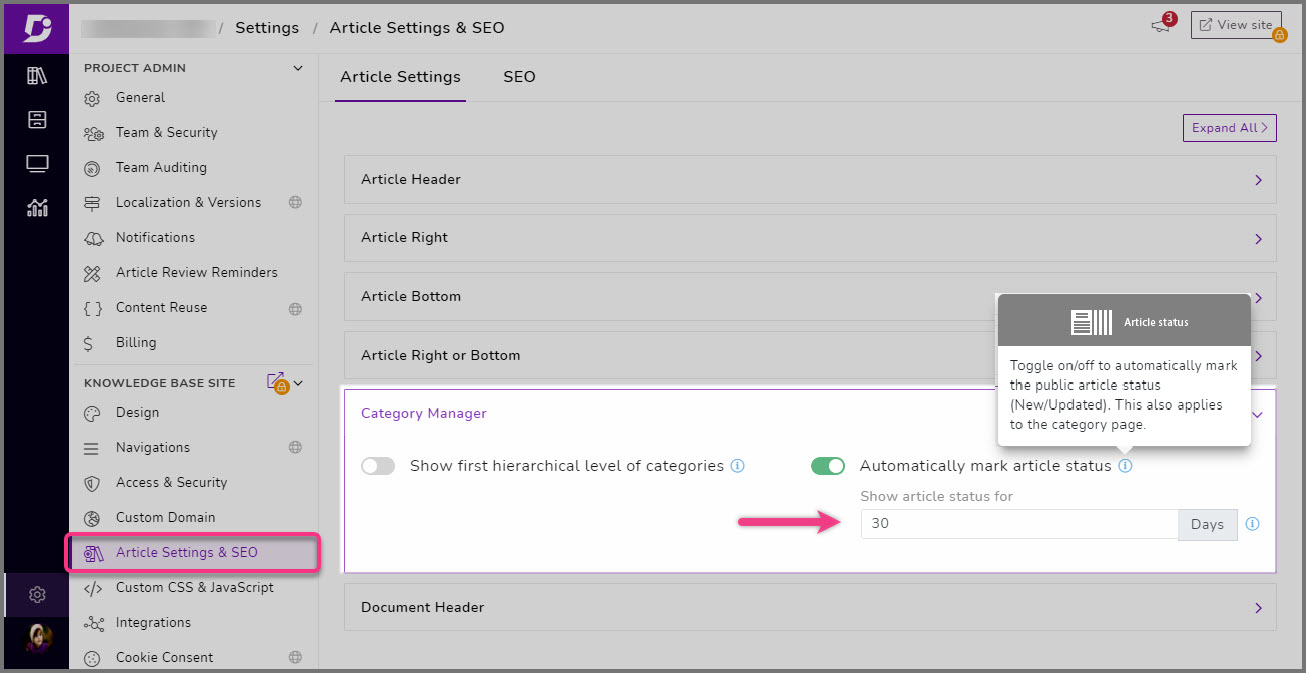 Table of content in your Pdf export docs
Henceforth, when you export a category or entire Knowledge base into a Pdf, the document would contain a predefined table of content based on your categories and internal navigation links to each article in the .pdf document.
---
Improvements
The overall performance has been improved with considerable reduction in load times
The Links status feature has been enhanced with hidden article filter and key performance improvements
For Enterprise SSO SAML standard we have introduced Binding type (HttpPost and HttpRedirect) in the configuration
'What's new' is now supported on sub-folder hosted project and few security fixes have been implemented
The Latest changes option has been moved from the profile section to the right top of the portal
---
Was this article helpful?
---
What's Next