This is the release note of an older version of Document360.
To read about the recent product advancements and releases, check out our latest Release note.
We are back again with our 2020 mid-year product update and enhancements. We have added a couple of major features such as Localization and Document360 Drive. Other than the features we have also enhanced the overall product UI/UX experience. We are very keen on enriching Document360 as a holistic and powerful knowledge base platform in the SaaS documentation space.
---
New Features
Localization
Document360 now comes with complete localization as a major feature update. By offering your brand experience and support in a language that feels familiar, both existing and potential customers are much more likely to engage with your knowledge base content and reduce churn rate.


Localizing your Home page and your knowledge base would eliminate many hindrances faced by your customers in understanding and connecting with your business, as opposed to single language website and documentation. The translation of your categories can either be done in-house or external human translators manually, with generic machine translation (MT) option, or on a cloud-based localization management platform (Crowdin) where machine and human translators can collaborate.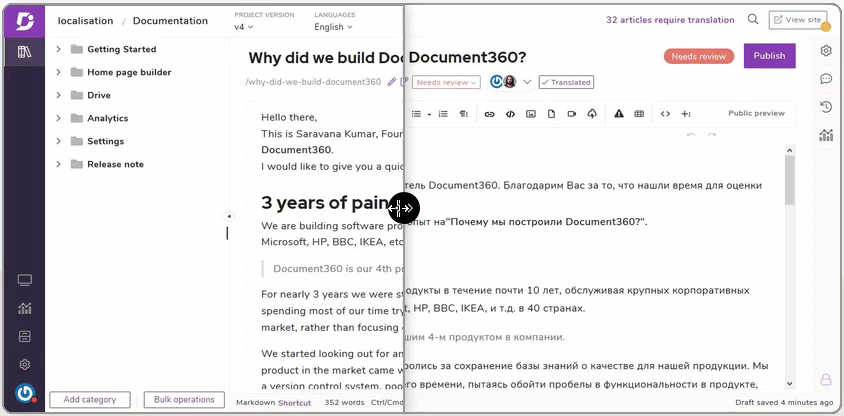 There's much more to gain from localizing your Document360 knowledge base than just translated articles. You would be able to customize functionalities, articles, and URL slug in the intended languages. This would mean the content is either just translated from the original language or content is modified to better suit the target audience. The graphics, colors, and the aesthetics of your pages, fonts, and images can also be modified.
Also read our Localization blog article for a detailed walk-through of this feature.
Drive
A new and improved repository for your entire digital assets is here. Sync, organize, backup, and work with your folders and digital file formats like images, videos, audios, documents, and many other formats.
You can upload your digital assets to Drive using the simple interfaces on your Document360 project dashboard. The way the Drive works is like most well-known cloud storage platforms and a no brainer to get used to. Also, your Drive size limit would be based on the monthly plan you've chosen.
Read our Blog article on Drive for a detailed walk-through of the feature.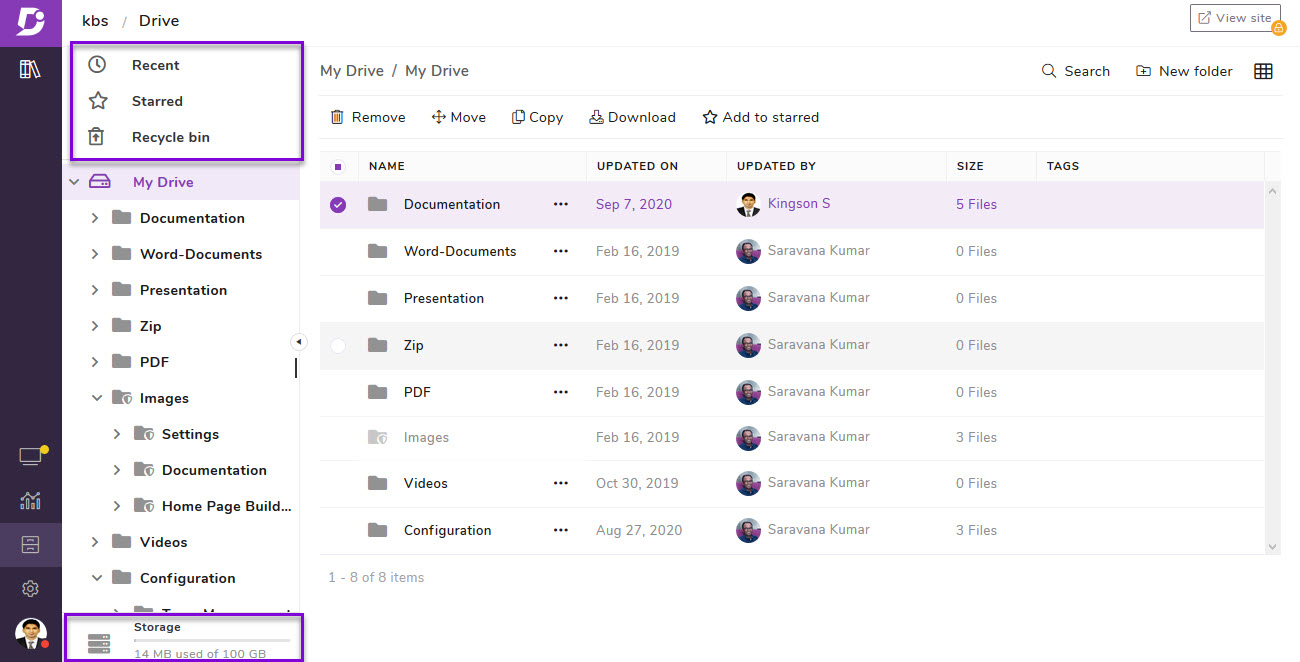 ---
New Extensions
Crowdin
Crowdin a cloud-based localization management platform, that can be integrated with Document360 knowledge base and achieve multilingual machine translation of categories and articles. The integration of Crowdin extension with Document360 provides an array of possibilities in context to high quality and near-perfect translations using the platform for collaboration between human and machine translation. This helps companies cater and provide support to a multi-linguistic clientele.
The integration is pretty much straight-forward and can be easily achieved with the aid of our installation guide.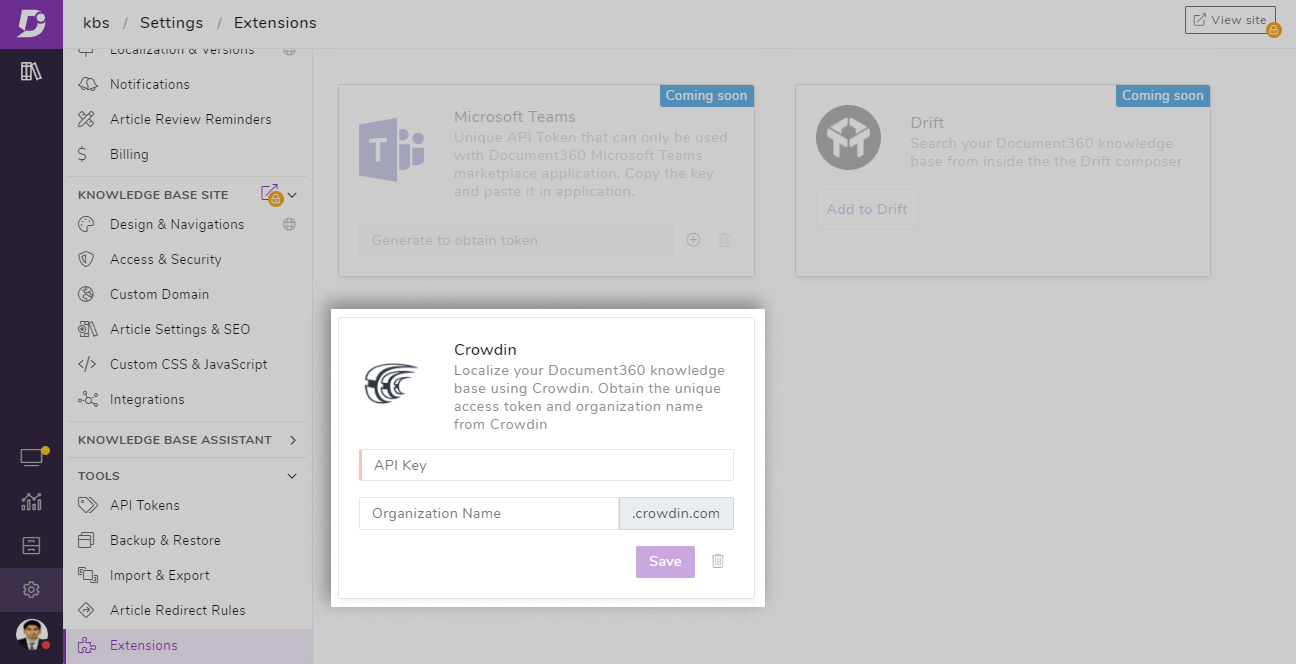 ---
Other improvements
Knowledge base assistant
We have enhanced the already existing Knowledge base assistant (In-app assistant) on Document360. Yes, we now call it the Knowledge base Assistant. All the existing and new functions have been brought under more structured and easily accessible dropdowns.
And with the introduction of Localization, users can select and search articles in version and language-level specific knowledge bases. We have also introduced the Custom launcher icon where you can select from a list of icons or also insert your custom icon from any URL. In the Knowledge base, the assistant widget is movable and not fixed to a static position.
New and Simplified UI/UX
We revamped our existing User interface (UI) and introduced a better, fluidic, and streamlined controls and menu options. This UI change makes all the relevant functions more accessible and simplifies the project settings. Also, we have revamped the article settings, discussions, view history and more.
Check out our August 2020 updates blog for a more detailed coverage.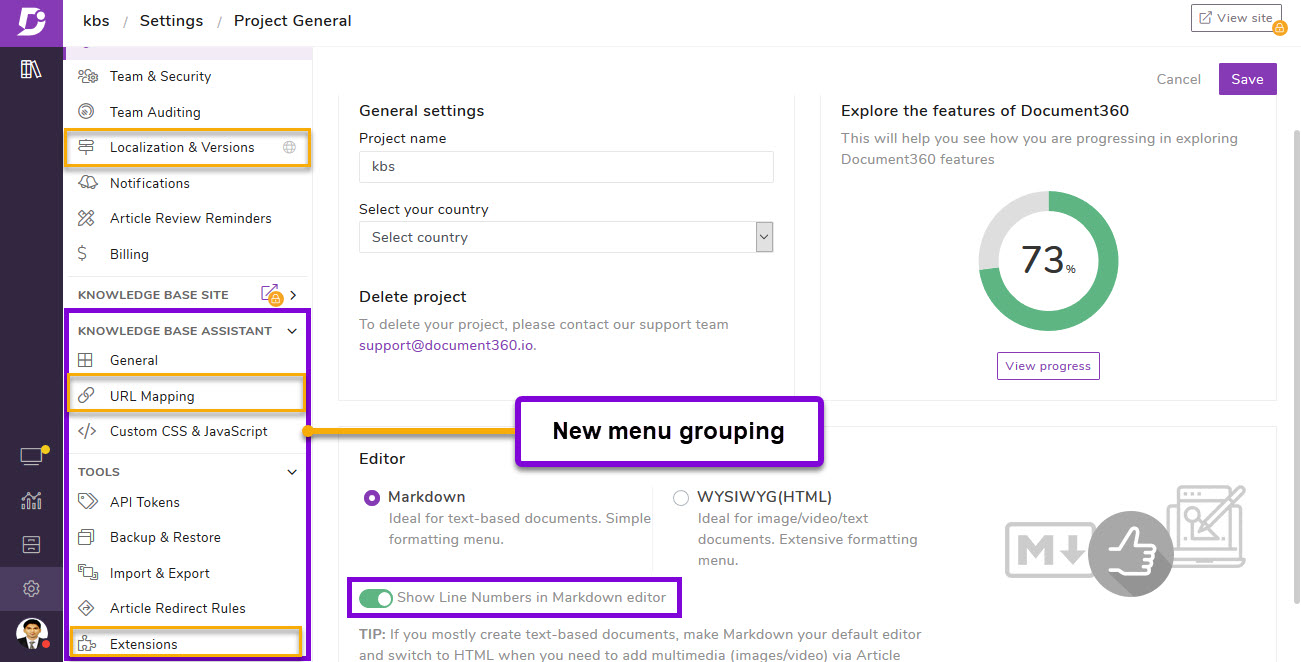 ---
Was this article helpful?
---
What's Next