Document360 - Getting started
---
Exploring a new product can be overwhelming, so we wanted to give you a basic overview of Document360 to get you started.
Document360 is a Knowledge management platform that allows project members to create and curate a self-service public or private Knowledge base. There are two main interfaces you'll interact with when using the product:
---
Project dashboard
The project dashboard is the first thing users would see when they login to https://portal.document360.io. The dashboard features all the projects the user owns, projects associated as a team member, and projects associated as a reader.
---
The Knowledge base portal
The knowledge base portal is where project members would create categories, articles, templates, manage files, team members, and readers, and set up knowledge base site branding, domain, security, and so on. Anything created and/or configured on the project dashboard will affect what an end-user or reader would see on the Knowledge base site.
Here are some elements you'll find on the knowledge base portal
1. Documentation
The Documentation menu is where you'll create and maintain the Tree-view folder structure of categories that will keep your articles organized. Start a knowledge base by creating categories and sub-categories, then fill them with articles. Drag and drop categories and articles to reorder, hide, rename, and delete them using the ••• more options menu that appears when you hover your mouse over any item on the left navigation pane.
Know more →
Articles
Writing and publishing articles in Document360 is simple: pick your category, create an article(title and slug), write, edit, add SEO details, and publish to your knowledge base.
When you update or edit an article(Forking), Document360 will create a new version of it without affecting the live/public version. You can make the changes you need and re-publish when you're ready. You can identify the articles easily using the article status indicators (Yellow dot). Doument360 maintains all the versions to check the differences between versions.
Know more →
Home page builder
The Home Page Builder helps you create a home page for your knowledge base. Customize it with company styles, knowledge base categories, text sections, header banners, etc. You can also use the predefined Home page themes provided by Document360.
---
2. Drive
Centralized and cloud-based storage for Document360 projects that stores and let team members manage all the knowledge base artifacts(files). If you have already used any other heavyweights, such as Google Drive or OneDrive, getting used to all functions in Document360 Drive would be relatively easy.
You can access your Drive by clicking on the Drive icon on the left side menu.
Read more →
---
3. Analytics
Document360 includes an Analytics menu with tools to help you understand end-user engagement with your knowledge base. Analytics are accessed from the dashboard navbar and have six different metrics.
---
4. Search
A dedicated space to search the entire project content is now available on the knowledge base portal. Perform a combined search across all the versions and languages simultaneously. Click on the search icon on the left-side main menu to access the Full portal search.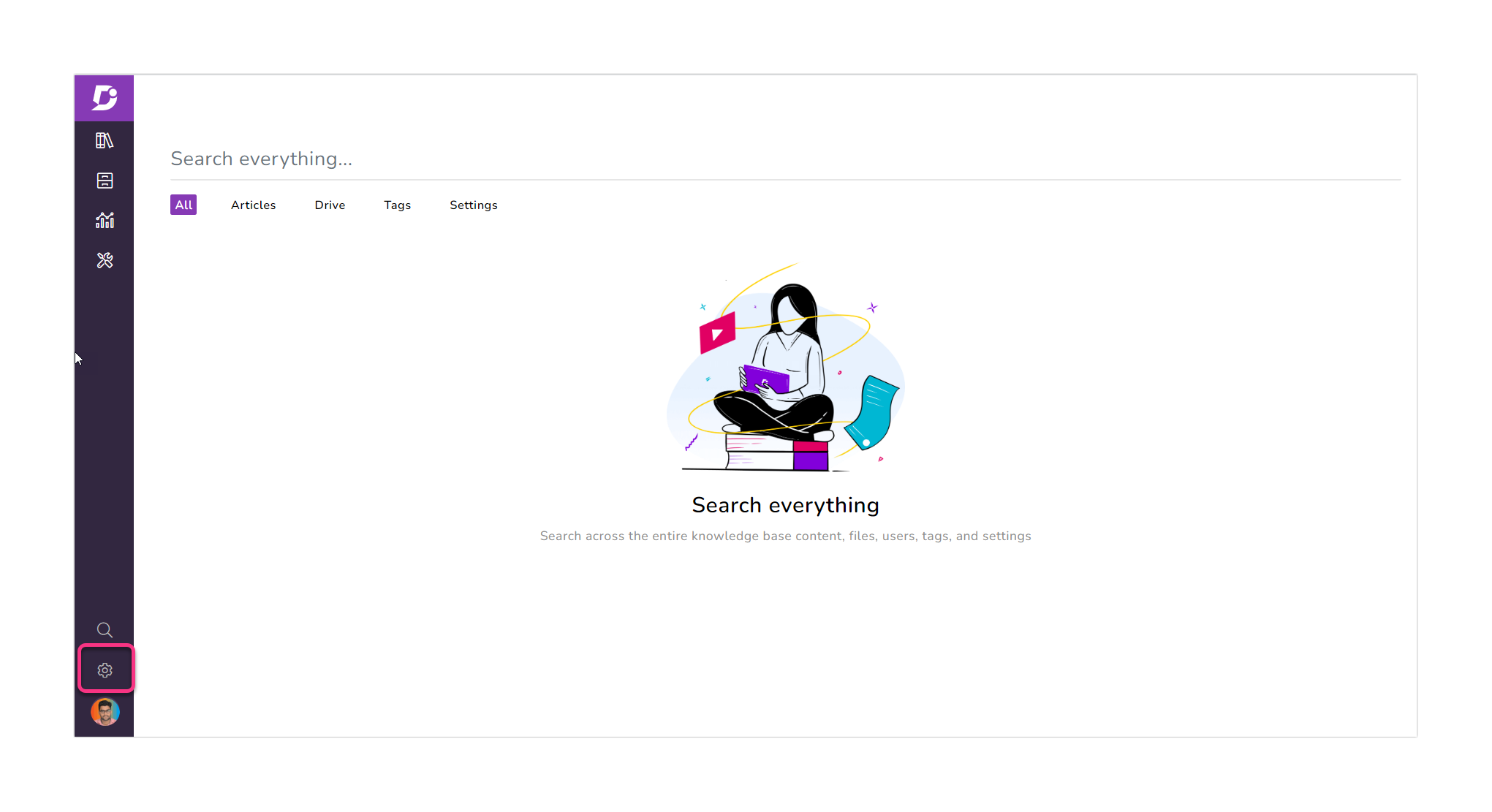 The search engine work similar to the other search functionalities in the portal. Type in the keyword and narrow down the results using the filters (version, language, visibility, tags, date range). Users can preview the article/category page. Users can then preview the article or navigate to the article in the editor.
As the search is performed universally in the project, the search covers files in the Drive. Users can switch between the article and Drive search using the tabs available below the search bar.
---
5. Settings
Settings are where you set and configure all things project and knowledge base related. Invite team members, edit notification settings, configure domains, set up article redirects, etc.
The different features are mapped under four broad classifications in the Settings menu.
1. Knowledge base portal
2. Knowledge base site
3. Knowledge base assistant
4. Users & Security
---
Knowledge base site
The knowledge base site is the website end-users will access to read articles and find helpful answers.
Set your knowledge base to be either Public, Private, or Mixed in the access settings. Public is accessible to anyone on the internet, Private is restricted with login screens, and Mixed is a combination of public and private attributes.
---
Other Resources
Got Feedback?
We actively maintain a public portal to receive feedback from our customers and users. It also features our roadmap, so if you're curious about what's coming to the product, this is the best place to look!
Feature Explorer
The feature explorer will help you understand how much progress you have made learning all the features that come with Document360. Every time you use or check out a part of the product you haven't seen before, Feature explorer will automatically update your progress. It gives you an easy way to visualize whether you've explored all the features in the product.
Need Help?
If you need any help or have any questions, reach out to us! Just click on your profile avatar to:
---
Was this article helpful?
---
---
What's Next