Design - Global settings
Mis à jour le 17 Feb 2021

2 Minutes à lire

Contributeurs
---
There is no French content available for this article, You are viewing the fallback version (English).
Site design settings change global settings across the knowledge base, including adding a favicon, choosing the layout, logo, colors, and font family settings.
You can access the design menu by clicking on Settings→Knowledge base site→Design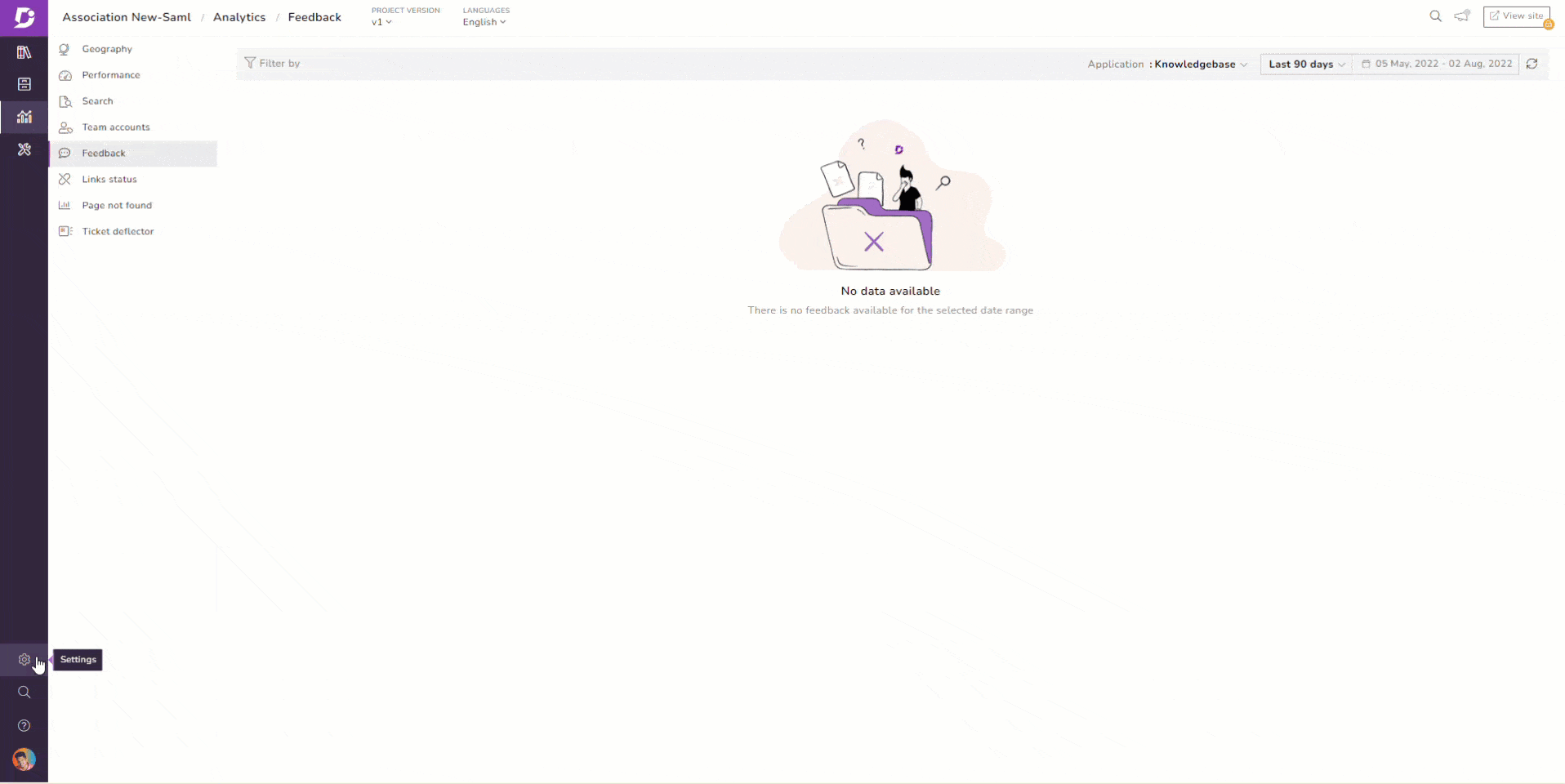 ---
Changing the Favicon
Favicon (short for favorite icon) is a small icon, usually 16x16 pixels, used by web browsers to identify your website. The favicon appears in the browser tab for the website, as well as in a bookmarks list, etc.
To change the favicon:
Hover over the default favicon and click on it
Now you can add favicon in one of two options available: Using a URL or Upload an image
Using a URL: Paste the image URL from any external source and click on Insert

Upload an image: Choose your file from the Drive or upload an image from your local computer storage and click on Insert
---
Changing the knowledge base Layout
You can either choose a Center layout or Fluid layout for your knowledge base as per your requirement.
Center layout will fit your content more to the center in a browser window
Fluid layout will extend your content to the edges of a browser window. You can choose between Small and Medium indent in this layout option.
---
Adding a Logo
Replace the default "YourLogo" that displays in the top left of the knowledge base by uploading your own.
Hover over "Your Logo" and click upload.
Choose your file from the Drive or paste an image URL in the field
Click Insert.
Alternatively, if you want to simply have text, say a company name or a tag line instead of a logo, select the text field.
You can also add a clickthrough URL to your logo, text or image in the Logo URL.
---
Changing color theme
Click the primaryand secondary color fields to change the colors of your knowledge base.
The primary color will display on the top bar and logo text of the home page and documentation portal. The secondary color will display in the drop-down and hover options.
You can either enter a hex color code or select from the color palette.
---
Font family
You can also change the fonts in your Knowledge base. There is the Body font and Heading font.
Body font
All the Paragraph content, left navigation pane (categories, sub-categories, article titles), and the Navigations (header, footer, menus, controls)
Heading font
All the Heading content with the H1, H2, H3, and H4 tags.
To change the font click on either one of the fields (Body or heading font)
In the drop down you can see the list of font options available
Select any one of the fonts
You can see a preview of the chosen font on the right frame
Click on the Save button at the top
---
Cet article a-t-il été utile?
---