January
03 May 2023

2 Minutos para leer

Colaboradores
January
Actualizado en 03 May 2023

2 Minutos para leer

Colaboradores
---
There is no Spanish content available for this article, You are viewing the fallback version (English).
New features
1. Sandbox
Now you can create a Sandbox project to test and experiment with the features, configurations, and integrations without affecting your live projects.
The Sandbox project comes with a 14 days trial period. Team accounts associated with a paid project can create the Sandbox project.

Go to the project dashboard
Click New Sandbox at the top right
Follow the instructions that appear in the window
2. X-Frame options
The X-Frame feature allows you to control whether your Knowledge base can be embedded in an iframe on other domains. This feature provides an additional layer of security by preventing malicious websites from embedding your Knowledge base in an iframe.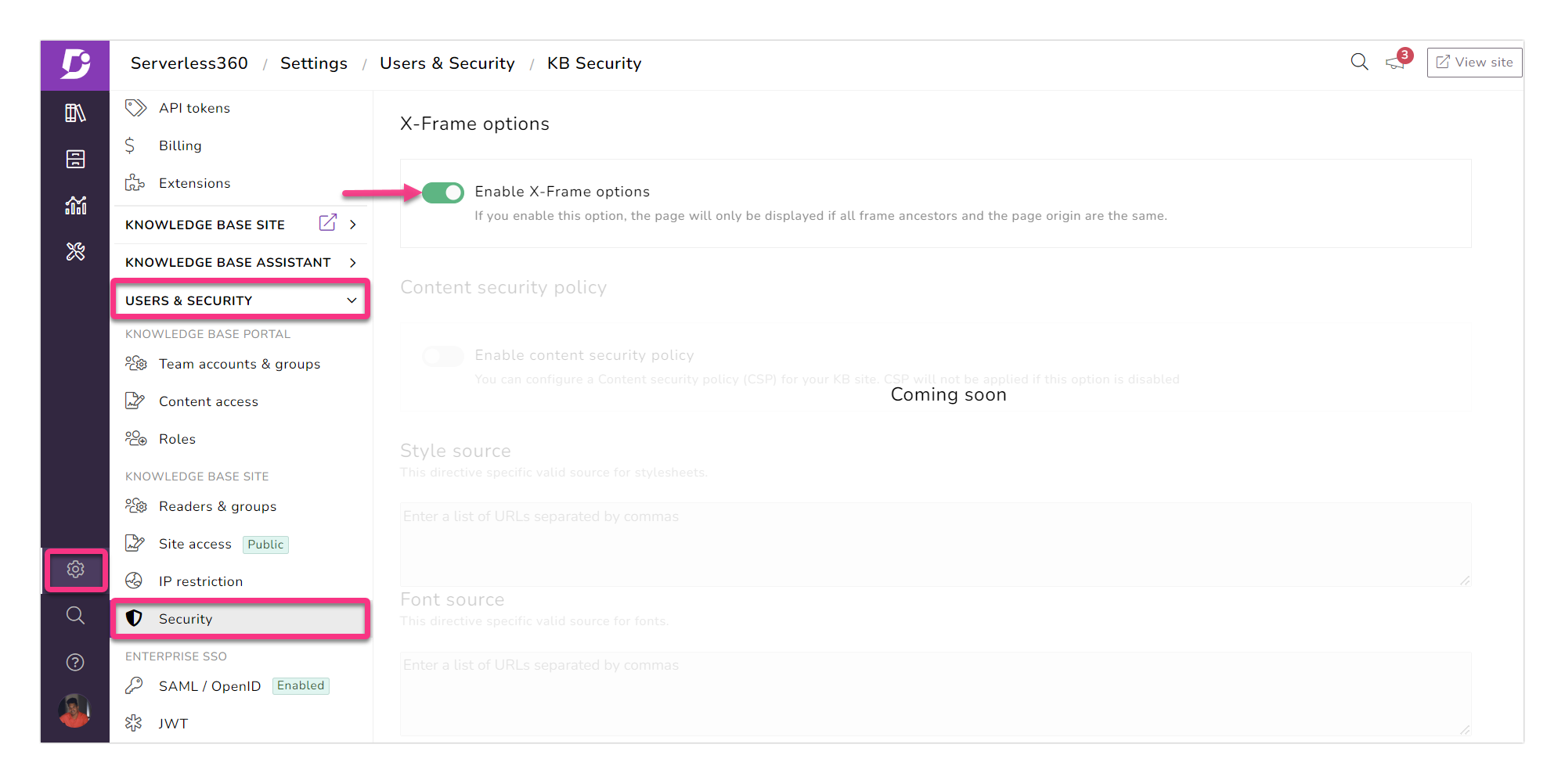 Go to Settings → Users & Security → Security
Turn on the Enable X-Frame options toggle
The toggle is disabled for projects created before January 28, 2023. It is enabled for projects created after January 28, 2023. You can change the setting as needed.
---
Enhancement
Single Sign-On
The Enterprise SSO module has been split to provide more flexibility in your configuration. Now you can have one of the SAML and OpenID configurations and also configure JWT at the same time. This enhancement allows for separate SSO configurations for your team accounts and readers. Earlier, you could only configure one of the three available SSO configurations (SAML, OpenID, or JWT).
For example, you can configure SAML for your SSO team accounts and JWT for SSO readers.
---
Improvements
1. Team account idle timeout
Now you can set the desired time duration in the Team account idle timeout section of SSO configuration. The default value is 2 hours.
2. Export - Performance Analytics
The export to CSV option is now available for Performance analytics data. The following data can be exported as a CSV file:
Leading Contributors
Leading Articles
Leading Categories
Countries
3. Knowledge base assistant
The Knowledge base assistant will now open in the language of your browser by default. Earlier, it would open in the default language of your Knowledge base. This improvement will enhance the user experience.
---
UI/UX improvements
A new module "Security" has been added in the Users & Security (Settings). The X-Frame options section is now available in Security. You can find more settings related to the Knowledge base site in the upcoming releases


The Enterprise SSO is split into two modules: SAML/OpenID and JWT. You can find this module in the Users & Security (Settings)

---
Other improvements
Minor performance, bug fixes, and security improvements can also be observed in the Knowledge base portal and Knowledge base site.
---
¿Te ha sido útil este artículo?
---
What's Next