Categories and subcategories
24 Feb 2023

2 Minuten te lezen

Bijdragers
Categories and subcategories
Bijgewerkt op 24 Feb 2023

2 Minuten te lezen

Bijdragers
---
The content is currently unavailable in Dutch. You are viewing the default English version.
Share feedback
Thanks for sharing your feedback!
In Document360, Category and Subcategory are used to organize and display similar topic articles, acting as folders containing groups of related content.
To understand categories and subcategories better, it can be compared to the scientific term for grouping of anything under categories and subcategories also referred to as 'Taxonomy' (nounscheme). Where information is grouped and placed under proper classification.
---
In this category, you can find answers to questions such as
---
Using categories and subcategories
You can create up to seven levels of subcategories. The Add category option is disabled for subcategories after that.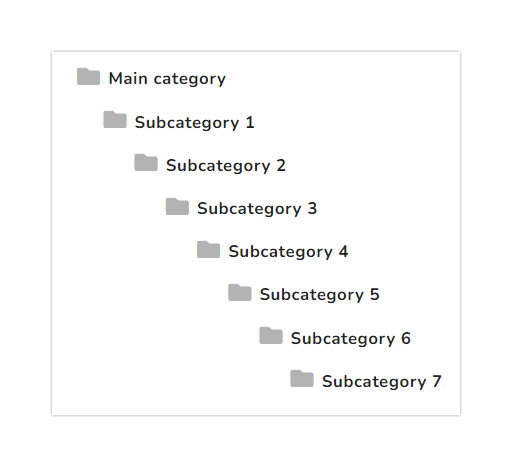 You can add articles to any category or subcategory.
Default categories
By default, every new Document360 project contains five categories. You can either rename the categories, create new categories, or delete the categories. This acts as a sample when you to get started.
I have a category/subcategory added on the
Knowledge base portal
, but the same does not display in the Knowledge base site.
Category/subcategory would not appear on the Knowledge base site in the following scenarios:
All articles are hidden or not published (at least once)
No articles added inside the category/subcategory
---
Why do I need subcategories?
Subcategories help segment the articles and information drill down for better understanding, accessibility, and navigation.
For example, If you have "Cars" as a main category, you can classify individual subcategories such as "Sedan", "Coupe", "SUV", "Convertible", etc. This helps you place relevant articles in suitable subcategories instead of one robust category. Customers can easily drop in and navigate to their preferred article in the documentation.
---
Related videos
Exploring the Category manager
---
---
What's Next