Categories and subcategories
06 May 2022

1 Minuut om te lezen

Bijdragers
Categories and subcategories
Bijgewerkt op 06 May 2022

1 Minuut om te lezen

Bijdragers
---
There is no Dutch content available for this article, You are viewing the fallback version (English).
In Document360, categories and subcategories are used to organize and display groups of similar topic articles, acting as folders that contain groups of related content.
In this category, you can find answers to questions such as
---
Using categories and subcategories
You can create up to six levels of subcategories. The Add category option is disabled for subcategories after that.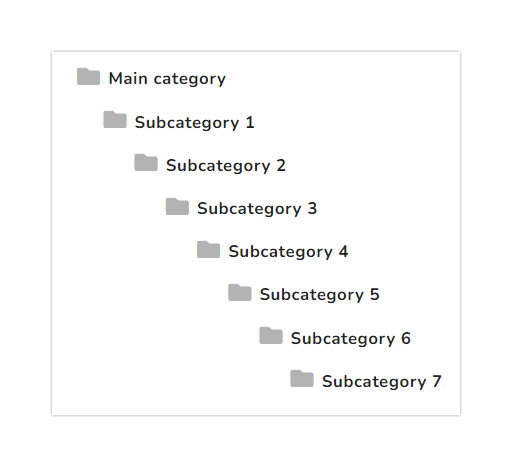 You can add articles to any category or subcategory.
Default categories
Every new project contains five categories. You can either rename the categories or create new categories, and delete the other categories.
Category/subcategory would not appear on the Knowledge base site in the following scenarios:
All articles are hidden or not published (at least once)
No articles inside category/subcategory
---
Was dit artikel behulpzaam
---
What's Next